BlackBerry is officially getting out of the phone hardware business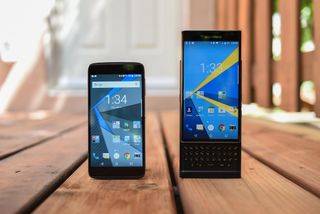 BlackBerry's transition to a software company is complete. During its Q2 2017 earnings today, CEO John Chen announced that the company "plans to end all internal hardware development and will outsource that function to partners." This change was already in the works for some time, with Foxconn taking over the design responsibilities of some of the company's future devices and TCL, owners of the Alcatel brand, building its phones under the DTEK brand, but to see it official is bittersweet for this Canadian.
"Our new Mobility Solutions strategy is showing signs of momentum," said Chen in a press release. "Under this strategy, we are focusing on software development, including security and applications."
BlackBerry announced revenue of just $334 million for the quarter, down 47% from a year earlier, and down sharply from its days of billion-plus quarters less than three years ago. It lost $372 million due to a hit of $147 million from its RAP, or Resource Alignment Program, and $96 million from inventory write-downs.
In other words, BlackBerry's hardware business has been losing money for some time, and this is just the last nail in the coffin. But the company says that its transition to a software and services company, building Android-based security solutions for other OEMs, is proving successful, and revenue increases will meet the targets set in early 2016 for the end of this fiscal year. Chen is a pragmatist, and has been warning that he would get out of the hardware business should he see no future in it, and this move is the first step towards realizing that goal.
The investment needed in rebranding a TCL-built phone with BlackBerry software is minimal, especially, as we've seen in recent months, the company intends to distribute its security-focused Android software suite to all users running Lollipop and above. As someone who has followed BlackBerry since the early days of BlackBerry OS — I lined up to purchase a Bold 9000 in 2008 when everyone else was lusting after the iPhone 3G — I am a little saddened by this news, but certainly not surprised. Based on what we've seen from the burgeoning DTEK line, if there's any money to be made in the coming years, it's not going to be in high-margin devices like the Priv that, at $699, are critical successes and commercial failures.
The news comes on the heels of an announcement by Alcatel parent company TCL of its new TCL 950 flagship, the purported basis for BlackBerry's upcoming DTEK60, which is expected to be announced in mid-October.
Daniel Bader was a former Android Central Editor-in-Chief and Executive Editor for iMore and Windows Central.
Whoa. I really hope that this will work out for them now.

That's unfortunate. My first smartphone was a BlackBerry. I just hope they make money with whoever they get to make future devices for them.

It's really been quite a fall. Our of curiosity, I looked up RIM's revenue for 2011 (near their peak), and it was $12 billion . Compare that to the annualized $1.3 billion from this statement. Almost a 90% drop.

Can someone please explain to me how BlackBerry is out of the hardware business if they have emphatically explained that they are not out. But they are now outsourcing their hardware meaning they will still produce handsets, only they won't make them internally. Which means we will still see BlackBerry devices, only they are not made by BlackBerry. No different than apple outsourcing Iphone manufacturing through foxtronn. I know people want BlackBerry to die already but at least let's get the story right.

Because no one knows how to report blackberry news properly, they spin everything against blackberry, I'll never understand the collective hatred for the company.

It's funny how I said that BlackBerry would be a SaaS company back in 2012. I was holding out for a Passport running Android as that would be the perfect phone for me. But it looks like that will not be the case. I still think BlackBerry has plenty of legs to be successful and good on them for making the break to focus on their strengths.

I'd drop $100-200 if BlackBerry offered a software update to Passport from BB10 to Marshmallow. I love using the Passport. Gh

Really? This is a story? Everyone knows bb has been getting it of hardware, outsourcing to other manufacturers to build their devices, it started with the z3foxconn deal now they are doing business with tcl/Alcatel nothing new here. They will still have bb branded devices but they will be built out of house

Ummmm...everybody doesn't know that. I didn't know it...

Really? This is a comment? Everyone knows everything you just said because it's all in the article. You should outsource your commenting.

I think he means if you frequent AC and the like, if you've been paying attention, you've seen this coming down the line for some time. Still, I get the article and it's purpose. It's official.

It's news when they announce it. Just because some people could see it coming doesn't make it any less newsworthy.

@spantch101 Bro we all knew speculation...

So when the S8 officially comes out,they shouldn't write about it, because everyone knew it was coming?

/ \
|| Perfect. Posted via the Android Central App

So they announced "Today September 28, 2016" the "Q2 2017" Report?

I really liked the BlackBerry back in the day. I had BlackBerry Curve 8530 with Virgin Mobile.

I'll give them five years, Blackberry as we know it now will be completely Dead, now that they've declared a White Flag and they'll now give the name to unoptimised Alcatels and white box phones and further ruin whatever's left of their reputation. Shame, I really was hoping for a more manageable successor to the Priv that had an actually good camera (I have an Xperia Z2, but I always wanted an Android that's a pleasure to type long posts on, and not even Fleksy can give that experience, only the Priv keyboard could.)

What a missleading headline ,sad

It is a completely factual headline. Sorry that they expect you to read the article to get specifics.

How about this : "blackberry is outsourcing it's hardware business to new partners " ,doesnt that make more sense to you? Because that's what's really happening here , they are not "ending" their hardware business.

But they are, they absolutely are ending THEIR hardware business. Like I said, it is a completely factual title. You might not like it, but it is not incorrect in any way.

No. Apple instructs Foxconn to build the iPhone according to Apple's strict standards, they give them the blueprints and software bits. All Blackberry wants to do now is stamp their logo onto Alcatels and load their software 'enhancements,' otherwise the phone is fundamentally Alcatel.

Blackberry declared that they will stop making their OWN, designed-in-house hardware. They will no longer design phones within their company, and will instead licence their name to Alcatel and others to be used in phones Alcatel and whoever licencee they partner with makes, but with Blackberry's 'enhancements and software.' By that virtue alone, the headline IS correct and accurate. Sorry your blind faith prevents you from realising this.

I just gave you a better, less click bait headline , is not blind faith ,is doing it right ,sir Stephen Hawkins

That is not reflective of how dire and massive this news is. Call it clickbait all you want, but why do you want to neuter the fact that Blackberry declared that they will no longer design and manufacture phones in house and instead licence their name to Alcatel and others? That only happens when your company is in an almost IRRECOVERABLE state, that your company is losing money so badly that they can literally no longer afford to make their own phones and just have their name stamped at the highest bidder?

What about Google letting other companies handle their phone business, is Google broke?????

That is a completely different case. Google is a SOFTWARE FIRST company, Google built Android as an anti-iOS that let them rake in gazillions over ad revenue. Blackberry was a HARDWARE FIRST company, its company was built up and eventually destroyed, over hardware. Its software revolved around the folks who needed to type emails quickly back at the time, but it pushed the hardware keyboards and ethos at the time.

That's a totally different situation. Google has NEVER been in the hardware business. Blackberry, on the other hand, used to own factories where they made their phones. They also had their own design team. Basically they did everything in house, from end to end. A similar example would be Nokia, who is in even worse shape than Blackberry. They too used to design and manufacture their own products but now they let companies pay them money to slap a Nokia logo on the back.

I tell you what , go to the CrackBerry site and check out the same exact news but with a different headline, and you'll see what I mean. ;)

Really, Crackberry? They are above all else, a pro BlackBerry site, so no matter what they'll try to spin this positively, they'll try to neuter the direness of the situation, when literally every other publication is reporting it Realistically! I would rather have a news publication calling it as it IS like this one, over a publication that is making a fool of itself trying to contort and twist and neuter the direness of the situation and circumstance to make it "less offencive" and "less clickbait-y."

Boy ,you are really missing the point here , I give up.

Well every media in the world has been reporting that BlackBerry has already gone bankrupt since 2008 does that make it any more true?

may be another Title would have been something like "BlackBerry to end all internal hardware development in major strategic shift"- https://www.thestar.com/business/2016/09/28/blackberry-to-end-all-intern...

Yeah, nothing wrong with that title either. Both are equally valid is the point.

Sad, but the reality of business. Cash is King.

Very smart. The biggest draw for blackberry is it's security which is completely software. Makes no sense for them to build hardware too

I absolutely did NOT see this coming!!!

So they are gonna be like apple? Develop software and design hardware then have the Chinese build.

No, not at all. They are not designing their own hardware anymore, they are taking phones that already exist and making them BB phones. Huge difference.

No. They're just gonna have Alcatel or whoever new partner they'll team with, stamp the Blackberry logo and load their software 'enhancements' to the device, maybe change the texture of the back or whatever (Look at Idol 3 vs DTEK50,) but the phone is fundamentally Alcatel or whoever partner they team with, meaning Alcatel decides what hardware bits, the quality check, and what will be used and Blackberry will only modify the software or maybe the back texture as well. Apple designs both hardware and software in Cupertino and give the blueprints and software bits to their Chinese factory partner to build phones according to Apple's strict standards.

Had some memories with a BlackBerry Torch 9800....

Damn it. And here I was hoping for a successor to the Priv that ISN'T slower than your average $200 phone :|

excuse my ignorance. I was curious, how different is this to the nexus line having different builders? There seem pretty successful.

Blackberry used to make both their own hardware and software for their phones. Since it is now just software, that is a HUGE change.

Oh ok I see. thanks for the little bit of education. greatly appreciated. I had a bold at one point. it was great at the time. I'm thinking of switching back to the new DTEK60. I have a Samsung s7 and love the camera but hate everything else about it. I want a comparable camera without going to iPhone (I admit I'm a hater of iphone after a few bad hardware issues and customer service problems which is why I have a samsung) I was hoping there would be more in depth camera specs out for the DTEK60. I guess I have to be a bit more patient. the camera is about 60% of what I use my phone for.

I'm pretty sure it's the same phone/camera as the Alcatel Idol 4s. If that was my main usage for a phone, I'd buy a cheap ass $200 phone and a $500 camera

Doesn't Apple outsource all their hardware business?

Kinda is, the same 8 year old probably makes apple by day and others by night so they can help support their families.

End of an era. They ushered in the smart phone revolution. Wish they had kept up with time.

Kind of makes me want to own a Priv now.

Sad news, they made great hardware

I still have a BlackBerry in my desk drawer that says "made in Canada" on it... probably never see that again. They seem to be doing well with their software business though so best of luck to them.

1. I'm getting a Passport in a week.
2. IMO (meaning not factual) I feel the company has always been in trouble since the dual CEO (Mike Lazaridis & Jim" Balsillie) role Blackberry had. Doesn't matter at this point as I feel the software security business will keep them going.

still laughing at their blackberry storm! lmao!!!!

Finally. They don't take a hint very easily.

Wow, even though we knew this was inevitable, it still is wow worthy. Just another example of how you can be on top one day and almost forgotten the next. I hope the partnership will help produce some worthy hardware. Had the Priv when it first came out and loved it and plan on getting the DTEK60 when it gets released. Now I need to rummage through the garage and find all my older BB devices i still have laying around just because.

Does anyone really need Blackberry software?

I have a Verizon Bold 9900 in great condition if somebody is interested.

My second smartphone was a BlackBerry Bold 8500 hated it then went to the Bold 9900 and still didn't like it that much. When the BlackBerry Z10 came out I loved it as it is so convenient and easy to use. I loved the flexibility and the integration with my computer and the ability to customise it to how I want it. Just that their hardware is not powerful enough to make it run as fast as an Android phone. Luckily the things I like about BlackBerry 10 has been coming to both Android and iOS over the last 2 years.

I have a PRIV now an much prefer it to my wife's iPhone. I just need a pkb so I can get work done. Typing on the glass slab is just too slow. I guess I will have to get used to being slow once this phone gives up the ghost.

I knew it was coming so sad really, I was a huge BB fan. From 2006-2013 I used a BlackBerry. To me RIM just couldn't keep up with the needs of media. Technology is always changing and shifting to the newest thing! Back then it was media consumption with bigger screens and better cameras. I finally decide to give up my blackberry in 2013 and went Android because of this. I will always remember my 8300/8330 curve, 9300 curve and 9900 bold which was my favorite, they have a special place in my heart.. RIP BlackBerry!
Android Central Newsletter
Thank you for signing up to Android Central. You will receive a verification email shortly.
There was a problem. Please refresh the page and try again.