BlackBerry Mercury wins big at CES 2017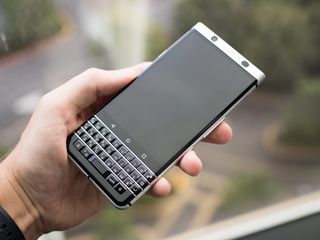 Now that CES 2017 has wrapped up, folks are looking back on everything that was announced in Las Vegas and handing out awards for what they feel was the 'Best Of CES.' Unsurprisingly, one of the items that continues to appear on several lists is the BlackBerry Mercury, which TCL offered a sneak peek of at CES.
The last phone designed by BlackBerry has managed to grab a lot of attention in the past few days and a new post from Ralph Pini, Chief Operating Officer and General Manager, Mobility Solutions, at BlackBerry, highlights that even further. Mercury wasn't the only winner, though: the DTEK50 scored some love at CES as well, taking home an Innovation Award.
We took a peek at the BlackBerry Mercury during CES and even though we don't know the whole story, we like what we've seen so far.
We're very excited about the coming BlackBerry branded "Mercury" smartphone. It's the last phone that we designed and engineered in-house. Our global licensing partner TCL will be manufacturing Mercury and bringing it to market in many countries around the world.
Providing state-of-the-art security software is what we've delivered since day one to our customers, and what we will continue to do. BlackBerry is 100 percent focused on software solutions, providing the embedded intelligence to secure the Enterprise of Things so that the Internet of Things can thrive. As part of this strategy, we are now leveraging third parties for the development, distribution, and marketing of BlackBerry handsets, while we continue to own the BlackBerry brand.
The agreement with TCL Communication is BlackBerry's second licensing agreement. TCL is a global top ten smartphone provider best-known for its Alcatel-branded devices. BlackBerry's brand recognition and security and software expertise, along with TCL's hardware and distribution prowess, are a powerful combination.
During CES, TCL gave a sneak peek of Mercury, a secure Android, keyboard-equipped device.
More details about the smartphone, including its official name, will be coming at the Mobile World Congress show in February.
The reception to Mercury was strong. The publications Android Central, Phone Scoop and Android Police all gave BlackBerry Mercury "Best of CES" awards. TechCrunch praised its "solid feel coupled with a modernized version of the iconic BlackBerry design." Mercury was also a finalist in Engadget's BEST of CES awards (we should also mention DTEK50 won an Innovation Award from the CES organizer itself).The
We also expect BlackBerry branded phones from BB Merah Putih to come out in Indonesia soon. As our CEO John Chen noted at a press event during CES: "There's going to be more BlackBerry phones out there because now I have multiple parties creating and distributing and I have local partners to compete in the local space." We are starting to gain great momentum with our licensing strategy. Look for us to continue pursuing additional licensing partners to bring Mercury as well as other new smartphones to the rest of the world.
Im in.
I still want the priv. I worked for sprint at time of launch and couldnt get my hands on it. Now that i work for LG, i love LG, but i will get this device if the specs are up to par and price is reasonable.

This phone looks good. I'm interested but lets see what samsung amd htc have to announce

I am liking this phone quite a bit, lets see the price

Love it! This is the form factor that I'm used to as I started with the palm pixi back in 2008, to Blackberry Bold 9930, to Blackberry Q10, to unfortunately a Galaxy S5. Virtual keyboards are absolutely horrible!

"Virtual keyboards are absolutely horrible!" I agree, but so are the always too-small Blackberry keyboards. I sure wish this was a horizontal slider instead!

I'm surprised to hear that you don't like the BB keyboard. I've always found horizontal keyboards harder to use, since you have to reach around with your thumbs so much more to get the keys in the middle. The raised edges on the BB keyboard is, to me, what makes it so easy to use.

I always like the Blackberry keyboard because you can type with just one hand AND without looking because you can feel the keys... this might sound bad, but believe me when i say it was WAY SAFER (for me at least) to text while driving because i never had to take my eyes off the road... Nowadays, I need to resort to the voice-controlled hands-free assistant apps that never seem to get your text right and i have to look at the phone even more to make sure the text is right.. i never liked the horizontal keyboards because they were too big and REQUIRED TWO hands to use every time

Have you considered not texting while driving? You began by saying, "This is going to sound bad." That tells me that you're aware of the risks, but you don't take them seriously. Clearly, this issue isn't personal for you like it is for some of us. Have you or anyone you care about ever been in a car accident? Have you ever spent an agonizing night wondering if someone you love is going to live or die? Have you ever gone into a hospital to visit a loved one, and barely recognized that person behind the bandages, tubes, and medical devices? Have you ever observed an adult recovering from a brain injury, as they relearn basic skills like walking and talking? Have you ever looked into the eyes of a young child as she faces the reality that Mommy is never coming home again? How can you possibly think it's OK to risk doing that to another human being? I don't care how fast-paced your job is, or how important you think you are. Nothing is important enough to be worth endangering your life or mine. And no, you're not good at multitasking. No one is. That's just the way humans are wired. We can do one task well, or multiple tasks poorly. It's not just an issue of where your eyes are; it's about where your attention is. Study after study has demonstrated this, people are dying and being permanently injured because of it, and yet I still hear people like you openly talking about how it's OK when they do it. You're in denial, just like every other person who caused an accident while doing something stupid. You're somehow better, smarter, or more important than everyone else, and you're never going to be the moron who killed someone's child, sibling, or spouse. It's never going to happen to you. Until it does.

Just think if BB would have embraced Android about 5 years ago or so. They could be number 2 to Samsung. Now so many are used to non physical keyboards it will be hard to give up screen space for one.

blackberry 10 was a worthy attempt. It does a lot of things better than Android and memory management, which samsung has struggled with, is one of them. I could understand and agree with what you said if bb10 was bad but that's simply not the case. I don't know why you people are so fond of having only 2 mobile operating systems. Posted via Android Central App

I don't think it's so much that people are fond to just having two operating systems. I mean what real ecosystem did bb have or windows phones for that matter? That was really the issue.

Yeah, I really liked the way BB10 worked, but the gap between BB7 and BB10 was just too long for a lot of people to wait. Instead of keeping customers and developers with BB10, they were trying to bring them back from Android and iOS. It's not so much that Blackberry missed the window...more like they backed out of the window, watched it close, and then tried to re-open it.

BlackBerry was my first smart phones and I loved them, but moved to Android way before the BB10 came out because the ecosystem of Blackberry sucked compared to Android and iOS (my wife went from BB to iPhone thanks to her friends). Once we had left BB there was no reason to go back. I don't care how many different OS there area as long as they are good. Posted via Android Central App

"Now so many are used to non physical keyboards it will be hard to give up screen space for one." Again, consider the horizontal slider keyboard like on the old "Droid 3". No screen space given up at all!

Thicker phone with a smaller battery, that is not what people are looking for right now. Posted via Android Central App

Qwerty BlackBerry's have a bigger viewing area than most phones (while typing)

This phone does look really good. I like the design it reminds me of the Palm Treo. If it delivers. I will try to convince my boss to get us some of these.I'd love to have one at the office to play with. Right now they have us using iPhone's and I am so fed up with em already.

Dayum, talk about the Phoenix rising from the ashes... Although this phone sounds like it'll probably arrive around the same time as the Galaxy S8, so I am not too excited.

Thanks BlackBerry - thank you so much BlackBerry Team its really great user friendly and smooth.

I would so buy this 3 years ago. This and the Priv is what the Classic and Passport should've been.

The passport and classic would've performed like crap on the hardware available at the time running resource hungry Android. Posted via Android Central App

I used to be a big blackberry fan. Then their OS stalled for years, physical keyboard based OS interest died and holdouts learned on-screen keyboards are actually faster with thumbs, not to mention the real estate gained by tossing a dead interface. It seems the only interest left is limited to the few that "need" to be seen using something different. Some things I'm definitely not missing: Having to do battery pulls several times a day due to a locked up phone. Random restarts throughout the day. 5-10 minutes they required to reboot following said battery pulls or random restarts. Tracker-balls that had to be dismantled for cleaning or replacement. They later upped their game by offering touch screens that were severely problematic. (Thank God I didn't get conned into paying for any of the Storm iterations that failed!) Last time I picked up a Blackberry demo was when I hadn't seen a new device from them for 5 years before they tried to polish a new iteration BUT the first thing the sales associate pointed out to me was it literally had no 4G capability long after 4G/LTE was dominating the market. There is ALWAYS something severely crippling about a Blackberry device. Before RIM traded hands, it was as if everyone at Blackberry forgot to show up to work for 5 years. The only thing I've noticed left at CES are accessories and "B" list devices that can't afford or won't generate enough interest to warrant a dedicated launch event. "Winning big" at CES is akin to a Volkswagen beating a horse buggy. CES has become filler material for exactly the amount of time it takes for any of the major manufacturers to to announce their first device of the year. Even a leak from Samsung, HTC or Apple would generate more hits than an entire day of announcements from CES. I honestly wouldn't waste airfare covering CES in this industry. Let the social media types go to the show, wade through the muck and find pseudo-interesting announcements for their click bait. If it's genuinely new and interesting, it's generally acquired by someone that can afford a real launch. It seams that fear of a missed gem is what has kept CES afloat for a couple years now. My only surprise is that Blackberry hasn't tried to exhume their pager patents.

Fam.. So now that you've finished your meaningless moan that makes no sense. You ready to go out in the world and kick some ass?

Ha! You make it sound as if Android didn't have it even worse back then. Don't make me laugh you hypocrite. I've had Android since 2009 and I was and definitely still am platform agnostic, I can definitely tell you that Android lagged more and was far more resource hungry. That's true then and it certainly is still true today. Posted via Android Central App

I'm just stoked a phone with a keyboard is coming back. Hopefully T-Mobile will get this.

How should we do games that only work in horizontal mode?

Genuine question, not tring to be a smart a** here: Why would one buy a Business Smartphone if he/she wants to install games etc? Isn't it like saying I cannot transport a washing machine in my two seater sportscar?

Oh, trust me, you don't sound smart at all. Posted via Android Central App

"Why would one buy a Business Smartphone if he/she wants to install games etc?" Great point. This is why no games at all ever appeared on the PC from "International Business Machines"...

Hhmm probably still can.. A bit awkward position on 1 hand. But you would not buy this device for gaming in the first place.

DTEK50 won the innovation award although it's a rebranded phone from another company

The Idol 4 should've gotten the innovation award as well then.
I don't know the details of what this award entails, but my guess is that it's their software that they were acknowledged for?

Did the pixel win anything? Is it an awesome phone? well it's just a rebranded phone from another company.

Lol the pixel is not a rebranded phone

Referring to the fact it is manufactured by HTC but branded Google.

That doesn't make it a rebranded phone.

Isn't Android wonderful? This looks like the most stupid phone in the world to me but other love the idea. Choice people, choice.

I have to admit that BB creates some interesting phones. This smartphone with physical keyboard may be practical in some aspects but we are on the age of full touch screens. Apps are created with this in mind. They wont be selling good numbers with this.

But now people are getting the best of both worlds. You want a kb? here it is. You want a big screen, here it is.
At least it's better than the sliding Priv... Personally I am 50/50 on this because of the length of the device but I need to see it in person to judge.

If the keyboard is as buttery smooth as the Bold 9900 it's definitely a front-runner for my next device. Have to wait and see what it feels like in the hand though.

This phone interests me. Can't wait to hear more, including the full specs.

Letssssss go blackberry ........if they knew in Waterloo how faithful I am to the brand they would make me the ambassador of the Blackberry brand lol ! From bold to Q10 to classic to classic and counting the days with a huge smile ,waiting for Mercury !,,, omg I'm like a kid in a candy story ,with a smile from ear to ear imagining. Mercury in my hand !!!!!!!!

seems like too little too late.. does anyone want a keyboard anymore? does not seem useful or necessary

Touchscreen devices are for consumption. Keyboards are for creation. So, the answer is that it depends on how a phone is used. For watching videos or playing games, touchscreen is great. For sending lengthy emails or entering data, a physical keyboard reigns supreme. Physical keyboards allow faster, more accurate typing and no not require looking at the screen to type. For some, a phone is an entertainment device; for others it is a business tool. There are many that would like a physical keyboard (and many more who don't care).

I'm buying this, priv owner here and I can say the priv is such a joy to use. Love using a pkb over a vkb, there's something perfectly satisfying about hitting against buttons rather than touch screen. The specs on this device needs to match up though, Nokia and Samsung and Huawei and xiaomi etc have all slapped some insane specs and will slap on crazy stuff inside their device, if the wrong chipset is put into this, the form factor alone won't be able to create the true buzz it needs. How ever, I'm still buying one.

I worked for this company in 2003 and then again in 2012 and harassment began to take place and as a result I've submitted a Better Business Bureau complaint in 2014 as well as a tribunal complaint in 2016. Some of the information submitted within the complaint is listed below: a woman at Vuteq where I work was shouting comments to me from a distance (name I believe was Laura) Vuteq management was notified of the incident
approximately Dec of 2015
Vuteq premises as I was leaving work
my lunch has been stolen from Vuteq
I had taken a Goodlife trainer's course and had people join the course and harass me
I"ve received threats
these issues first started while I was working at BlackBerry and escalated once I was layed off other incidents have preceeded this
vehicle broken into and damage done to car stereo( was rewired) in Mississauga
police report was filed PR15-044 7061
keys were stolen, items stolen from vehicle
staff have been hired from places I work to harass me, one place was The Monitoring Center in Oakville an Alarm Monitoring Company
John Chen was contacted Oct 6th 2016 via LinkedIn with no response received
Jim Mackey was contacted Oct 8th, 2016 with no response received regarding matter
Marty Beard - Chief Operating Officer at BlackBerry contacted Oct 12, 2016 The following statement was sent to them Mike D Scott has been harassing me and my family for quite some time, you may or may not be aware of this. As a result sometime back a complaint was filed with the BBB bureau because of his actions. It appears he intends to continue with his actions forcing further complaints to be filed. As they're submitted I will forward you a copy of them for your review. A Better Business Bureau complaint was filed July 17, 2014 case# 1302548
On Oct 16, 2016 the following was sent to John S Chen and Jim Mackey A complained will be filed with the Tribunal shortly in regards to this matter. Thank you
response received from Jim Mackey "At 11:53 AM, Jim Mackey said the following:Thank you. I do not manage this area." My response "At 11:59 AM, Roger Virgo said the following:Okay please forward to the appropriate person and they can feel free to contact me."
John Chen has been contacted via LinkedIn regarding this matter with no response received
Android Central Newsletter
Get the best of Android Central in in your inbox, every day!
Thank you for signing up to Android Central. You will receive a verification email shortly.
There was a problem. Please refresh the page and try again.