BlackBerry KEY2 vs. Samsung Galaxy S9 camera comparison: Close on price, not quality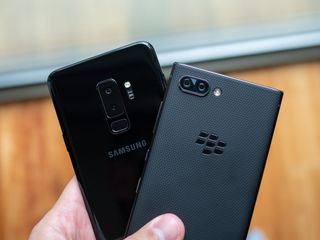 At first thought, you may not consider the BlackBerry KEY2 and Samsung Galaxy S9 direct competitors, and of course, the glaring difference of one having a physical keyboard and a bit lower-end components would follow that logic. But keep this in mind: the KEY2, with its price jump from the KEYone, is now $649, while the Galaxy S9 is available unlocked for just $50 more. With the price similarity, it's reasonable to expect the KEY2 to offer a camera experience to match.
With some testing and experience, we can now tell you where the KEY2's dual camera setup stands, and whether its photography prowess is up to speed with its price and the competition.
Daylight photos
Image 1 of 2
Image 1 of 2
Image 1 of 2
Image 1 of 2
Image 1 of 2
Image 1 of 2
Image 1 of 2
Image 1 of 2
Just as Daniel found in our complete KEY2 review, the phone is capable of taking some solid photos, particularly in daylight situations. Leaning heavily on HDR, its colors are punchy — and the fine details are pretty good even in close-up shots. But when you set its photos next to a camera as fantastically capable as the Galaxy S9's, you can tell it's a step below the flagship level.
You'll notice that the KEY2's photos are often just as colorful as the Galaxy S9's, if not more so, but that it's generally the result of over-saturation that at the same time kills off the depth and wide dynamic range that makes a photo feel more lifelike. You get the rich colors, but it comes at the cost of depth and actual dynamic range — all of the colors are boosted, which isn't accurate. When you start to zoom in on photos to see the details, the Galaxy S9 is way ahead in terms of fine lines and textures. For the most part, this just comes across in the KEY2's photos as being a bit over-processed and just a little soft.
In tricky shots where there's a mix of lighting or a wide dynamic range is needed, the KEY2 doesn't get the job done unless HDR automatically comes on — if it doesn't, the photo just looks washed out and lacking color. You can tap to meter, which usually gets things right for the subject, but leaves the rest of the scene bland. The Galaxy S9, on the other hand, can usually get a good shot with pleasing colors regardless of whether HDR triggers. For the most part, the KEY2 is best off just being left in HDR mode in order to get the best possible photo.
Finally, a quick mention of the 2X zoom capabilities of these cameras. The similarly priced Galaxy S9 doesn't have a secondary camera, but the more expensive GS9+ does and it's configured in the same fashion as the KEY2 to provide 2X zoom. The KEY2's secondary camera heavily over-processes images, which is a shame, and it really doesn't compete well against the Galaxy S9+'s secondary camera. 2X images are often a soft and blotchy mess, even in good lighting — so it's just about as usable as 2X digital zoom on the standard Galaxy S9. The KEY2 does have the upper hand of offering dual-camera portrait mode, which is similar in quality to the other offerings out there today.
Low light photos
Image 1 of 2
Image 1 of 2
Image 1 of 2
Image 1 of 2
Image 1 of 2
Image 1 of 2
Image 1 of 2
On paper, the Galaxy S9 has a huge advantage in low light. It has a larger sensor, brighter lens, optical image stabilization and a more advanced image processor. All of those benefits play out in the resulting images, with the Galaxy S9 handily beating the KEY2 in every situation with dim lighting.
Just take a look at the sample images above and you'll see what I mean. The KEY2 generally hits the mark in terms of color and white balance, but that's about it — everything else is some combination of soft, grainy, blotchy and over-processed. Now and then when you have a scene with mixed lighting you can get a crisp shot, but there's little rhyme or reason as to why and it definitely isn't reproducible. This is the kind of low-light performance we saw from mid-range phones a couple years back, and it's quite puzzling as to why it's this bad when the same camera takes daylight photos are actually pretty good.
Yes putting the KEY2 up against one of the best low-light smartphone cameras available is over-emphasizing its shortcomings, but as stated at the beginning the Galaxy S9 is merely $50 more unlocked — and with that tiny increase in price, you can go from low-light photos that are a grainy mess to those that rival standalone digital cameras.
Which camera is best?
Let's be honest, we didn't expect this to be all that close from the get-go. Whereas the Galaxy S9 builds on years of Samsung's excellence in mobile photography, the KEY2 is coming from something of a less storied history of TCL-tuned BlackBerry cameras.
In daylight scenes, the KEY2 actually does a good job — it can take colorful photos with good exposure and decent detail. They're above average and easily good enough for BlackBerry's target market. But when you see what the Galaxy S9 can capture in the same scenes, you can tell that the dynamic range and fine details just aren't there to compete with today's top-end phones. Given the KEY2's smaller camera sensor and lack of OIS, it isn't surprising that it's also outperformed by a wide margin in low light conditions. Phones like the Galaxy S9 (and so many others) have large sensors, OIS and much more advanced processing to handle low-light scenes with better colors, less noise and generally better overall clarity.
If the KEY2's low light photography were as close to the Galaxy S9 as its daylight capabilities are, you could argue that it was at least in the ballpark of being good enough for the money. But the very poor low light capabilities, when added on top of its starting position of not being as good in the daytime, show that the KEY2 is a full step below top-end cameras available today. If the camera is a point of emphasis in your smartphone buying choice, it is absolutely worth spending the extra $50 on a Galaxy S9 (or any other ~$700 phone available) — you'll get a notably better photography experience in every situation. But if all you need as "above average" from your smartphone's camera, and find the rest of the KEY2's features appealing, this phone will get the job done — just don't expect to wow anyone with your photos.
Be an expert in 5 minutes
Get the latest news from Android Central, your trusted companion in the world of Android
Andrew was an Executive Editor, U.S. at Android Central between 2012 and 2020.