BlackBerry DTEK50 hands-on: Stuck in neutral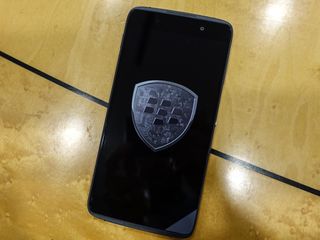 I have been fielding radio interviews since mid-2013 about the inevitable demise of BlackBerry's smartphone business, and each time since then I say, "Sure, this may be it," and each time I am left wondering whether the company's stubborn tenacity is its blessing or its curse.
In the DTEK50, BlackBerry may have finally solved the solution to its hardware profitability problem: a low-stakes handset based on the reference design of an existing product, the Alcatel Idol 4, with a software experience that brings the Priv's impressive amalgam of near-stock Android and a homegrown app suite to a price more palatable to the average IT manager.
Hardware impressions
At first glance, this is an Alcatel Idol 4 — yes, the still-unreleased cheaper version of the Idol 4S — with slight changes, particularly to the phone's back. A 5.2-inch 1080p LCD display covers the phone's otherwise-uninteresting front, and it is, like the rest of the hardware, adequate but largely unimpressive. Colors are vibrant, and white balance, which can be adjusted through the settings, is slightly too warm out of the box. Thankfully, BlackBerry decided to set the phone's DPI — the amount of content shown on the screen — fairly high, which is a nice change fro the average device in this price range.
More: BlackBerry DTEK50 specs
The phone costs $299, and it feels like it: Aluminum chamfers and a rubberized textured back are highlights, but its near-weightlessness is not an asset. Still, the back does not creak like its Priv predecessor (which cost nearly three times as much), and despite the gimmicky nature of the front and back being offset from the bezels to mimic layers, there is a solidity to the chassis that I appreciate.
Unfortunately, the DTEK50 inherited a now-standard negative trait of Alcatel's recent product lineup: a power button located on the top left, which is sure to vex the vast majority of the right-handed user base.
Even worse, where the power button exists on most phones — right side middle — is a convenience key that, after unboxing the phone, I depressed like an idiot for 10 seconds before realizing it didn't power on the phone. This isn't the first time we've seen such a button on an Android phone — Samsung's Galaxy S Active line famously added one a few years ago — but BlackBerry hopes that you'll use this one to quickly open its Hub, or its Calendar, or — mercifully — BBM.
Around back, you're looking at a 13MP rear camera, which doesn't have the same pedigree as the Priv's 18MP shooter, but upon first impression the DTEK50 exhibits a fair approximation of what a $300 phone in 2016 offers. A full review will reveal specifics, but at least BlackBerry's camera app has received considerable performance improvements since the Priv's debut last year.
The DTEK50's spec sheet is largely identical to that of the Alcatel Idol 4, which means its middle-of-the-road inclusions are somewhat mired by a quickly-aging Qualcomm Snapdragon 617 processor and 16GB of internal storage (which is, thankfully, expandable via microSD). In its announcement, BlackBerry hedged against the naysayers by claiming that the phone's 3GB of RAM will keep things running smoothly over the long haul, but after a few minutes tapping away on the company's first-party keyboard, it's clear the phone is severely underpowered.
Finally, the DTEK50 lacks a fingerprint sensor, which was, according to BlackBerry's head of design, Scott Wenger, was more a price consideration than a security one. Surely, a fingerprint sensor cannot replace the need for a strong password (and two-factor authentication), but Android today is a far better experience with biometrics than without. But having to enter a password or pin when opening 1Password feels like a regression, and one that we've seen avoided on other devices in this price range.
Software impressions
First, the good news: the DTEK50 runs Android 6.0.1 with the very latest security patch from Google (July 5th, as of writing), which is considerably more encouraging than some upcoming phones asking twice as much.
If you've used the Priv, the software experience is the same: a powerful home screen that in many ways resembles a hybrid of Google Now and Action Launcher (in a good way), and a bevy of first-party apps that I can only describe as excellent. I have gone on the record as being a fan of BlackBerry's Android apps, from the Hub, which has improved considerably since last year, to its minimalist calendar and notes apps. And all of these apps are updated directly from Google Play, a means of distribution that BlackBerry has utilized often.
Then there's DTEK, the phone's branding namesake, the foundation for BlackBerry's claim of "the world's most secure Android smartphone." While the average consumer may balk at BlackBerry's intention to sell this directly through distribution channels like Amazon, the real sales volume is going to come by bundling the phone alongside BlackBerry's suite of enterprise management tools like BES 12. DTEK (the app) puts a friendly face on a narrative that BlackBerry is desperate to convey to potential customers: Android may be secure, but with this phone you'll never have to worry about being compromised again.
The Accessories
Of course, with every BlackBerry phone, there are the accessories. I got to try three cases that will be available alongside the phone when it launches on August 8: the Smart Pocket; the Smart Flip Case; and the Hard Shell. There will also be a Swivel Holster, because of course there will be.
All three cases are well-made and, between $24.99 and $34.99, in line with what you'd pay from Otterbox or Incipio.
The Bottom Line
At this point, I'm cautiously optimistic about the state of BlackBerry's device business. John Chen has said again and again that he has no qualms shutting down the whole project if it fails to turn a profit, though he stubbornly keeps pushing back that due date. And while this is certainly a BlackBerry phone in name, we're expecting a more traditional keyboard-sporting Android device by the end of the company's fiscal year, which could take us into early 2017.
As for the DTEK50 itself, it appears to be a decent phone that will likely be severely hampered by an underpowered processor. I hope to be proven wrong by the time I write the review, but I doubt it.
More: BlackBerry DTEK50 pre-orders have begun, ships August 8 for $299
Daniel Bader was a former Android Central Editor-in-Chief and Executive Editor for iMore and Windows Central.
I usually love Blackberry hardware but this seems really uninspired, no matter what it's based on. Posted via the Android Central App

The thing is... BlackBerry no longer makes hardware. This thing doesn't even have a flashing red notification light....

Pretty ho-hum. There are better options at that price. Heck, for another $100, you can grab an Axon 7 or a 1+3.... Severely underpowered even for the business minded folk also imo..

Unlike those phones, Blackberry has a solid track record of getting security updates out every single month. That's going to matter much more to IT departments.

Also, I don't know why people keep forgetting the size difference between these suggestions and this phone. There is one every time.

Is the 7.62mm reduction in screen size really worth buying such a meh device, though? I've never said this before, but your probably better off with a Nexus 5x... Posted via the Android Central App

Tried the 5x (two times actually!), it's a great handset but the tallness of it got to me. That reduction is VERY noticeable in the hand. For that reason, it's always going to be worth it for me.

Fail and I used to love bb, you switch to android and deliver this crap. Alot of people need to be fired Posted via the Android Central App

But isn't the point about not spending another $100? If you throw in another $50 onto that you can get probably get a more top tier phone

I'm very curious as to why they made this device.

Cheap good phones are hot right now, seems BB forgot the good part of the equation though. Probably hoping businesses buy them in bulk.

Mid and High mid range phones is getting competitive. OnePlus 3, Axon 7, Moto G4, etc. Lots of options for people not wanting to drop over half a grand.

The axon 7 isn't mid range at all. Posted via the Android Central App

And the cheap part also. Posted via the Android Central App

Businesses. I probably sound like a broken record by this point, but this isn't aimed at consumers. It probably wouldn't be a bad device for consumers, but it's aimed at IT departments that want to buy them for their workforce. The specs may not be outstanding, but they'll suffice to handle email, phone calls, messaging and full disk encryption. Gaming performance doesn't matter. It's a good, cheap phone that can be bought by the boatload.

And at least the underpowered processor supports Quick Charge 2.0 to keep the business user topped up. I think it's a great phone for it's intended purpose. I owned the Priv before getting my Nexus 6 and I can attest that the BlackBerry software experience is wonderful. Posted via Nexus 6

Thank God for that QC2.0, because that battery is on the small side.

Well it is a 1080p display, so that's one major battery drain negated from 2K displays. Posted via the Android Central App

Probably Enterprise users sell to company's posted via the lovely innovative Priv by BlackBerry - Powered by Android

It's like the curve... Meh.. Posted via Techmology

You keep referring it to Alcatel. Does Alcatel make it for them?

That's what I was wondering not that I care. Just curiosity. Posted via the Android Central App

Alcatel manufactures this device for them based upon the idol 4. HW mods include a wider range of bands and their hardened and encrypted chipset. They're looking to appeal to enterprise customers with this device. It's been said time and time again, in no way is BlackBerry trying to target the consumer market with this or any device. They are an enterprise software company that just happens to sell phones as well. Their business model changed radically a year or two back. That's why the alcatel manufacturing, low cost, low risk, low over head, and allows them to focus on the software portion, which they are actually great at. Posted via the Android Central App

Yes, they made this phone based on one of their own.

TCL actually manufacturers both this device and the Alcatel Posted via the Android Central App

I was excited to see this, but reading this has me sad now. :(

If you want to here a more cheerful report on this phone, watch the BlackBerry DTEK50 launch webcast now posted on CrackBerry. I have a PRIV so am not buying this but it seems like a decent mid range phone, and the security features are great (same as on the Priv).

Yea, a Blackberry made marketing video is a much more reliable source than a actual hands on review.

Will check it out, thanks.

Crackberry site hate android phones even if is blackberry... I see more love on this site lol....they were pissed at priv and even worse for this...they rather cheer for iphone ool

Put in a 652 and charge $349. I'd buy that. Posted via Xperia Z5

This. Even a SD650 will suffice.

wow this is a watered down Idol 4.

It's an Idol 4 with different software and a different back cover. Not sure that constitutes watered down.

They made it more secure and added some pretty awesome software including the BB10 virtual keyboard. I'm not sure how that translates to watered down.

watered down as in all plastic, cheap would have been a better word.

Idol 4 is no different lol...it has no security chip...im nit a fan of this phone but the one u mentioned is actually water down....its hard making android safe and this is safer than s7 lol

It's not all plastic though....... Posted via the Android Central App

Soon I will buy a Nexus 5X because I want an affordable unlocked Android phone that will work on Sprint. If this will run on CDMA networks like the Nexus line does, I will gladly buy this instead as I'm also a long time BlackBerry fan. But something tells me that it won't and will be GSM only, again. Flicked via the BlackBerry Keyboard on my S5

Well BlackBerry historically has a long history with Verizon and since this phone is built for IT managers and since most businesses use Verizon I would be shocked if it didn't support CDMA. However BlackBerry keeps having me scratching my head so who knows what their plan is. Posted via Nexus 6

...VerHizon subscribers don't support BlackBerry obviously because the carrier doesn't do well at demanding it, thus indicative of the demand ....which must be nonexistent Posted via the Android Central App

I have to wonder if blackberry actually WANT to survive as a company... Posted via the Android Central App

This is actually a pretty brilliant move for them. They didn't spend any of the money for R&D for the device and probably aren't directly handling the manufacturing. They just loaded their own version of Android on an existing device. That's pretty minimal in terms of risk for them.

It's true that it probably cost next to nothing to develop, but Is it really good for BlackBerry to be known as "that crappy phone work makes me carry"? Posted via the Android Central App

The strategy could work if they select their base devices carefully. A BB branded version of the Axon 7 or OP3 could be something great, especially if they also make some clever accessories such as a keyboard flip cover etc to go along with it. I think it was a serious mistake to pick the Alcatel Idol 4 as a base device rather than selecting something more powerful, especially since the Snapdragon 615-617 series has been a failure. Snapdragon 650 and 652 are great and rectifies the 61x mistake and should have been used. Great performance and low power consumption. The BB apps are nice but can be loaded onto any Android device using BB Manager. Their software keyboard is the best I have ever used and the Hub is nice too, only thing I miss there is the ability to plug in Hangouts conversations.

They tried to be premium with the Priv. Nobody bought it. This might be their only chance.

Yup. I am a BlackBerry fan and own the Priv. But BlackBerry 's lack of marketing was always something you could depend on. The Dtek50 seems more along the lines of the Leap. Uninspired. Posted via Priv

Blackberry is not just a phone company lol, they make softwares for over 80 million cars.....they make softwares for hospitals, businesses, government and nasa......the car u drive might have blackberry too...even the airports

I can see this being big in the corp market. I work for a CDN bank. We have BlackBerry 10 and Apple devices. Leap/Classic are free, and Apple is like $500. So other than really senior exec, everyone else uses BlackBerry 10. Free/cheap phones make sense over expensive iPhones. Posted via the Android Central App on my BlackBerry Passport

"fro" ... "the average device in this price range" ...

Well I guess I'll be holding on to my q20 . My opinion the last great bb . The passport miss understand, the priv confusing as hell and butt ugly and the leap...please. And all the older bolds and curves to old and Hella slow . Guess my q20 is the last bb for me that's fine cause I love it its a keeper .Long live bb 10 Posted via my note 5 are gs7 edge

Priv butt ugly?! To me it's one of the best looking phones I've seen.

How is the Priv confusing??? Posted via the Android Central App

Leap is garbage for sure. Passport is the best mobile device I have ever owned. Ever. From tablets to PC's to phones, the passport was the king of all. I'm now typing this comment on my creaky $1000 priv... it may look nice, but build quality stinks. Posted via the Android Central App

The name is brilliant. It actually says something meaningful about the phone and its featured security. This might sound corny, but the article brought this up. So don't blame me. Daniel Bader complains on behalf of right handed folks. Left handed people are a neglected lot. The right handed people almost always get things their way and tools are made to cater to them at the expense of left handed people. Right handed people don't even notice how inconvenient and annoying it is for lefties. Lefties are 13 % of the population. Maybe BlackBerry can market to the lefties with that button placement. LOL

I'm waiting on the Classic clone running Marshmallow.

Bader,
You haven't understood what has been going on at BlackBerry for years - you're worse than Nickinson (if that's possible).
This phone was mainly designed for bulk sell-through to businesses. Like all those middling Samsungs that corps buy.
Not everything is about the latest useless gimmicks (fingerprint readers? Pokémon?) .
Get over it. Posted via the Android Central App

No keyboard, no interest.

That being said, it's good to see BlackBerry isn't going down without a fight. Call me when the release a real flagship with a keyboard.

Should have been 200 dollars... Posted via the Android Central App

I couldn't care less about this phone but somebody has to call out the way the reviewers on this site and others throw down words without thinking, e.g.: 1. "...but its near-weightlessness is not an asset" Really? To whom? Light weight is pretty much always better. 2. "...a power button located on the top left..." Perfect! Now I won't turn the phone off every time I grab it. 3. "Even worse, where the power button exists on most phones — right side middle — is a convenience key that, after unboxing the phone, I depressed like an idiot for 10 seconds before realizing it didn't power on the phone." It's called "read the instructions", which you think a reviewer would do before writing about a product. 3. "Android today is a far better experience with biometrics than without" You mean "It's easier for lazy owners to think they have security when they use biometrics to log on to their phone, even though it makes it easy for the government to force you to use your fingerprint, unlike a password or PIN."

I know this comment was made 5 days ago from this moment of me commenting but RK928. Thank you for stating this specially about point #3.

Without thinking?
1. He might like a certain heft and solid feel for his phones
2. I agree with Daniel, I have an Honor phone with a convenience key on the left. There are many times accidental presses when I'm holding it. I would totally hate the power button on left. Again, this is subjective.

I like BBs android software, especially the HUB and their security. My problem has been with their hardware, something BB has traditionally excelled at. The Priv was underwhelming to me and I don't need a physical keyboard. I hope they can put it all together in a future flagship level phone. I would love to see Passport level hardware with android.

I like it, and think this will turn out to be a positive move for BlackBerry. There's no point sinking more resources into custom, high-end hardware under a damaged brand name. The most important feature on offer here is software support. If they can prove to people that they are serious about keeping the OS updated and secure, this should be a winner.

It's hard to sell with other devices at 299$ rocking 128GB internal storage instead of just 16GB and 10(!) core SoC , 4Gigs and dual camera setup (RedMi Pro) or for 100$ more you'll get flagship specs ( OP 3, Axon 7) which is even Google Daydream ready and has two DAC to boost. Posted via the Android Central App

Is this not the same guy that reviewed the Moto G4 and G4 Plus with the exact same chipset? The G4 is also lightweight but constructed of plastic and those devices were praised fairly high. I realize they are a bit cheaper but they lack the HUB and security. The Moto G4 Plus is easily smooth and quick enough for 90 percent of users. (I am currently using a Moto G4 Plus on vacation) I will be returning the Moto for the BlackBerry at this price point with the bundled charger. Posted via the Android Central App

Yeah. I thought the review was pretty harsh too. Last year this site raved about the Idol 3 and now this is criticised for being an Idol 4 knockoff. This phone will probably out perform about 80% of the phones on the market, and at 50% of the price of a Galaxy S7. Posted via the Android Central App

It sounds totally like, "Let's see, h-o-w can I bash BlackBerry for this..."
He bashed it for things that are actually assets. There are a lot of people who like and want a light-weight phone, for example. As for storage space: They have place for a chip that will hold more than you could ever need of storage. Makes perfect sense. You are not bound to the storage the phone comes with at all so it doesn't make sense to talk about the limits of the storage so negatively. The security is a very important feature and will become more so as time goes buy. Mark my words. More and more high profile hacks are taking place and if you have ever even had your credit card compromised then you begin to think seriously about it. I have a PRIV and one of the big reasons is for the security.

Maybe FDE makes the DTEK50 a little janky. IIRC, that is not present in G4.

The Qualcomm 617 is a decent mid-range soc, have no problems with it in the HTC One A9

I guess like every other review this is all one persons opinion and the nature of that is it will be biased whether positive or negative. The hands on by the Verge however is positive despite them being known as BlackBerry bashers thus.. I think this is a brill phone for what it offers and it's target market. I would have gotten it if I didn't already own the PRIV. BlackBerry seem to be giving most people what they should with this one so kudos to them for that. Posted via the BlackBerry Priv®

Fair enough. Posted via the Android Central App

All seems to be good but no clue why they would put only 16 GB memory. vzw Moto XPE/N7

Simple: you buy a memory chip and have lots of memory space, probably more than you could ever need.

Ironic that you get far more balanced comments on a BlackBerry on Android Central then you do on Crackberry every single post on there turns into a world war 3 Posted via the Android Central App

The writer of this article obviously doesn't like BlackBerry and everything BB. #Biased. Posted via Huawei G8 on Marshmallow 6.0.1

The power button really isn't an issue because you wake it by double tapping the display so you don't really use it anyway. I guess that's the kind of oversight someone who doesn't really know anything about the phone would make.

Wow, this article was a pure BS opinion piece. When theverge can give credit where credit is due over you guys you know you've reached rock bottom. Posted via the Android Central App on my Priv

You diss the convenient key on this model, and praise the convenient key on your recently posted 4s "review" ..... Pull facts, not opinions from theses "news outlets" Posted via the Android Central App

Great comment! It's apparent this reviewer has his biases, which effectively makes his reviews worthless. A good reviewer takes a balanced look at things.

Humans.....you hated on the Priv where they went essentially "all out" an 808 to a 810 on marshmallow really isn't a day to day difference worth mention. That said, now they go cheap and you still complain... I didn't get the Priv at the time due to keyboard concerns and the price, but given the recent price reductions, they could have entered the market at say 399-499 and been a decent price point entry....but spec wise the Priv is better than this model and I enjoy using the device Posted via the Android Central App

What a joke BB !! Posted via the Android Central App

my mobile outlining porbalm

For 80-90% of users that mostly use phones for email, text and a few apps the phone is more than fine. It's like buying an i3 instead of an i7 processor for a PC. These phones are going to mostly corporate phone issued users. For what it is it's more than decent. If my company gave me this phone for work use I'd be more than satisfied. Posted via the Android Central App

Sweet thinnest Blackberry ever made posted via the lovely innovative Priv by BlackBerry - Powered by Android

What Blackberry needs are Corporate customers coming back to their product, they know what they require and this phone is that market. Also if they can convince some folks about how important it is to keep their phone safe , they will bring over some regular consumers as well . BB doesn't need to sell ten million phones a year to make this profitable, they need to make sure that the handset business doesn't cost them across the bottom line. If it's neutral or positive , then blackberry is happy.. Will it dominate the world of smartphones again ? Who knows , lots of things go in and out of style.... But security in this digital world is paramount for ANY corporation, as long as that is the driving force behind demand , blackberry will have a seat at any professional table... I am a BBOS user , I love it and I love my phone, this one probably takes better pics and has more Android apps than mine , but I am not interested in games , I love the reliability and function of my device .. If Blackberry had the Android compatibility when they released the Z30 they would have sold a huge number of phones. The Z30 is a great phone , this is it's Android red headed step child ...

I administer BES and BB devices at my job. Almost all of the users are choosing the Leap over the Classic, when they're eligible for a free upgrade. Hell, some corp. users are dishing out an extra $300 for the Priv (I'm in Canada). IMO, the Leap is garbage, but corporate users WANT the touchscreen. The DTEK50 will sell well as a fleet device.

i was a big Blackberry fan, but the Z10 was my last BB. I think there were many missteps with the BB 10 OS, but there were some nice touches. Why can't Blackberry bring these touches to their Android offerings? A button-less front where you just slide your finger up from the bottom to turn on/unlock the screen...the ability to swipe up in an app to return to the home screen or the hub...etc., etc. BB's Android offerings just feel like they're being approached from the wrong angle. It's like Blackberry is saying, "How can we take an Android device and add some Blackberry-ish stuff to it?" To me, they should be saying, "How can we build a Blackberry device without writing all the code ourselves (i.e., using Android)? If the challenge with creating a Blackberry experience is the design mandates Google has with using Android/Play Services, then that's where Chen and Co. should be trying to work something out with Google behind the scenes.

Perhaps the problem lies within the abilities and coding of th android OS. It probably wasn't written to behave like BB10, not as if that is either good or bad, just what it is. It would be like saying, why can't you make an iOS phone that acts like Android. Well, it's because of how the code is written.

I think they have been worked close with Google. They say this will have the monthly security patches installed as soon as they are released . That now Lenovo/Moto backing of from. So I guess thats good for business security. And the priced are aimed at business to that buy devices in bulk etc..The Priv model was just to expensive for that.

Google update is mostly a few days behind and BlackBerry is quicker in that way and also with hot fixes.

I'd get one if it would work on Verizon. I loved the keyboard on my z10. Posted via the Android Central App and my Nexus 6

I'm a little mystified on the reviewer's comment about how the power button is usually on the side of the device. I don't think I have ever had a power button on the side of any of my devices and I've used handheld devices since 1998. I suspect the reviewer came in with his preconceived notions and didn't bother to properly review the device, which is typical of many technology reviewers. They're lazy and just want to pound out an article. So, in my review of his review, I'd say meh, he doesn't say anything sensible one way or the other. Typical.

It's not all idol 4 and it;s a Great phone and it works great and has better battery standbye (+10%) then the idol. BlackBerry really tuned this device and it has antoher kind of screen , another bluetooth and gps hardware is different. The device has great reception and good LTE connection and smooth enough for social media and multimedia or pokemon GO but laggy in the heavy 3D games. The device is also good protected to guard and protect your data on the device but for virus and malware get an extra app. DTEK protect and is scanning al the time your device for intrusions or strange behaviours in apps or your data. The price is right if you looking for privacy and data protection and ofcourse a monthly update that makes the price of the DTEK just right. My company tested the device and it ápproved it Mixed use 18% lesser then the priv in battery time and YES this device is LTE build and is a a remix rebrand that is tuned by BlackBerry in a better way/ I pre-order one for the wife and keep myself in touch with the BlackBerry Passport
Android Central Newsletter
Get the best of Android Central in in your inbox, every day!
Thank you for signing up to Android Central. You will receive a verification email shortly.
There was a problem. Please refresh the page and try again.