BlackBerry DTEK50 hands-on: Stuck in neutral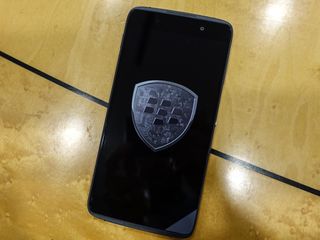 I have been fielding radio interviews since mid-2013 about the inevitable demise of BlackBerry's smartphone business, and each time since then I say, "Sure, this may be it," and each time I am left wondering whether the company's stubborn tenacity is its blessing or its curse.
In the DTEK50, BlackBerry may have finally solved the solution to its hardware profitability problem: a low-stakes handset based on the reference design of an existing product, the Alcatel Idol 4, with a software experience that brings the Priv's impressive amalgam of near-stock Android and a homegrown app suite to a price more palatable to the average IT manager.
Hardware impressions
At first glance, this is an Alcatel Idol 4 — yes, the still-unreleased cheaper version of the Idol 4S — with slight changes, particularly to the phone's back. A 5.2-inch 1080p LCD display covers the phone's otherwise-uninteresting front, and it is, like the rest of the hardware, adequate but largely unimpressive. Colors are vibrant, and white balance, which can be adjusted through the settings, is slightly too warm out of the box. Thankfully, BlackBerry decided to set the phone's DPI — the amount of content shown on the screen — fairly high, which is a nice change fro the average device in this price range.
More: BlackBerry DTEK50 specs
The phone costs $299, and it feels like it: Aluminum chamfers and a rubberized textured back are highlights, but its near-weightlessness is not an asset. Still, the back does not creak like its Priv predecessor (which cost nearly three times as much), and despite the gimmicky nature of the front and back being offset from the bezels to mimic layers, there is a solidity to the chassis that I appreciate.
Unfortunately, the DTEK50 inherited a now-standard negative trait of Alcatel's recent product lineup: a power button located on the top left, which is sure to vex the vast majority of the right-handed user base.
Image 1 of 5
Even worse, where the power button exists on most phones — right side middle — is a convenience key that, after unboxing the phone, I depressed like an idiot for 10 seconds before realizing it didn't power on the phone. This isn't the first time we've seen such a button on an Android phone — Samsung's Galaxy S Active line famously added one a few years ago — but BlackBerry hopes that you'll use this one to quickly open its Hub, or its Calendar, or — mercifully — BBM.
Around back, you're looking at a 13MP rear camera, which doesn't have the same pedigree as the Priv's 18MP shooter, but upon first impression the DTEK50 exhibits a fair approximation of what a $300 phone in 2016 offers. A full review will reveal specifics, but at least BlackBerry's camera app has received considerable performance improvements since the Priv's debut last year.
The DTEK50's spec sheet is largely identical to that of the Alcatel Idol 4, which means its middle-of-the-road inclusions are somewhat mired by a quickly-aging Qualcomm Snapdragon 617 processor and 16GB of internal storage (which is, thankfully, expandable via microSD). In its announcement, BlackBerry hedged against the naysayers by claiming that the phone's 3GB of RAM will keep things running smoothly over the long haul, but after a few minutes tapping away on the company's first-party keyboard, it's clear the phone is severely underpowered.
Finally, the DTEK50 lacks a fingerprint sensor, which was, according to BlackBerry's head of design, Scott Wenger, was more a price consideration than a security one. Surely, a fingerprint sensor cannot replace the need for a strong password (and two-factor authentication), but Android today is a far better experience with biometrics than without. But having to enter a password or pin when opening 1Password feels like a regression, and one that we've seen avoided on other devices in this price range.
Software impressions
First, the good news: the DTEK50 runs Android 6.0.1 with the very latest security patch from Google (July 5th, as of writing), which is considerably more encouraging than some upcoming phones asking twice as much.
If you've used the Priv, the software experience is the same: a powerful home screen that in many ways resembles a hybrid of Google Now and Action Launcher (in a good way), and a bevy of first-party apps that I can only describe as excellent. I have gone on the record as being a fan of BlackBerry's Android apps, from the Hub, which has improved considerably since last year, to its minimalist calendar and notes apps. And all of these apps are updated directly from Google Play, a means of distribution that BlackBerry has utilized often.
Then there's DTEK, the phone's branding namesake, the foundation for BlackBerry's claim of "the world's most secure Android smartphone." While the average consumer may balk at BlackBerry's intention to sell this directly through distribution channels like Amazon, the real sales volume is going to come by bundling the phone alongside BlackBerry's suite of enterprise management tools like BES 12. DTEK (the app) puts a friendly face on a narrative that BlackBerry is desperate to convey to potential customers: Android may be secure, but with this phone you'll never have to worry about being compromised again.
The Accessories
Of course, with every BlackBerry phone, there are the accessories. I got to try three cases that will be available alongside the phone when it launches on August 8: the Smart Pocket; the Smart Flip Case; and the Hard Shell. There will also be a Swivel Holster, because of course there will be.
Image 1 of 5
All three cases are well-made and, between $24.99 and $34.99, in line with what you'd pay from Otterbox or Incipio.
The Bottom Line
At this point, I'm cautiously optimistic about the state of BlackBerry's device business. John Chen has said again and again that he has no qualms shutting down the whole project if it fails to turn a profit, though he stubbornly keeps pushing back that due date. And while this is certainly a BlackBerry phone in name, we're expecting a more traditional keyboard-sporting Android device by the end of the company's fiscal year, which could take us into early 2017.
As for the DTEK50 itself, it appears to be a decent phone that will likely be severely hampered by an underpowered processor. I hope to be proven wrong by the time I write the review, but I doubt it.
More: BlackBerry DTEK50 pre-orders have begun, ships August 8 for $299
Get the Android Central Newsletter
Instant access to breaking news, the hottest reviews, great deals and helpful tips.
Daniel Bader was a former Android Central Editor-in-Chief and Executive Editor for iMore and Windows Central.