B&H Photo Video now taking pre-orders for the BlackBerry Priv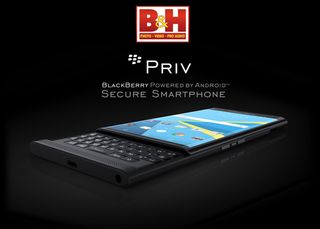 Although pre-orders for the BlackBerry Priv have already begun through ShopBlackBerry for the US, UK and Canada, retailer B&H Photo has now jumped on board as well. As noted on their site, pre-orders for the first Android-powered BlackBerry smartphone have started with expected availability on November 20, 2015.
B&H has maintained the same pricing for orders through them, meaning you will be expected to lay down $699 for the factory unlocked version. As with all orders processed through B&H, you have the option of having the device shipped to you, or if you're in the New York area, you can pick it up at their New York City superstore location.
Pre-order the BlackBerry Priv from B&H Photo (opens in new tab)
Thanks, Mandony!
Why order through them and have to wait an extra 2 weeks? Same price...

If you are not in NY, you don't pay tax and shipping is free. So you save some money.

This or the 6p? Posted via the Android Central App

6p any time any where. It's Google's upscale baby and they will treat it as such for the rest of its life (aka about 2 1/2 yrs or so) Posted via the Android Central App

3+ years really When we die, we go bye-bye. - Sal Vulcano

I have the same question in mind. The keyboard and wireless charge have me leaning BlackBerry but camera and timely updates have me leaning Nexus. Will just have patience and sort things out when a few of both of them are in use. Posted via Android Central App

Camera has you leaning Nexus? Are you smoking something? Lol Posted via the Android Central App

The 6p camera is nothing to sneeze at. __________________________________________________________________________________-_________________________-____________________

The BlackBerry Priv crushes the 6P. The 6P is just like every other Android phone except it will get fast updates from Google. The Priv gives you so much more and is so different than anything available. If you have never experienced BlackBerry HUB then you don't know what you are missing. Plus the BlackBerry calendar and email client is much more robust than stock Android. Plus you get a QWERTY Keyboard with bult in trackpad, BlackBerry security, and productivity suite. I would take the Priv over the 6P all day anyday. It's not even a fair comparison really. Posted via the Android Central App

Ha and he is the one smoking the good stuff? 6p is far superior mate. But if BlackBerry is your thing so be it. Your pro point is it has a better calendar app? Lulz When we die, we go bye-bye. - Sal Vulcano

This. I switched from bb10 to android, and haven't missed the calendar, email or hub. Overrated by the diehard fans. To be honest, the calendar and email apps I use on Android are a much better experience than on blackberry 10. I wish blackberry success, but the 6p will always be the better choice, on software experience alone. Marshmallow and immediately available, regular updates. Or lollipop with no guarantee of a marshmallow update. Knowing Blackberry's history of abandoning development of their poorly selling products. I wouldn't be surprised if they didn't update the software at all, if it doesn't hit their sales expectations. Why risk it? The 32gb 6p is $200 cheaper, better hardware and overall experience. Imo, any android flagship released in the past month or two is a better option, the Priv is more comparable to devices released this past spring/winter, and maybe worth considering when the price drops in the next month or two.

OK, everybody, not all at once though, or we'll crash the store's servers. Blackberry as a brand is not a good thing for people, and hadn't been for years. If they would have launched this phone under a different brand, I think it would be the talk of the tech industry. We haven't seen an awesome qwerty phone for gsm in forever (at least in the US). As a blackberry, though, I don't know. It's a shame, because the specs and form factor alone look awesome, tho I can imagine the camera is any good, considering their track record so far. Posted via the Android Central App

I have to disagree with you. BlackBerry as a brand is a joke to many because of their unwillingness to adapt, yes, but they have great services and software on their more recent phones with good cameras for mobile as well. There is no doubt in my mind that this phone will check many boxes for many people. The problem is many will never give it the time of day. Posted via the MATERIAL AC App

But it is the talk of the tech world Posted via the Android Central App

So is every new device. And this is a break from what blackberry does. It isn't because this phone is revolutionary, it is because it is a sideshow __________________________________________________________________________________-_________________________-____________________

Getting there slowly... Can't wait! Posted via the Android Central App on my LG G4

Any word on CDMA compatible versions? The initial word was availability on all 4 major carriers but that has subsequently gone as quiet as silence...

Yes- see CrackBerry. There is a shot of one on Verizon. Posted via Android Central App

The Hub and Google Now in one phone...Boom! Posted via the Android Central App

There are PROS and CONS to every single device on the market. IMO this is a very good device but not better than the Nexus 6P, especially at $200 more. if it came with Android 6.0 it would be a very tough decision but since that is unknown when it will be updated, the choice is easy
Android Central Newsletter
Get the best of Android Central in in your inbox, every day!
Thank you for signing up to Android Central. You will receive a verification email shortly.
There was a problem. Please refresh the page and try again.