Best Wireless Chargers for the iPhone in 2019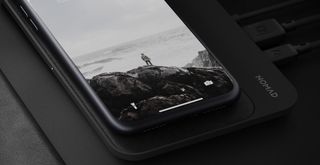 (Image credit: Amazon)
Apple finally gave in and decided that AirPower is not meant to be. That is its loss because there are plenty of options to choose from out there. From stands that charge up to three devices at once to regular wireless chargers meant to charge just your iPhone (or whatever device you use), the options are truly endless. Here are our picks for the best wireless chargers for your iPhone in 2019.
The real AirPower
Nomad Base Station Apple Watch Edition
This is a charging pad that can charge the iPhone, AirPods and Apple Watch all at once. No, it is not AirPower, it's Nomad's Base Station Apple Watch Edition that accomplishes the mythical trifecta. As an added bonus, it also has a USB-C and USB-A port on the back if you want to charge even more devices because more is always better.
Double the charge
(opens in new tab)
Samsung Wireless Charger Duo
Samsung has been making fantastic wireless chargers for a while now, and its latest one, the Wireless Charger Duo, is its best one yet. As the name suggests, it can charge two devices at once, one with the charging stand and one with the flat pad. It is perfect for the iPhone and the AirPods combination.
Jack of all trades
Studio Neat Material Dock
The Studio Neat Material Dock is a jack of all trades wireless charger. It has a Qi wireless charging pad, a wireless charger for the Apple Watch and an extra Lightning dock for any extra device you may have like AirPods. That means it can charge three devices at once, and that's on top of coming in a stunning wood finish.
Stand with style
(opens in new tab)
Logitech Powered Wireless Charger
The Logitech Powered Wireless Charger is quite the versatile wireless charger. Its unique design looks odd at first, but it makes sense once you consider it can charge an iPhone in both portrait and landscape mode. It charges via 7.5W and has a hidden LED light on the top that will let you know your phone is charging without annoying you.
A convertible option
(opens in new tab)
Samsung Convertible Wireless Charger
Where as most stand wireless chargers are fixed, Samsung's Convertible Wireless Charger is as the name suggested, convertible from a stand to a flat pad. You want your charger to stand? Put it up. You want it flat? Put it flat. The choice is up to you.
Just works
(opens in new tab)
RAVPower Fast Wireless Charger
The RAVPower Fast Wireless Charger is a fantastic little charger. It is probably the most versatile charger you can find with its slim profile and wireless charging abilities. For compatible Android phones, it'll push out 10W, and for iPhone, it'll charge at the max 7.5W.
Maximum speed
(opens in new tab)
Anker Wireless Charger Stand
Want a great wireless charger without any compromises, go with the Anker Wireless Charger Stand. It offers the basics of no wires and fast charging speeds at up 10W. It is compatible with any Qi-enabled device and comes with a 18-month warranty.
Please stand up
Google's Pixel Stand is one of the best-looking wireless chargers you can buy. Its striking standing look is perfect to put beside your desk or bed stand. Plus its soft touch finish feels really great and the discrete LED light won't blind you at night.
The classy option
(opens in new tab)
Mophie Charge Stream Pad+
Mophie's Charge Stream Pad+ is one of the most understated wireless chargers available right now. With its circular design and super slim profile, it is almost hard to believe it can deliver 10W of charging. It works with any Qi-enabled device including the iPhone and AirPods.
Just the two
The Nomad Base Station is the defecto wireless charging pad for anybody looking to charge multiple Apple devices except the Apple Watch. If you own an Apple Watch, check out our Staff Favorite selection. The standard Base Station offers all of impressive features of Nomads wireless charger such as the minimalistic finish and the ability to charge two devices at once.
A stylistic effort
(opens in new tab)
Native Union Drop Wireless Charger
Native Union's Drop Wireless Chargers is one of the most unique wireless chargers you can buy. It covers then basics of being a great wireless charger with its 10W charging speeds and one-ups that with its slim and unique design including a stylistic fabric pad with intercut patterns that keep your phone in place.
Understated ability
(opens in new tab)
Belkin Boost Up Wireless Charger
Leave it to Belkin to deliver one of the best and most understated wireless chargers. The long-time accessory maker created a powerful yet sleek charger that chargers Qi-enabled devices at up to 10W. And details like the un-disturbing LED light and color options (including Rose Gold) round out the comple package.
Enter the future without wires
You can now unlock the full potential of wireless charging one or multiple devices at once. It's a shame Apple wasn't able to fully realize AirPower, but these options are better because they are real. You can buy them right now and enjoy them.
Our favorite is the Nomad Base Station Apple Watch Edition (opens in new tab) for its triple ability. AirPower promised to charge three devices at once and Nomad's delivers on that promise with a minimalistic device. It also doesn't hurt that touches like the leather-covered pad and extra USB-C and USB-A ports add even more versatility
Another wireless charger worth considering is the Samsung Wireless Charger Duo (opens in new tab) with its double charger that offers both a stand and a pad. You want to charge your iPhone and new AirPods 2? This charger has got you covered.
Welcome to the wireless future.