Best Travel Accessories in 2022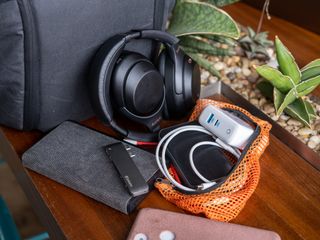 The amazing advancement in personal technology has changed every aspect of the way we travel. Having the right accessories on hand when you head out, whether it's for a weekend trip or a month-long adventure, is critical. Android Central is full of road warriors, and that means we're constantly in search of the best travel accessories — and the gear we recommend here is the same that's in our bags each time we leave the house.
Pro on-the-go
Travelling isn't always the most enjoyable experience, no matter how often you do it. But with the right tech and accessories, suddenly the process of getting to where you need to go and making the most of the time there is easier. The addition of dead-simple and inexpensive accessories like Mophie's Encore Portable Power Bank (opens in new tab) and Aukey's USB-C Cable 5-Pack (opens in new tab) addresses the little frustrations we've all had while on-the-go, like your phone dying at the worst time or the power outlet not working on an airplane. These will ensure you can recharge your devices, so they're ready to go when you need them.
When you're ready to upgrade your travel gear, there are fantastic buys out there like BauBax Bomber Jacket 2.0 (opens in new tab) that integrates items like a neck pillow and eye mask, so you don't have to pack them separately. Plus, they are always ready at a moment's notice. Also, the Sony's WH1000XM3 Headphones (opens in new tab) are great for blocking out distracting noise around you, like the hum of an airplane engine or sounds from a train. You can catch some ZZZs or relax with your favorite tunes or a good movie wherever you go.