Best Tech and Accessories for Dog Anxiety in 2022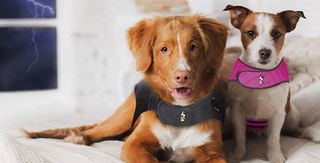 Stress isn't healthy for anyone, including your four-legged friend. Thankfully, technology can soothe frayed nerves and put your pal at ease. Whether your best bud is afraid of thunderstorms or a little on the nervous side, we have something to calm him (and you) down. Here are the best tech and accessories for dog anxiety.
Only the best for your pet
Stress in dogs can lead to bad behavior, fear, aggression, and a struggling nervous system. Help your dog stay cool and collected during even the wildest of storms with my favorite pick, the ThunderShirt Sport (opens in new tab). This jacket wraps around your pooch and attaches comfortably with Velcro closures, making him feel like he's getting a constant hug of support. My dog sleeps through thunderstorms, fireworks, and other stressors with a ThunderShirt, and thousands of other animals have had similar results.
For dogs who mouth, love to carry things, and need a little warmth, the SmartPetLove Snuggle Puppy (opens in new tab) is like a pacifier for pooches, consoling pups while giving them something to carry.
Android Central Newsletter
Get the best of Android Central in in your inbox, every day!
Thank you for signing up to Android Central. You will receive a verification email shortly.
There was a problem. Please refresh the page and try again.