Best paid Android racing games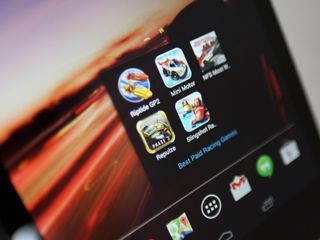 Hey adrenaline junkies, are you looking for the best racing games for Android? Whether you're in it for a cartoony, over-the-top experience or a hardcore competitive one that will demand your undivided attention, we've dug up some of the very best the Google Play Store has to offer.
Though we're highlighting paid games in this round-up, there are some excellent free racing games for Android that are just as good, and in some cases better, depending on your tolerance level for in-app purchases. Even these premium racing games have IAP options, but we'll be sure to point them out for you.
Without further ado, let's buckle up and burn rubber with the top paid racing games on Android.
Need for Speed Most Wanted
Why you can trust Android Central Our expert reviewers spend hours testing and comparing products and services so you can choose the best for you. Find out more about how we test.
Need for Speed Most Wanted continues one of the top AAA racing game franchises from consoles. Players cruise through a variety of richly-detailed stages, often trying to avoid the cops and simultaneously trying to sideswipe competing racers. The mobile game has a strong tie-in with the console version, allowing users to rank up in a common leaderboard. The controls are absolutely stellar, using tilt, intuitive drifting, and full Moga controller support. In-app purchases are available to buy in-game cash, which can be spent on upgrading your various cars, though you'll also earn that cash simply by playing through the game. If you absolutely want to avoid in-app purchases, and are willing to make a compromise in graphics, there's also the last game, Need for Speed: Shift.
Need for Speed Most Wanted provides some of the best graphics you'll find for racing games on Android, and strikes a great balance between a goofy arcade feel and something more serious and competitive.
Mini Motor Racing
Mini Motor Racing is fast, finger-friendly fun. Despite the cartoony art style and physics, there is a lot of challenge to be had here. Players work their way through various race modes in a top-down perspective, buy new cars, and upgrade their existing ones. The 20-odd tracks are presented in varying weather conditions and times of day, which offers a ton of replay value even for the most familiar circuits. There's a great Fruit Ninja tie-in with its own themed course and car, regular updates with new content, and local multiplayer over Wi-Fi. In-app purchases are available if you want to fast-track your car upgrades, though they're far from necessary. There's also a new extended championship you can buy your way into with in-game cash, though there are already 200 races in the core experience.
For a light and fun racing game with lots of polish, pick up Mini Motor Racing.
Slingshot Racing
Slingshot Racing is a unique luge racing game, featuring fluid, precise, and surprisingly fun one-touch controls. Every corner has a turnstile off the track which just spins continuously. As you approach, you hold down your finger on the screen, and your little racer harpoons to it, enabling you to slingshot around the corner and gain momentum. You have to be sure to release your touch at the right moment though, otherwise you'll just smash right into the inside wall and lose speed. This control scheme allows for easy local multiplayer on the same device, and combined with various in-track elements like boosts and hazards, you'll find plenty of challenge here. There are over 80 races here to work on, each one unlocked by gathering enough bolts from completing previous tracks. Slingshot Racing has one $3.00 in-app purchase to unlock all of the tracks to play, and $0.99 for each of four purely cosmetic bobsleds.
Slingshot Racing is a polished, unique racing game perfect for sharing with friends.
Riptide 2 GP
Riptide 2 GP is a fantastic jetski racing game where players ride through all sorts of waterways: some man-made, some out in the wild. The career mode puts you through progressively more challenging races, rewarding you with cash and experience points. The cash can be spent on getting new rides or upgrading the ones you have, and every time you level up, you can unlock killer new tricks to perform when launching off ramps on a course. Riptide 2 GP is distinct from other racers in its bounding feeling as you skip over the waves, not to mention getting splashback in the camera view. Vector Unit's other racing titles, Beach Buggy Blitz and Shine Runner, feature these liquid physics as well, but Riptide is very clearly built to showcase them to their fullest. Competitive online multiplayer is powered by Google Play Games. You can speed up your progression with in-app purchases, but, as usual, they're optional.
Riptide 2 GP is an outstanding pick if you've had your fill of puttering around in cars.
Repulze
Repulze is a neat twist on the futuristic, high-speed racing game. It stays differentiated with a polarizing mechanic, whereby players slalom between red and green energy gates, depending which they have active. Get three in a row, and you earn a boost as well as change the polarity. Go through the wrong gate, and your speed will be knocked down considerably. Besides that, Repulze has dizzying twists and turns, tap, tilt, or hardware controls, and fully upgradeable vehicles. Every stage has a handful of toolkits which can be used to on upgrades if you can snag them, though there are in-app purchases to help you out if you need them, too.
Repulze is a buttery smooth, stunningly fast racing game with fresh take on a well-established genre.
Your favorite paid Android racing games?
There are a lot of Android racing games out there, and these are just our top picks. Which paid racing games are you really digging right now? Are there any on the freemium side that you play regularly? Again, check out our free Android racing game round-up for some really outstanding titles.
Sign up for Black Friday email alerts!
Get the hottest deals available in your inbox plus news, reviews, opinion, analysis and more from the Android Central team.
Simon has been covering mobile since before the first iPhone came out. After producing news articles, podcasts, review videos, and everything in between, he's now helping industry partners get the word about their latest products. Get in touch with him at simon@futurenet.com.