Best of 2018 Awards — All The Winners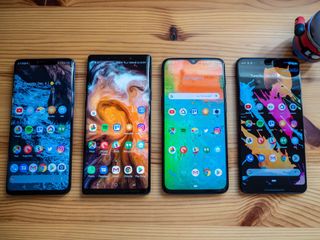 2018 was a great year for Android phones and accessories, with improvements in design, performance, features, and cameras. With so many phones, however, it's hard to know which are truly the best, but as is usually the case, a few stood out from the rest. Similarly, a few pairs of headphones captured the imagination more than we could have ever imagined, with the long-standing Bose QC35s finally replaced atop the audio pile.
Of course, there's more than just flagship phones and audio when it comes to Android so here are all the winners of our Best of 2018 awards!
Best Android Phone of 2018
Why you can trust Android Central Our expert reviewers spend hours testing and comparing products and services so you can choose the best for you. Find out more about how we test.
Phone of the Year 2018
An all-around amazing phone with both power and elegance.
Samsung offers an all-in-one package you can't find anywhere else. It's beautiful from any angle, and accented by the best display you can find on any phone. It's also filled with the highest-end specs, excellent battery life, and nice-to-have features like a headphone jack, wireless charging, stereo speakers and the unique S Pen stylus. Its cameras are fast and simple to use, yet produce exceptional photos. Anyone will be happy with the Galaxy Note 9.Runner ups:Google Pixel 3 and 3 XLHuawei Mate 20 ProSamsung Galaxy S9 and S9+
Why the Galaxy Note 9 is our Phone of the Year 2018
Best Android Phone Camera of 2018
The Best Android Phone Camera
Wide, telephoto, and everything in between.
On specs alone, the Mate 20 Pro would be a great camera, but Huawei has added a bunch of AI-based special sauce that gives everything from food to flower to low-light shots an edge over the competition. The Mate 20 Pro revels in its multi-faceted approach to photography; this thing can do everything. Not only is its primary sensor a whopping 40 megapixels, but there are wide-angle and telephoto options to fall back on should you need a unique shot. Plus great portraits and a robust Pro mode, the Mate 20 Pro can do it all.Runners up:Samsung Galaxy Note 9Google Pixel 3 and 3 XL
Why the Huawei Mate 20 Pro is the Best Android Phone Camera of 2018
Best Headphones of 2018
The Best Headphones
Simply the best wireless headphones in the market today.
Sony's WH1000XM3 offer exquisite sound quality combined with class-leading noise isolation. Couple that with 30-hour battery life, fast charging over USB-C, and Google Assistant integration and you get a fantastic product that punches well above its weight.Runners up:OnePlus Bullets WirelessSamsung Gear IconX 2018
More on why the Sony WH1000XM3 is our pick for Best Headphones of 2018
Best Affordable Phone of 2018
The Best Affordable Phone
Premium build quality meets regularly updated software at a great price.
There's just no beating the Nokia 7.1 for the price. It looks and feels great, has a gorgeous display, excellent battery life, and much more. Performance can be a little sluggish at times, but for just $350, you're getting far more than your money's worth.Runners up:Moto G6Nokia 6.1
More on why the Nokia 7.1 is the Best Affordable Android Phone of 2018
Best Chromebook of 2018
Best Chromebook of 2018
The Complete Package
You can spend a lot of money on a Chromebook, but you'll be hard pressed to find a better value than the HP Chromebook X2. Wth powerful components and an amazing display, this detachable really defined the category in 2018.Runners up:Acer Chromebook Spin 13Lenovo Chromebook 500e
More on why the HP Chromebook X2 is the Best Chromebook of 2018
Best Smartwatch & Fitness Tracker in 2018
The Best Smartwatch & Fitness Tracker
The best smartwatch money can buy.
Samsung's Galaxy Watch is a ambitious smartwatch that tries to do a lot, and in the end, it does just about everything really, really well. It has a stunning AMOLED display, a great fitness-tracking platform, and a smooth/responsive software package all wrapped up in an incredibly well-designed body.Runners up:Skagen Falster 2Fitbit Versa
More on why the Galaxy Watch is the Best Smartwatch & Fitness tracker of 2018
YOUR Phone of the Year!
AC Reader's Choice Phone of the Year 2018
An all-around excellent phone with power and finesse.
Samsung has created the ultimate all-in-one smartphone, combining the best features across the market with a few that are unique to just the Galaxy Note 9. It has the best display on any phone, excellent high-end specs, great battery life and a wishlist of features that includes a headphone jack, wireless charging, stereo speakers and the S-Pen stylus. The dual cameras are fast and take excellent photos with a simple interface. Ultimately, the Galaxy Note 9 is the phone for everybody.Runners up:Google Pixel 3 + Pixel 3 XLOnePlus 6T
More on why the Galaxy Note 9 won Reader's Choice Phone of the Year
Best Company
Smartphone Company of the Year 2018
Two excellent smartphones, and a carrier launch — OnePlus had a great year.
OnePlus didn't launch one, but two excellent smartphones this year. That's not the company's biggest highlight though, as the launch of the OnePlus 6T in November heralded in an entirely new era. Thanks to a partnership with T-Mobile, US customers can now experience and buy the OnePlus 6T in retail stores across the US. Overall, an excellent year for the darling of the smartphone industry.Runners up:Samsung - Galaxy Note 9Qualcomm
Bottom line
All of these devices, products and services are deserving winners of our Best of 2018 Awards in their respective categories. The Galaxy Note 9 and Pixel 3 dominated the smartphone portion of the awards, although Huawei's Mate 20 Pro and the OnePlus 6T both proved to be exciting challengers. Whichever product or service from this list you bought, you can rest assured it's one of the very best of 2018!
Get the Android Central Newsletter
Instant access to breaking news, the hottest reviews, great deals and helpful tips.
Nirave Gondhia has been writing about the mobile industry for over a decade and began his career selling and fixing phones in the UK. He's used every flagship smartphone over the past five years and carries at least two phones at all times - currently, he's using the iPhone 11 Pro, [Samsung Galaxy Fold and Motorola RAZR. Say hi to him on Twitter at @nirave.