Best games for Google Daydream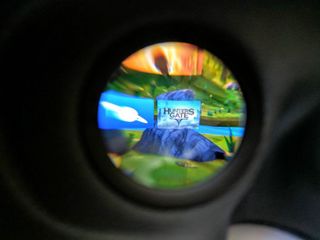 For many people, Daydream View is more than Google's take on VR. It's the first VR headset for a lot of Pixel owners, and that means there's plenty of room to explore and have some fun. It also means there are a lot of apps in the Play Store asking for some money from you without a whole lot of assurance that the game will be worth the cash.
While there's plenty of fun to be had with the free apps available for Daydream, some of the other experiences are on an entirely different level. Here's where you need to start if you're looking for quality games for Daydream.
Justice League VR: Join the League
Why you can trust Android Central Our expert reviewers spend hours testing and comparing products and services so you can choose the best for you. Find out more about how we test.
Just about anyone can admit to wanting to know what it feels like to be a superhero. While I believe you don't need this because you already are, being able to experience superpowers in VR is pretty cool. Justice League VR gives you 6 opportunities to be your favorite superhero with fun little objectives to challenge yourself with. Race around in the Batmobile, sword, and board as Wonder Woman, fist fight an ocean monster as Aquaman, stop a bomb as The Flash, or take down enemy drones as Cyborg.
Truly this game has a bit of everything in it and highly recommended. You can't save the world alone, so pop on your headset and join the League!
Ultrawings
It's time to take a breather, put on our aviator hats, and our leather gloves. Ultrawings is here and this game is ready to teach us how to fly or fill our vision with cartoon stars trying. Using your Daydream Controller you'll navigate an aircraft with your handy-dandy joystick. Take a flight from an island airport and get a good view of that sweet, sweet deep blue virtual reality ocean.
While there aren't any multiplayer options available, you'll have plenty of fun completing the goals an objectives to become a better pilot.
Hunter's Gate
If you're a fan on dungeon crawlers, you'll like Hunter's Gate. Choose between the hunter or the sorcerer, and take down hordes of evil creatures as you run through a series of maze-like levels from a unique, almost 2.5D perspective. Your Daydream Controller gives you control of a set of crosshairs you can use to guide your character's fire, and as you complete levels you can enhance your character to better handle the next wave of baddies.
The best part of this game is the potential for multiplayer raids. This game is being updated on a weekly basis with new content, and all of it is aimed squarely at giving you a greater challenge and encouraging you to play with friends.
The Arcslinger
As the squire to one of the greatest warrior heroes in the land, you've got a pretty sweet gig. That is until he dies through totally no fault of your own and it's up to you to save the town from bandits and monsters! Take up arms with your Daydream Controller as your trusty pistol and learn about Arc magic as you shoot your way through an amusing storyline filled with weird and wonderful characters!
Keep Talking and Nobody Explodes
There's a bomb in front of you, and you need to disarm it before the timer goes off. One problem though — you have no idea how to disarm a bomb and one wrong move will end it all. You're going to need help with this one, and the only way you're going to get that help is by talking to someone with the manual to all of the explosives. This is a co-op party game, and usually works best if someone prints out the explosives manual, but if you're looking for a fun party game this is absolutely something you need to have in your library!
VR Space Stalker
Nothing is quite as intense as fighting battles in space while your comrades frantically call for your help. In VR Space Stalker you get just that, along with some pretty stellar graphics of intergalactic life. Dodge meteors, shoot down enemy ships and try not to die in this spectacular adventure in this war zone.
Evil Robot Traffic Jam
This is a clever take on Tower Defense gaming, done well in VR. Evil Robot Traffic Jam puts you in control of a robot arsenal bent on destroying all of the vehicles trying to pass through your turf. Drop turrets, score power-ups, and be prepared to rain down fire on anything trying to slide past you.
Evil Robot Traffic Jam has a fair bit of challenge to it, but it otherwise a great game for all ages.
VR Haunted House 3D
Maybe your idea of fun involves having your heart skip a beat on occasion and you're looking for another thriller to add to your collection. Well, you're in luck. VR Haunted House not only gives you the ambiance of a haunted mansion, but it brings you zombies to boot. No, literally. In this game you work your way through a clearly abandoned home to shoot the zombies now infesting it.
Bust out your survival kits because this time, superstition is totally the way.
Wands
Arm yourself with your favorite spells, and journey into the catacombs for a one on one duel against fellow sorcerers! This is one of few Daydream games focused directly on competitive multiplayer, and it works so well in this game. Your strategies and how quickly you cat switch between spells with your Daydream controller will determine who wins. All you have to do is make sure that wizard is you!
Visually this game is a lot of fun, and once you're able to try out the spells that work well for you this will quickly become something that keeps your in VR for quite a while.
Virtual Virtual Reality
In the future AI Robots have taken over and one of the few jobs for humans is to act as Artisinal Human companions to robots who need help with something. If that sounds completely off the wall and ridiculous, you'd be right. Virtual Reality is a fun and absurd game based on having you complete tasks for your employers, and possibly rebel against them if you are so inclined.
A mind-bending experience that has layers of ridiculous levels to keep you occupied, this is a great game for anyone who enjoys laughing at their games in VR. Check out our full review for more details!
What's your favorite?
With new games and apps being added to the Play Store each week, there are bound to be plenty more additions! Is your favorite game for Daydream on our list? Is there an excellent game we need to check out? Be sure to leave a comment below and let us know, or check out the forums.
Get the Android Central Newsletter
Instant access to breaking news, the hottest reviews, great deals and helpful tips.
Essa Kidwell is an expert in all things VR and mobile devices who can always be found with an Oculus Go, a Pixel 2, and an iPhone 7+. They've been taking things apart just to put them back together for quite some time. If you've got a troubleshooting issue with any of your tech, they're the one you want to go to! Find them on Twitter @OriginalSluggo or Instagram @CosmeticChronus.