The best gadgets of the week for June 21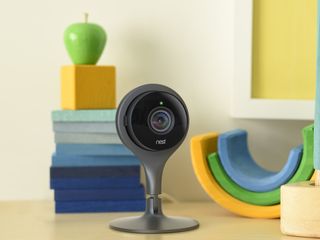 We're going to try out a new series where we highlight the latest connected devices and accessories. Everything here has recently gone on sale for the first time, or is shipping in the near future. These will span Bluetooth accessories, connected home devices, and anything else that isn't a phone or tablet, but plays nice with them.
READ NOW: Five great new connected devices
Nest Cam
Why you can trust Android Central Our expert reviewers spend hours testing and comparing products and services so you can choose the best for you. Find out more about how we test.
This week Nest announced a new security camera based on those built by recently-acquired Dropcam. The new Nest Cam features a similar disc-shaped camera unit, but has a slimmed down mount. Many of the features will seem familiar, such as ongoing 1080p surveillance and cloud-stored playback, mobile motion notifications, and two-way audio. Night vision has been improved with intelligent adjustments for artificial light and a wider field of view. Nest also announced a new version of their smoke and CO detector, Protect, which can tell the difference between fast- and slow-moving fires and has a new design that's easier to install. For now Nest Cam is only up for preorder, but will be shipping next month.
Preorder now - $199.99 (opens in new tab)
UE Roll
Ultimate Ears has launched a new waterproof Bluetooth speaker call the Roll. Besides being able to handle a little splashing around, the UE Roll's most interesting feature is bungee system that lets you attach the speaker to just about anything. The Roll can pair up with other Ultimate Ears speakers for up to 9 hours of stereo sound. Companion apps for iOS and Android allow for ongoing updates and remote control from your phone. There are a ton of different color and style combinations available, ranging from subdued to gaudy. If you plan on spending a lot of time at the beach this summer, check this one out.
Buy now - $99.99 (opens in new tab)
Fallout 4 Pip-Boy
(Zip forward to 16:30.)
Bethesda kicked down the door of the biggest video game conference of the year by announcing Fallout 4. Since the last iteration of the 50s-flavored post-apocalyptic game, the developers have become quite mobile-savy. Not only did they launch a fun little city-builder game called Fallout Shelter for iOS, they also announced the special Pip-Boy edition of their game which would include a replica of the iconic wristwear.
Aside from making jokes about how this was the smartwatch of the future, this thing will actually be able to hold your phone and provide live information from the Fallout 4 as you're playing it. Game director Todd Howard said of the tie-in, "Usually second screen experiences are just stupid gimmicks, but as far as stupid gimmicks go, this is the best fucking one I have ever seen." I'm inclined to agree. Even though Fallout 4 doesn't launch until November 10 and the Pip-Boy edition costs a whooping $119.99, it's already hard to find anywhere that will have online stock for preorders. Here are a few sources that are worth checking in on.
Logitech K400 Plus Keyboard
Logitech has historically done a great job with living room keyboards, and they've recently refreshed their lineup with the K400 Plus. It plays nice with any Windows or Android device you have plugged into your TV, and includes an embedded touchpad and media controls. With a separate download, you can program new shortcut keys and tweak cursor responsiveness to suit your needs. If you're looking for a full keyboard to go with a set-top box like the NVIDIA Shield Android TV, the K400 Plus is a good fit.
Buy now - $39.99 (opens in new tab)
Xbox One Elite Wireless Controller
One of the other goodies out of E3 this week was a premium gaming controller direct from Microsoft. For those that are super-serious about their playtime, this new controller features hair triggers on the underside for rapid and precise action. High-grade materials all around are designed to significantly reduce wear and tear, not to mention enhance comfort for long gaming sessions.
You'll even be able to fine-tune the controller with a key mapping switch and swap out parts based on personal preference. The Xbox One Elite Wireless Controller will work just as well with your Windows PC as your console. Take a look at our hands-on experience to see what it's all about. Preorders are available now, with shipping date expected to be in October.
Preorder now - $149.99 (opens in new tab)
Which gadgets are you looking forward to?
We're still playing with the format, so we want as much feedback from you guys as possible. What kind of devices are you interested in outside of the world of phones and tablets?
Android Central Newsletter
Get instant access to breaking news, the hottest reviews, great deals and helpful tips
Simon has been covering mobile since before the first iPhone came out. After producing news articles, podcasts, review videos, and everything in between, he's now helping industry partners get the word about their latest products. Get in touch with him at simon@futurenet.com.
Lookin forward to that Nest Cam for sure.

the UE Roll looks cool. i have the UE Mini Boom and love it especially for beach trips.

"Cloud stored playback" is a great feature, but I don't like the notion of paying Google twice for cloud storage. Let us use Google Drive space. Otherwise, I have no interest in yet another monthly bill. $350/year for 6 cams? Nah. My Logitech Alert setup is $0/year and I have all footage stored on my desktop and backed up in the cloud too. Free. Posted via the Android Central App

Surely Nest is making a CO detector instead of CO2? Nobody needs to monitor their "carbon footprint" that closely. Posted via the Android Central App

I like the idea of this weekly summary. A quick way to keep up with what's going on.

Does cloud stored playback include owncloud? --- This message brought to you via the sarcasm keyboard available for download at the Google Play Store.
LG-G2 on Lollipop.

This series s such a great addition! Good job A/C ! I hope this series continues. This is super interesting for me (gadget freak :-) . I ordered the NestCam already as well.

I love idea of nest cam and Xbox elite controller but the are both to expensive. Price should be half of there rrp Posted via the Android Central App

Looking so nice...would i do Like it....:-)
Android Central Newsletter
Get instant access to breaking news, the hottest reviews, great deals and helpful tips
Thank you for signing up to Android Central. You will receive a verification email shortly.
There was a problem. Please refresh the page and try again.