Best Chrome extensions for staying in touch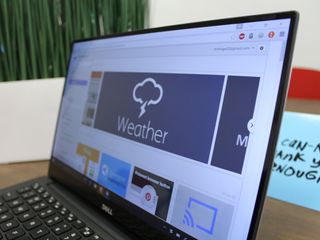 (Image credit: Android Central)
**Updated March 30, 2017: We've updated our list with more great extensions for keeping in touch.
If you spend a lot of time on the internet and you love using Chrome, you probably know about extensions. With the amount of messaging and email utilities out there, some of the best can be lost in the pile. Maybe you want to schedule emails for future release, or maybe you want to quickly share articles or pictures with friends and followers. Maybe you need some help with your grammar while you write that email, or need some help translating sentences for friends you met while traveling. No matter your reason, here are the best Chrome extensions for staying in touch.
Facebook Messenger
Why you can trust Android Central Our expert reviewers spend hours testing and comparing products and services so you can choose the best for you. Find out more about how we test.
Anyone familiar with the mobile Facebook Messenger app will immediately realize the benefits of this extension. A small window showing your friends and recent chats pops open up at the side of your browser; share pictures, video, and text, and receive alerts when you receive messages.
Point
Sign into this extension with your Google account and begin sharing articles with friends. Share the article, highlight text while your friends are viewing, and chat in real time in a pop-out window. It's like you're sitting around a newspaper, holding a highlighter, talking about the subject. This app makes discussing news in the information age more effortless than ever before.
Google Hangouts
What you have here is a built-in text, voice, and video chat extension for Chrome. Best part? It's all free. Chat with multiple people at once (great for meetings or family gatherings), send images and photos, and use over 850 emojis to express yourself. Hangouts even keeps a record of chats so you can go back and see who you should catch up with.
Boomerang for Gmail
Boomerang allows you to take complete control over your Gmail inbox. Imagine: you're going to be offline for a couple of days but don't want your dear mother to worry about you. Schedule a reassuring message to send sometime during the period you're offline. This extension also lets you track messages and set reminders within Gmail, so you'll never forget to send an important email again.
Grammarly
Although the internet does its best to destroy all languages, Grammarly is putting up a fight. Use their built-in text editor to ensure your writing is up to snuff before publishing or emailing, and receive real-time suggestions as you type around the internet. You can also copy and paste text from anywhere to verify grammar. The free version of Grammarly does a suitable job, but if you want to upgrade to Premium (deeper grammar check) it will cost you about $30 a month.
Google Translate
Wish you could read web pages published in a foreign language? You can! With the web page open, just click the Translate button and choose to translate the entire page. If you'd like to translate a sentence or two, highlight the text and click the translate button. You can even hear how the words are pronounced in the specific language you're translating from. This is a great extension for anyone who loves to travel — keep up with friends you made in faraway lands.
WhatsApp Messenger
This WhatsApp extension pops out from Chrome in its own little window. It allows you to text friends also using WhatsApp as though you're using your phone — great for locations with internet but no cell service.
Buffer
Buffer lets you take content from the web and post it on Facebook, Twitter, LinkedIn, and Google+. Just right click on an image or article and click on Buffer from the menu. You can also schedule posts and tweets for a later time, and you'll be able to track traffic around your content. This is a great extension for people who put out a lot of content on social media sites.
Giphy for Gmail
Giphy lets you search GIFs by keyword to be inserted into your emails. Adding this extension to Chrome puts a small button in new Gmail messages; just click the button, search for a suitable GIF, and click it to insert. This is a fantastic way to spruce up your emails and is a big hit with everyone who uses it.
Rapportive
Rapportive adds LinkedIn profiles directly to your Gmail. This extension will open up the LinkedIn profile of anyone who emails you. For those who gets dozens of emails every day, this can be particularly handy for keeping track of exactly who you are talking to. Having access to their whole LinkedIn profile while replying to emails also means that it's easier to set up meetings, and see pertinent information about where they work.
<br clear="all>
Your choice?
What is your favorite Chrome extensions for keeping in touch? Let us know in the comments section below!
Get the Android Central Newsletter
Instant access to breaking news, the hottest reviews, great deals and helpful tips.
Cale Hunt is a staff writer at Mobile Nations. He focuses mainly on PC, laptop, and accessory coverage, as well as the emerging world of VR. He is an avid PC gamer and multi-platform user, and spends most of his time either tinkering with or writing about tech.
i only posted here because this article seemed so lonely.

The WhatsApp extension says to "leave your phone connected, for it uses the phone to update." So, I still need phone reception for it to work on the Chrome? I was hoping that if didn't have my phone with me or it died and no charger I could get messages through Chrome.

just wanted to say that you guys forgot to add the description for 'share to twitter'... its a pretty self explanatory extension but it's missing here :)

I just want to say I really like how the team is covering Chrome now. I use to have a podcast that would keep me up to date on all things Chrome but once Gigaom closed I've been lost without a chrome news source.
Thanks for the chrome coverage! Posted via the Android Central App

Even though the free version of PushBullet has a 100 message limit, which I have never hit. I really like to use it for SMS while at my desk.