Best baseball games for Android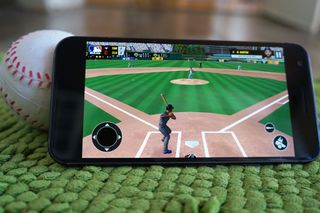 With the new Major League Baseball season just getting underway, we're sure all you baseball fans are clamoring for a quick fix between — or possibly even during — watching your favorite team's games. We've got the rundown on the best baseball games that have been updated for the new season.
PLAY BALL!
MLB Tap Sports Baseball 2017
Why you can trust Android Central Our expert reviewers spend hours testing and comparing products and services so you can choose the best for you. Find out more about how we test.
Tap Sports Baseball is a free-to-play game that's been officially licensed by the MLB and features all teams and players from Major League Baseball game.
If you've played previous iterations of this game, you'll be happy to know that the graphics have been improved for 2017. Featuring the same simple one-touch controls for batting, this is a game you can comfortably play one-handed, though you're only tasked with batting.
There are many ways to play, from online exhibition games, home run battles, and tournaments. In multiplayer, teams take turns at bat so you're able to play multiple games at one time. There's also weekly events where you can show off your ultimate team in head-to-head competitions.
Again, this is a free-to-play game that relies on in-app purchases. You should be able to grind your way through things, but if you're frustrated by that style of game you're best to look elsewhere. Otherwise, this game is perfect for casual players and looks really great.
Download: MLB Tap Sports Baseball 2017 (Free w/IAPs)
MLB Nine Innings 2017
The 9 Innings franchise has been a very popular game on Android over the years, and the latest edition might be the best yet. The game features all 30 MLB ballparks and over 800 players, which have been carefully rendered in 3D for a very authentic gameplay experience.
There's a number of ways to play depending on how much free time you have. You can jump into an exhibition game or play your way through a full season with options to play bat/pitch only or take control of both sides of the game. The game also features a unique "Live Player System", which will accurately reflect the real-life performance and value of MLB players throughout the season.
You're also tasked with collecting your favorite players and building your dream team which, coupled with the free-to-play model, means you're going to have to deal with in-app purchases. If you can get past that, you should have a great time playing this game throughout the season.
Download: MLB Nine Innings 2017 (Free w/IAPs)
MLB Line Drive
While the other games on this list do their best to simulate the MLB as realistically as possible, MLB Line Drive is an arcadey take on everyone's favorite event: the home run derby.
Controls are simple: you wait for your pitch, then swipe to hit the ball with your finger (think Fruit Ninja-style). Connect at the right angle and you'll send the ball sailing out of the park for a home run… but that's only the beginning! Each time you play, you're given a goal for scoring points, which you collect by clearing the park and smashing lights, collecting coins, popping balloons, dinging cars, breaking windows and much more.
Developed by MLB.com, Line Drive features six iconic ballparks are featured within the game — Yankee Stadium, Wrigley Field, Comerica Park, Globe Life Park, AT&T Park & Citizens Bank Park — with each new park being unlocked as you progress through the game. To do so, you're going to need to upgrade your swing power and use boosters… which you buy with the in-app currency.
I think you see where this is headed. Yes, there are in-app purchases here as well, and the further you progress the harder the challenges become which will, in turn, tempt you with in-app purchases. Of you can get past the pay-to-win mechanics and are looking for a fun and casual game, check out MLB Line Drive.
Download: MLB Line Drive (Free w/ IAPs)
R.B.I. Baseball 17
If you're looking to play full baseball games on your Android device without being pestered with in-app purchase offers, R.B.I. Baseball 17 is your best bet. This paid app was developed by the MLB and is also available on PS4 and Xbox One.
While the game might feel a little lacking on the consoles, it looks and plays quite nicely on Android, featuring beautifully rendered stadiums and all 30 MLB teams available with regularly updated rosters. Choose your preferred game mode and play a quick exhibition game, take your favorite team through a full season, or jump right into the heat of the post-season.
This game is fairly optimized for mobile gaming, allowing you to play a full nine-inning game in under 20 minutes with intuitive two-button on-screen controls. Keep in mind that all those pretty graphics requires a fairly modern phone to play it, which means R.B.I. Baseball 17 only supports devices with memory/processor comparable to the Samsung Galaxy S5 and up.
This game will set you back $4.99 in the app store but in exchange, you won't have to deal with clunky free-to-play game mechanics.
Download: R.B.I. Baseball 17 ($4.99)
Swing for the fences!
What do you think of our picks? Who you got winning the World Series this year? Let us know in the comments below!
Be an expert in 5 minutes
Get the latest news from Android Central, your trusted companion in the world of Android
Marc Lagace was an Apps and Games Editor at Android Central between 2016 and 2020. You can reach out to him on Twitter [@spacelagace.