Best apps for Samsung Phonecast right now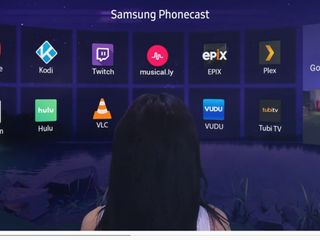 One of the drawbacks of the Gear VR is that not all apps are built to be immersive. But that doesn't mean you can't watch your favorite videos on a gigantic virtual screen. Samsung Phonecast VR places you in a picnic with a view of a 200 inch screen that can play videos from popular services such as YouTube, Sling TV, and more.
The viewing experience is very similar to using the Netflix app on the Gear VR and is a great way to feel like you're in a cinema while you're in a much smaller space. Here are some of the best apps to use with Samsung Phonecast right now.
Officially supported video apps
Why you can trust Android Central Our expert reviewers spend hours testing and comparing products and services so you can choose the best for you. Find out more about how we test.
YouTube has a large collection of 360 videos but the vast majority of content that creators share is in 2-D. You can make your favorite creators larger than life and browse through all of the latest videos on a massive screen using Samsung Phonecast VR.
VLC is a media player that supports a wide variety of formats. If you want to watch content that you've saved on a massive screen, the VLC app is officially supported by Samsung Phonecast VR.
Plex is a solid addition to any home that purchases a large amount of media content. It organizes your media and lets you view it on a variety of devices including PCs, phones, consoles, and tablets. With support for Samsung Phonecast VR you can add another device to your list.
TV apps are aplenty in the Google Play Store. And you can watch Direct TV LLC, Xfinity, Sling TV, and Hulu through Samsung Phonecast VR. It's a great setup for if you want to watch your favorite shows when other people are using the TV, though you may want to use headphones.
Just about any app you want
Samsung's support website says that "Apps that are not listed in PhoneCast VR are not supported" but you can actually open a plethora of apps with it. Just select "Go to Labs" and scroll through your installed apps. You can use this to watch a video service like Crunchyroll or use it to message people on Slack or WhatsApp using a 200 inch screen.
Some of these are more feasible that others, scrolling through Twitter on a 200 inch screen is a bit odd, but it's great that you can watch videos from apps that aren't listed as officially supported.
Summing things up
Samsung Phonecast VR adds a much needed feature to the Gear VR headset by letting you watch video content from apps that aren't meant for VR. As a result, you get to watch videos on virtual screen larger than anything you could reasonably fit into your home.
At the moment Samsung Phonecast VR is only available for select devices. It doesn't support a number of older Galaxy phones and also doesn't support the new Oculus Go. Also, it's worth pointing out that like using Netflix on a Gear VR, battery limitations make binge watching content through Samsung Phonecast VR difficult.
Samsung Phonecast VR supports quite a few apps already and the ability to watch other apps through it makes it a strong contributor to your VR library.
Get the Android Central Newsletter
Instant access to breaking news, the hottest reviews, great deals and helpful tips.