The best apps for dog owners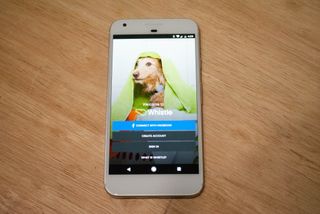 Technology is amazing. And while there is no substitute for spending quality time with your pupper, the right app can help you do more in that time — or, if you're away, find someone else to do it for you. If you've got a dog, these apps may make your life easier and your time with that fluffy friend even better.
Walk for a Dog
Why you can trust Android Central Our expert reviewers spend hours testing and comparing products and services so you can choose the best for you. Find out more about how we test.
You're probably aware of the overcrowding issues in animal shelters and pet rescue organizations. With hundreds of animals looking for forever homes, these facilities are often run on shoestring budgets and rely on donations and fundraisers to keep their doors open. While donating might be feasible for some people, you can actually hep out these organizations by doing something as simple as walking your dog, with the Walk for a Dog app.
This app will let you choose from one of more than 6000 facilities, and each time that you open the app and take your pooch for a walk, it will donate money to the charity you've chosen. The app operate similar to Charity Miles, and donates a certain amount of money per distance walked. It's a great way to help out local shelters, and spend some time with your furry best friend in the process.
Download Walk with a Dog (free) (opens in new tab)
DogVacay
While you might want to spend as much time with your pet as possible, there are always things that eventually get in the way. From work to a weekend conference trip, there are times when you just can't bring that fluffy ball of love with you. While there are plenty of great kennels and doggie day care facilities across the U.S and Canada, you might be hoping to find a dog sitter that can provide a more personal experience for your pooch.
That's where DogVacay comes in. This app connects you to hundreds of pet sitters in your city that will watch your dog for a few hours, or let them stay overnight for a few days. You can have them watch your dog at your own home, or theirs, and you won't find any kennels with cramped quarters. They even offer dog walking services, or dog taxi services if your schedule makes vet visits difficult. For anyone looking to make sure their dog is well taken care of even when you're out of town, DogVacay has you covered.
Download DogVacay (free) (opens in new tab)
Whistle
Integration between wearable technology and your phone isn't new, but did you know that there's a way to track your dog using something like a Fitbit? Whistle offers you wearable tech that attaches to your dog's collar, that will send you notifications if your dog wanders away from the safe zone.
Whistle requires you to pick up the Whistle GPS collar, which is available for $49.99 on their website. After you've got the collar you'll be able to get live GPS tracking of your dog, along with email and text alerts. If you enter any of your pet's medications into the app, you'll also get notifications about when to give them to your pup. For anyone with a dog who has a tendency to wander, or who you want to keep an eye on Whistle is a great way to do it.
Download Whistle (free) (opens in new tab)
DoggyDatez
Dogs are primarily pack animals, which means that they really do enjoy playing with other dogs. However finding a good playmate for your dog, or finding people nearby with dogs of their own, can be a pesky process. That's where DoggyDatez comes in.
It allows you to set an area of 200 metres and will notify you when other users of the app are around. You can also search for other users by dog breed or name. It's a great way to find new friends for both you and your dog, all without having to spend hours by yourself in the dog park.
Download DoggyDatez (free) (opens in new tab)
Pet First Aid
Everyone does their best to make sure that Man's Best Friend is properly taken care of. There's vet appointments and medications, sure, but every once in a while your dog will eat something it shouldn't. While knowing what is dangerous to a human is pretty easy to suss out, doing the same with your dog can be an issue. That's where Pet First Aid comes in.
The app comes with plenty of options to make sure that even in an emergency your pet is getting the best possible care. You can input your vet's phone number for those serious emergencies, but the other features can help you out before things get to that point. This includes checking your dog's health, the best way to deal with small issues, and even lets you program vet appointments into the app. For anyone who wants to make sure that their dog is always getting the best care, Pet First Aid has you covered.
Download Pet First Aid (free) (opens in new tab)
Your turn
For many people, their dogs are a member of the family. The apps we've found here will help to make sure your dog never gets lost, what to do in case of an emergency, find a competent dog sitter and plenty more. Each one has their own strategy on how to make your dogs life as awesome as possible. Did we miss an awesome app? Have you used any of these before? Be sure to drop us a line in the comments and tell us all about it!
Get the Android Central Newsletter
Instant access to breaking news, the hottest reviews, great deals and helpful tips.
Jen is a staff writer who spends her time researching the products you didn't know you needed. She's also a fantasy novelist and has a serious Civ VI addiction. You can follow her on Twitter.
I like using Alfred[1] or Dog Monitor[2] to put an old phone to good use, and make a homemade pet cam. [1] https://www.androidcentral.com/e?link=https2F2F... [2] https://www.androidcentral.com/e?link=https2F2F...

What about a suitable recipe app? (Preferably in English not Korean)

Would you settle for a recipe for black dog in Filipino?

I like this article, I don't have a dog right now but it will be interesting to see some of this cool technology when I do again.

You're not wrong our six are a constant source of delight.

Great article. Thank you, may we have one about tech to use with my horses too? The whistle doo-dad looks great. I've been strapping an old mobile to one of our dogs and using Google trusted contacts to see what they get up to when they're on their own. But whistle looks like a far more elegant solution.

wish i knew walk for a dog a few months ago. my dog and i just walked the entire appalacian trail together (with the exception of spots dogs aren't allowed).....roughly 1800 miles of walking and donations missed out on!!! talk about a missed opportunity!!!

I've had really good luck with Rover, which is pretty much the same thing as DogVacay. It's been a real life-saver since my dog does a lot better in a home, even if it's a stranger's home, than in a kennel overnight.