The best Android gadgets of the week for June 28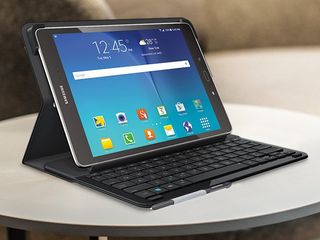 We've rounded up another week's worth of solid Android accessories. These connected devices recently hit the market or just went on preorder, and range the gamut of audio, video, wearables, cases, and anything in between. That said, we're confident you'll find something here to complement your Android phone or tablet. Let's dig in!
READ NOW: The best Android gadgets of the week!
iRig Mic Studio
Why you can trust Android Central Our expert reviewers spend hours testing and comparing products and services so you can choose the best for you. Find out more about how we test.
IK Multimedia has added a new condenser microphone to their already extensive lineup of smartphone-friendly audio equipment. On-board level indicator, gain control, and headphone control provide all the basics you need to handle recording, and the threaded mount will let you easily prop the mic onto the included tripod. Once you plug into your phone directly over USB, you can monitor recording as it happens, add filters, save, and share the final result through a custom-built app. If you're a musician or podcaster on the go, this microphone will help you out plenty.
Buy now - $179.99 (opens in new tab)
Kenwood DDX9702S Android Auto/CarPlay Receiver
Kenwood started shipping a new batch of dash receivers last week that play nice with Android Auto and Apple CarPlay. The DDX9702S has a 7-inch touchscreen, enables a Bluetooth connection with your car speakers for music and calls, plus a motorized faceplate that folds down for full access. The disc reader can handle CDs, DVDs, and MP3s, if for whatever reason your whole music collection isn't already on your phone.
Buy now - $699.99 (opens in new tab)
Pebble Time
Pebble's next generation smartwatch is now available for preorder. It continues to excel in battery life in a world where many high-octane wearables need regular charging. The Pebble Time can go a full week with the color e-ink display on. You'll get the usual gamut of sleep tracking, water resistant design, phone notifications, music controls, and more. Red, black, and white versions are available, though you may want to hold off until the Steel version is available next month for the proper premium feel. Dig into our full review of the Kickstarter model for a closer look.
Buy now - $199.99 (opens in new tab)
Logitech Type - S keyboard case
Logitech just released a new Bluetooth keyboard cover for the Samsung Galaxy Tab A 9.7. When open, the case holds your tablet at an angle, and when closed, the S-keyboard case offers solid all-around protection. If you have an S Stylus, the case will give you a spot to stash that, too. Dedicated hardware keys give you quick access to multitasking, the home screen, menu, mail and other Android functions. The rechargeable battery should last six months, thanks in no small part to an intelligent wake/sleep system. Black and violet models are available.
Buy now - $99.99 (opens in new tab)
FLIR One
FLIR launched preorders for a new infrared sensor for Android devices. Its two cameras superimpose heat data on top of the visible landscape. Temperatures between -20°C and 120°C can be detected. The dedicated FLIR app lets you take thermal panoramas and timelapses, plus a dedicated power supply means there's no additional draw from your battery. Although it's a bit of a niche product, there are certainly some professions that could make use of this kind of data, especially if developers leverage the framework available.
Buy now - $249.99 (opens in new tab)
Your favorite new gadgets of the week?
We're still playing around with this format, so feel free to leave feedback for the next go-around. Also, let us know which new Android gadgets you've go your eyes on!
Android Central Newsletter
Get instant access to breaking news, the hottest reviews, great deals and helpful tips
Simon has been covering mobile since before the first iPhone came out. After producing news articles, podcasts, review videos, and everything in between, he's now helping industry partners get the word about their latest products. Get in touch with him at simon@futurenet.com.
FLIR is a little late to the game on this, the SEEK camera has been out for a while for Android devices (although FLIR had an iPhone only version before), and it goes from -40 to 330 C, a useful range. SEEK is also the same price, and has an iPhone version available. I'm not sure about App capabilities, but the temperature range alone makes it WAY more useful

Simon, FLIR's site says -20 to 35 C is the operating range, detectable range is -20 to 120 C. Still not as good as the SEEK, but better than 35, lol. If the App is much better than SEEK's, it may be worth it then.

Nice. I love this new series. Great stuff, thanks!

Heh, according to Flir, Motorola makes the Nexus 7... The Flir One would be cool to take ghost hunting or squatching in the woods.

I love these posts, keep it up
Android Central Newsletter
Get instant access to breaking news, the hottest reviews, great deals and helpful tips
Thank you for signing up to Android Central. You will receive a verification email shortly.
There was a problem. Please refresh the page and try again.