AT&T Thrill 4G release moves from 'in the coming months' to 'this summer'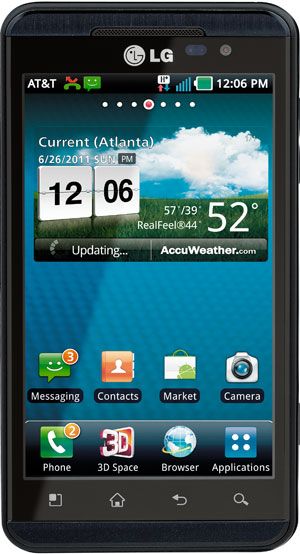 Hmmmmm. AT&T released a press release today (that's what you do with press releases -- you release them) letting us all know that the LG Thrill 4G (that's its version of the Optimus 3D) is coming this summer. That narrows it down from the actual announcement of the device in March, which just said "in the coming months." Seeing as how the summer solstice was yesterday, we suppose that could mean we'll be seeing it any day now. Or not. We'll just have to see.
Regardless, what you have to look forward to (be sure to check out our full review of the Optimus 3D) at some point that is not today is a pretty slick Android phone with all of LG's bells and whistles, with 3D recording and playback capabilities and a dedicated 3D section on the phone. Go read that Optimus 3D review again. But believe us when we say you're actually going to want to try this before you judge.
Source: AT&T (opens in new tab)
This looks like a sweet phone. I want a version of the Sensation for AT&T though. I prefer sense over all other skins.

The HTC Holiday is supposed to be coming out for at&t this summer so it won't be long!

It's on AT&T, I wouldn't touch it if it were the last phone in the universe and I needed to make a call to save my life.

Thank you for your insightful post...

That's probably a good thing, you wouldn't have service to call anyone anyways! Bahahahaha

Notice the date on the phone - 6/26/11 - which is a Sunday, when ATT normally releases phones. We are seeing this next week.

Woot-Woot!!! About time!! I almost used up my upgrade!! Lol

I really hope it's coming soon. If it doesn't, I'm signing up for Sprint and that shiny new EVO.

I'm already in a 2yr contract with the Moto Atrix (hence, my username), but this phone is slick!
Android Central Newsletter
Get the best of Android Central in in your inbox, every day!
Thank you for signing up to Android Central. You will receive a verification email shortly.
There was a problem. Please refresh the page and try again.