AT&T Samsung Galaxy S3 review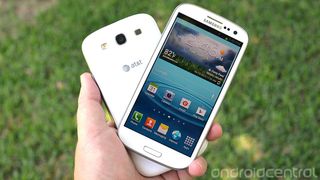 That's all we need to write, right? The Samsung Galaxy S III (S3) really doesn't need too much preamble at this point, having been released overseas for several weeks now. We covered the launch event in London. It's a big, sleek, powerful phone. And it's coming to AT&T this week. And it's doing so in exactly the same form factor as we see abroad.
It's not quite that simple, of course. While it looks exactly the same on the outside (and on the software side as well) AT&T -- like the other U.S. carriers and a few in Canada -- has a slightly different version under the hood. And this is AT&T we're talking about, so we'd better open things up to make sure nobody's hidden anything up their sleeve.
Ready for some more Galaxy S3 goodness? Dive on in for our AT&T Galaxy S3 mini-review.
Pros
Samsung's hardware lives up to its reputation. The display is large, but excellent, with a high resolution. The processor is powerful, with plenty of RAM to spare. Is running the most recent version of Android. Has a great camera. AT&T's LTE is fast as ever.
Cons
It's time for TouchWiz to go. Samsung's custom user interface doesn't do the hardware justice, and it serves to muddy the latest Android design guidelines. Many of the added features are buried under layers of menus.
The Bottom Line
Don't dwell on the negatives. If you don't like TouchWiz (and we don't), you can install apps to hide it a good deal. Or you can wait for custom ROMs to be released. The phone's design is excellent, and the price is right at $199 on contract. The Galaxy S3 is well worth a look on AT&T.
Swipe to scroll horizontally
Wait! Why a Galaxy S III min​i-review?
We know, right? Why not 5,000 words on the merits of the Galaxy S III and how it's the greatest phone ever! Well, we've already done that. Go read Alex's review of the international version. It'll cover 80 percent of what you need to know about the Galaxy S3 on AT&T. (By the way, we're treating the other U.S. versions of the Galaxy S3 the same way, so nobody's getting short-changed here.)
"But, Phil!" you cry. "They're different phones!" And you're right. The versions of the Galaxy S3 you'll find in the United States have more RAM and a dual-core Qualcomm S4 processor instead of a quad-core Exynos. And we'll get to that. But aside from the chipset and added RAM, and a smattering of carrier-branded apps, and a logo on the back, the phones are exactly the same. Same physical design. Same dimensions. Same software.
But pick two people off the street who don't live and breathe smartphones, and they'll never know the difference. So, with that in mind, read on. We'll talk about the differences, and what you need to know for the phone on AT&T.
The Galaxy S3 one-take walkthrough
The AT&T Galaxy S3 hardware
If you're new to the Galaxy S3 party, here's the skinny. You've got a 4.8-inch HD Super AMOLED (don't you dare call it Super AMOLED HD) display at 720x1280 resolution. And it's pretty darn good. Maybe not quite as good as what HTC has in its One X, but it's still really good. (That many pixels will cure what ails ya.) So there's that.
Because AT&T'S GSIII is the same as the Euro version, you should also know that it's gone funky down below (not unlike the Bamboos, we imagine. But we digress.) The GSII has an elongated home/multitasking/S Voice button in the middle, flanked by an actual menu button (much to Google's Chagrin, we imagine) on the left, and a back button on the right. If you've used any Ice Cream Sandwich phone previously, this will take some getting used to, and we're not entirely jazzed by the change. (And if you hold the phone in your left hand, good luck reaching that back button.)
The phone itself is glossy plastic, and we're digging the curves. The back cover comes off to reveal the 2100 mAh battery, microSD card slot and SIM card slot. The microUSB port is at the bottom, and the volume rocker and power button are in the usual place for Samsung, on opposite sides of the phone. The 3.5mm headphone jack is up top.
Under the hood, the AT&T GSIII has the aforementioned Qualcomm Snapdragon S4 processor running at 1.5 GHz. Yes, it's a dual-core processor. No, it's not less powerful than a quad-core. In fact, we found it to be as powerful (if not more so) and provide better battery life on the AT&T HTC One X than the Tegra 3 version did on the international HOX. So no worries there. And Samsung's bumped the available RAM up to a full 2 gigabytes. That means Sammy's TouchWiz user interface is smooth as butter, and there's plenty of RAM left over for apps.
This phone is fast.
Storage-wise, AT&T's opted to only offer a 16-gigabyte version. (Other carriers have 32GB options.) It's not the end of the world, given that you can also have up to a 64-gigabyte microSD card for a total of 80GB (give or take), but we'd still prefer the option to horde as many gee-bees as possible.
As far as battery life goes, AT&T's Galaxy S3 has performed admirably. We're easily getting 12 to 15 hours of moderate use, with a lot of Wifi mixed in with spurts on 3G. That's on par with what we've see on the HTC One X on AT&T, and that makes sense give that they're both running the Qualcomm S4. Of course, they have different display technologies, and the GSIII has a slightly larger battery at 2100 mAh. But the bottom line is you're not going to be struggling to get through a day. And while 4G LTE usage will use more power, you do have the option to swap in a fresh battery if need be. Point, Samsung.
The AT&T Galaxy S3 software
It's deja vu all over again. The Samsung Galaxy S3 is running Android 4.0.4 with the new "TouchWiz Nature UX" custom user interface. If you're used to Ice Cream Sandwich, you can get un-used to a lot of it. Samsung's doing its own thing here, and it's not always to the benefit of the user. Paradigms have shifted yet again. For all the complaining we've done about developers not updating their apps to live in a world without menu buttons, Samsung's brought us back down that road again.
We're not going to dive too deep into TouchWiz and its myriad features here. For that full experience, read Alex Dobie's ridiculously excellent TouchWiz walkthrough.
The short version is that Samsung's all up in here with TouchWiz. If you didn't like it before, you're not going to like it now. Whereas Google and even HTC have scaled back on the UI candy, Samsung's forging ahead with all its colorful design guns blazing. High points: A great customizable lock screen (though the settings are kind of buried and not exactly intuitive to find), and the TouchWiz UI is fast. (Again, having 2GB of RAM means never having to say you're sorry.)
As far as apps are concerned, AT&T's done well to not clunk up your app drawer too badly. In fact, save for the My AT&T and YPmobile apps, AT&T's kept its hands off. The same can't be said for Samsung, which has all sorts of sharing options, that blasted Kies app and a host of other gesture gimmicks tucked throughout the phone. (Again, we point you to our TouchWiz walkthrough.)
You might have heard about Samsung's S Voice as being a competitor to Apple's Siri. It's not. It's a handy voice-action app, but it's not nearly as good as Siri. Be sure to use the "What can I say?" option.
It's all a bit much. I've been using the Apex launcher (which runs smooth as butter) and it's at least partly like using a stock Android device again. Some ROM action likely will be in my future.
The AT&T Galaxy S3 camera
If you've used Samsung's camera app before, you'll be plenty familiar here. It remains functional as ever, but the camera app's definitely starting to look long in the tooth when it comes to design. We'd love to see a refresh here. Still, you've got plenty of scene and mode options, including panorama, HDR and macro.
The rear camera fires off at 8 megapixels. The front camera does so at 1.2MP. And photos, as we've come to expect from Samsung, are pretty darn good.
(Note: We had a tragic hard-reset accident with our sample images. We'll snag some new ones when it's light out. In the meantime, they're exactly the same as on the Sprint GSIII.)
​Other odds and ends
NFC and Wifi Direct are on board, of course, and they work just fine. But Google Wallet's still a Sprint-only deal here in the states. It's a no-go on AT&T.
The speakerphone is loud, but music might overpower it. Back things down a notch or two.
No problems reported with Bluetooth or GPS.
Samsung's keyboard is the only one loaded by default. We'd recommend finding another one.
If you're in an area that has AT&T 4G LTE, get ready to rock and/or roll.
If white or blue aren't your thing, AT&T will have a red version of the Galaxy S III later this summer.
The notification light is bright, like a beacon in the night. Or something.
You have the option of whether to use AT&T Wifi hotspots. That option is missing on the HTC One X.
Oh, and before you do anything with the Galaxy S III, turn off the annoying water droplet sound.
The wrap-up
Potential Android smartphone buyers on AT&T have a tough choice, and one we don't necessarily envy them. (Though there's also not really a wrong answer here.) The HTC One X, as you'll recall from our review, is a fine phone. As is the Samsung Galaxy S III. What we don't enjoy in software the phone more than makes up for on the hardware side. Battery life is excellent, as is performance. It's just that we've grown weary of Samsung's TouchWiz. It just doesn't match the sophistication of the hardware, and it undermines the spirit of what Google's done in Ice Cream Sandwich.
But would we buy this phone? Absolutely. It should be plenty hackable. It's powerful enough to be tweaked without rooting, if that's how you roll. And AT&T's network is more solid than ever, though we'd like to see more 4G LTE cities lighting up.
Would we buy the Galaxy S III over the HTC One X? Look for that in a future post. But the GSIII easily stands on its own merits and is worth a long, hard look.
Image 1 of 8
Get the Android Central Newsletter
Instant access to breaking news, the hottest reviews, great deals and helpful tips.