Asphalt Overdrive from Gameloft is coming Thursday to Android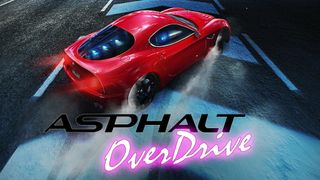 During E3 this year, Gameloft announced the latest game in the Asphalt series of racers. Surprisingly, the next Asphalt won't be Asphalt 9. Instead, the series is spinning off in a new direction with Asphalt Overdrive. Instead of a serious arcade-style racer, the new Asphalt will be an endless racer – sort of like Gameloft's recently released Spider-Man Unlimited or Sega's Crazy Taxi City Rush.
Players who are wondering how well Asphalt works as an endless racer plays won't have to wait long to find out. Today Gameloft announced that Asphalt: Overdrive will be coming to Android, iOS, Windows Phone, and Windows 8 this Thursday, September 25! The publisher also released a new trailer to celebrate the news. Keep reading for both the trailer and gameplay details.
A new spin on the series
Asphalt Overdrive is still all about fast racing, exotic cars, and cutting edge mobile graphics, but it features several changes from its predecessor, [/tag/asphalt-8). For starters, you play this game while holding your phone or tablet in a vertical orientation instead of landscape. With that change comes a new control scheme as well. Instead of driving by tilt or virtual pad, players will swipe left or right to switch between three lanes. It's truly the same setup as an endless runner, but with cars.
While racing past the finish line is no longer the primary goal, players will still have plenty of fun objectives to complete. You'll get to smash other cars off the road to perform takedowns, outrun the cops, and perform crazy stunts – all familiar mechanics from the main Asphalt games.
Asphalt games usually have high production values, and Overdrive is no different. The whole thing has a "new eighties" vibe, with lots of neon and bright colors. Players will get to drive a variety of licensed cars and trick them out with upgrades and new paint jobs. I get the feeling that instead of collecting Spider-Men we'll be collecting cars, which should be similarly addictive.
Get ready to race
Asphalt Overdrive will be free with in-app purchases when it arrives on Android, iOS, Windows Phone, and Windows 8 this Thursday.
Android Central Newsletter
Get instant access to breaking news, the hottest reviews, great deals and helpful tips
With a sh$t ton of iap that will make it unplayable quickly Posted via Android Central App

at least this time i won't have to pay them to make it unplayable the week after i had given them my hard earned money.

Lame... The arcade style racing was much better. Don't mind the 70s ish style though. I'll probably skip this. Posted via the Android Central App

I'll check this out but it sounds terrible. There's enough endless runner trash on the Play store as it is. Asphalt was one of the best racing games on the Play store (behind only NFS:MW IMO). Why change the formula? I hope this is in addition to a standard sequel. Posted via Android Central App

Yeah, I'm pretty sure they will still make Asphalt 9. Asphalt 8 isn't that old - this allows them to have a yearly release without diluting the main series entries.

Cool, I hope that is the case. Maybe I was a bit harsh when I said this sounded terrible. I'm just a big fan of over the top arcade racers and the endless runner formula has worn thin on me.

Blah!! Posted via the Android Central App

Greedy Bastards. After the last Asphalt they can do one n5

Any idea about the file size? Posted via the Android Central App

Unfortunately no, but I'm sure it's about the same size as Spider-Man Unlimited or a little smaller.

Probably 900MB to 1.2GB Posted via the Android Central App

i got a better vague answer FTW: varies depending on device.

For some odd reason, this makes me think of vice city. Not the gameplay, just the design and marketing -Wes

same here. may be the pink and the palm trees.

I know right? I was almost expecting a Phil Collins track at the end -Wes

So, it's like Temple Run but with cars? Maybe when it's free. But I'm not leaving my McLaren P1 in A8.

Yeah, it should be free at launch. You can also try Sega's Crazy Taxi City Rush righ now if you want to get a feel for how Overdrive will work before it comes out on Thursday.

I've stopped playing Asphalt 8: Airborne (iOS) because no matter how upgraded your ride was, HACKERS would just fly by you and left you behind eating dust.

I found it really hard to keep up the excitement after reading that this would be an endless runner.
Why?

I remember playing this game when the Razr was the hottest flip phone on the market. Posted via the Android Central App

I think that was the same time I played Asphalt 2 or 3 on the N-gage QD aka the taco phone -Wes

I'll try it if Shield controller support is available at launch. Otherwise not so much.

Not really into the idea of arcade racing game turning into an endless runner. Only ones I like in that genre are temple run, subway surfers and minion rush. It might be fun but I like the arcade racing better. Posted via Android Central App

I'll try it out, but I won't be making any in-app purchases! Posted via the Android Central App

sounds like a pretty cool game. cant wait
Android Central Newsletter
Get instant access to breaking news, the hottest reviews, great deals and helpful tips
Thank you for signing up to Android Central. You will receive a verification email shortly.
There was a problem. Please refresh the page and try again.