Cloud storage apps - what are they and how do they work?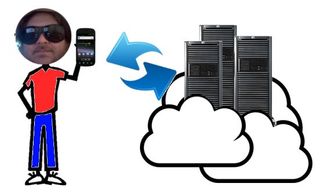 Dropbox and Box.net have been in the news recently, updating their apps and giving away tons of free space, so it's understandable that a few of us are wondering what the heck they're all about. Sure, you know you get Gigabytes of space, and great looking apps, but what exactly do they do, and how do they work? We're about to tell you! I'll focus on Dropbox here, because that's the service we use here at AC. I'm not recommending it over any of the others, but they are all similar and we've already got all our stuff uploaded there and we're too lazy busy to switch.
Dropbox is storage space, reserved for you, on a computer somewhere in San Francisco. Other services, like Box.net or Ubuntu One may be in different cities, but they all are in big fancy data centers where nerdy people type in the command window all day and night to keep things running smoothly. They aren't just old Windows machines sitting in a basement somewhere, they are dedicated places designed to hold lots and lots of data. They routinely make backups, and have excellent uptime -- your data is going to be there when you need it to be there. They also use things like SSL (Secure Sockets Layer) and AES-256 encryption to make sure nobody can peek at your files without your login credentials. Your stuff is safe in these types of cloud storage centers. Things like file encryption and obfuscation are best left for another day, so we're not going to discuss that type of security -- just don't do anything illegal, OK?
Most of these companies offer a set amount of storage space for free, and have yearly plans for folks who need more. The amount is different from service to service, so be sure to read those terms before you sign up for one. This storage is yours, to put any files you want there, so you can get to them from any Internet connected device anywhere on Earth. You can do this at the company's website, or more importantly for this conversation, through a program on your smartphone or computer.
The program on your computer is usually set up to sync a folder with your online account. Inside this Dropbox folder are all the other folders and files you've placed in the cloud, and they stay synchronized -- change a file on your computer and it uploads the changes to your cloud account, and those changes are available from anywhere. You can also share these files or folders with other users of the same service, which means someone can make a change to a file and it will sync to their cloud account, through Dropbox, and into the shared folder on my computer. That makes collaboration pretty easy, and we share folders and files a lot here at Smartphone Experts (You should see Bla1ze's lolcat pictures!).
Things are different on our smartphones. We don't normally have tons of free space to sync everything, so it's a bit more selective. The data about each folder and file in your online account is sent to your phone when you start up the app, and you can see everything that's there without having to download it all. When you need a file, you can choose to download it to your phone's memory somewhere and access it through your phone. You can also upload files, which will then sync to your cloud account and any connected computers you may have.
As you can see, there are all sorts of ways this could be useful. I have a folder in my Dropbox with names and phone numbers I may need in an emergency. If something happens, and I end up losing my smartphone while I'm out somewhere, I can still have access to them from any computer with a web browser. My wife likes to keep her shopping list in a shared folder, and either of us can add something to it from anywhere. Bla1ze likes to share his lolcats. I think just about anyone would find these services useful, and if you aren't using them yet you should give them a try. Links to Android apps for the three mentioned in this post are below, give one of them a shot!
Dropbox for Android | Box.net for Android | Ubuntu One for Android
Get the Android Central Newsletter
Instant access to breaking news, the hottest reviews, great deals and helpful tips.
Senior Editor — Google Ecosystem
Jerry is an amateur woodworker and struggling shade tree mechanic. There's nothing he can't take apart, but many things he can't reassemble. You'll find him writing and speaking his loud opinion on Android Central and occasionally on Twitter.