Are you buying into the hype of Andy Rubin's Essential Phone?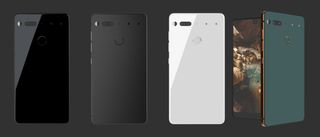 The Essential Phone — is it really that essential? And with Android smartphones seemingly generating more buzz than ever before, does Andy Rubin's Essential Phone have a chance against the current crop of competition?
If you're wondering what we're even talking about here, take a quick gander at some of what's promised with the Essential Phone: an edge-to-edge display, a modular system that accepts accessories like a 360-degree camera, and an entire phone chassis crafted out of titanium and ceramic. But what it doesn't have might make you tick, especially considering its $700 price tag. The Essential Phone is without wireless charging, water resistance, or a headphone jack. As commenter Retinella put it in the original announcement post:
The smartphone isn't the only part of the equation. Essential also hopes to find a place inside your home with the aptly dubbed Essential Home. It's a definite competitor to the Google Home and Amazon Echo, with the main difference being an actual display that you can interact with. The brains of the Essential Home experience is Ambient OS, which helps assist with things like playing music, setting a timer, and answering questions—just like Google Home. From the Essential Home site:
So, what do you think? Where do you stand on all this? Is the Essential Phone or Essential Home sounding essentially like something you'd want to adopt into your home?
Et tu, Brute? Join us in the Android Central forums. And then be sure to tune in later today when Andy Rubin appears live at the Recode Code Conference to talk about the new endeavor.
Sign up for Black Friday email alerts!
Get the hottest deals available in your inbox plus news, reviews, opinion, analysis and more from the Android Central team.
Florence Ion was formerly an editor and columnist at Android Central. She writes about Android-powered devices of all types and explores their usefulness in her everyday life. You can follow her on Twitter or watch her Tuesday nights on All About Android.