The Archos GamePad review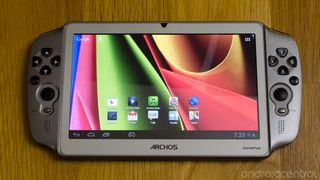 Imagine a 7-inch Android tablet, and in the housing there's a built-in game controller, complete with dual joysticks, directional buttons, even shoulder buttons. That's what you have with the Archos GamePad. Android gamers have long been using controllers of one sort or another with their phones and tablets with varying degrees of success, but the GamePad is the first device to bundle everything together in one unit.
Just having the controls there is not enough, though. They have to function well to be useful, and integration into the games we love to play is a big deal. This is where Archos has to succeed, and quite frankly they have failed. Read through and see what I mean.
Hands-on
The Hardware
Were it not for the "wings" on either side that house the gaming controls, the GamePad would be yet another unassuming 7-inch Android tablet. It's constructed of very light hard plastic and well balanced for holding by the sides and playing games. While the construction materials won't get you excited about the quality, it's quite ergonomically designed for easy holding. Besides the dedicated controller buttons, you have the standard array of controls in the housing.
Across the top of the tablet, you have your power switch, a volume rocker, the USB port for charging and data transfer, your 3.5 mm audio jack and an HDMI output port. On the bottom right, you have a slot for a microSD card. The controls and ports are easy to reach, and work as described. Having the USB charging port on the top is a good thing, because you're going to be using it -- a lot. On either side you have a speaker, and the actual controls that make it a GamePad.
All the buttons and knobs one would want in a game controller are present. You have a six-axis joystick, four directional buttons, a spare button and start or select (one on each side). On the upper edge, you have a shoulder bumper on either side. These are all easy to reach, and they layout is just how I would want them were I designing my own tablet with a controller built in. Again, Archos wins with the ergonomics. A quick look at the specs, then we'll discuss the software and how it all works.
Specs
Android 4.1

7-inch capacitive multitouch screen at 1024x600
Dual-core ARM Cortex A9 @1.6GHz
Quad-core Mali-400 GPU
1GB DDR3 RAM
MicroSD card slot
8GB internal storage
Front-facing camera
Video playback: Up to 1080p @ 30 fps
802.11 b/g/n Wifii
Connections: USB 2.0, Mini HDMI
3.5mm audio port
Analog thumb sticks
G-sensor
Built-in microphone
3000 mAh Li-Po battery
Software
The good news it that Archos hasn't burdened the GamePad with some fancy UI, and has let Jelly Bean stand basically as-is on the device. The actual version is 4.1.1, JRO03H, and everything you would expect to see in a Google Android tablet is there, albeit not in the way you expect to see it.. Unlike the Nexus 7 and other Jelly Bean tablets, it uses the standard Ice Cream Sandwich tablet layout with navigation buttons on the bottom left and the notification and information area on the bottom right. This is a bit odd, but it appears that rich, actionable notifications still work -- they're just not where they should be. Google Now works as expected by swiping up from the Home button.
Other than the layout changes, the only extras Archos has added are a few useful applications, like their excellent File Manager and the Button Mapping tool, which we'll talk about in a bit. The full suite of Google Play is provided, as well as all the requisite Google apps like Gmail, Talk, and Chrome. There's nothing here to surprise us, except how poorly it all works.
Using the GamePad
As I alluded to in my initial hands-on, the GamePad is a pretty poor Android tablet. While the hardware isn't spectacular by today's standards, it is very comparable to the U.S. versions of the Galaxy S3 with an arguably better GPU. It's also pushing fewer pixels around, so you would expect a snappy experience, but you would be wrong.
The "standard" things everyone does on a tablet, like web browsing, or watching YouTube videos are very choppy and you'll find plenty of stuttering in the UI. Watching video on the low resolution screen is made worse by poor viewing angles, The reading and writing of data to the internal storage is also very janky, often slowing everything to a crawl while accessing it. This is most evident when installing applications, which grinds everything else to a halt. If you have or had an ASUS Transformer Prime, it's the same sort of annoying slow down, only worse. It's a pretty rough experience all around.
Gaming is a bit better, but not very. 3D games that are built with the Android NDK run decently. Much better than I would have expected based on the performance of more mundane applications. I used ShadowGun to compare results here, because it's a game I'm familiar with and am more likely to notice subtle differences in the gameplay. It also supports game controllers, which made it an easy first try. ShadowGun runs quite nicely on the GamePad. You won't mind the lower resolution of the screen as much with all the action going on, and it helps the frame rate. To be clear -- it's not as smooth as the Nexus 7, but it's smooth enough. When you attempt to set up and use the game controls, however, things go to hell quickly.
Dead Space is an on-screen, dual joystick controlled game. A perfect match for the GamePad mapping tool -- or so I thought.
It was easy enough to use the button mapping tool. Open the game, tap the icon in the "tray" at the bottom of the screen, and the button mapper starts up. Drag one of the joystick, target, or button icons to the screen, placed where the touch control is. That maps it to the actual physical button or stick you specify. The size of the target is adjustable to make sure you've covered the entire area. When it works, it's a simple solution that transforms games with no support for game controllers into games that work with the GamePad's controls. One problem I've found is that the circular motion get's reversed as often as not. That means to make a virtual joystick move clockwise, you have to turn counter-clockwise. I can't play that way, nor do I want to, so I go back to the on-screen controls. When the controls map correctly, or your using a game that supports a game controller, everything works as described. Don't get me wrong -- I appreciate the hard work involved to make the control mapping application, and sometimes, on some games, it does work very well. It's just not consistent.
The controls themselves are very stiff, and will require some practice to get used to. The buttons need a solid press, and the joysticks, while analog, are so stiff it's almost an all or nothing movement when using them. After a while, though, you learn how to feather them and make it work.
The battery drain is a much bigger annoyance -- enough for me to be unable to recommend this to anyone. Without playing any games, it's still not acceptable. You'll need to charge halfway through the day if you use it at all, and there's no way it will last you the full day if you only charge it overnight. It gets even worse when things ramp up and you're playing games. You're going to get about 2 hours out of a fully charged battery while playing a game like ShadowGun. That means you're playing with the tablet plugged in if you want to play longer at a single session. More importantly, it means if you play for an hour your battery has been sucked down and the tablet will need charged to make it through the rest of a day of using it for things like surfing the web. While I don't expect stupendous battery life while playing such a system intensive game, I certainly expected better than what I experienced.
The bottom line
I was impressed with the ergonomics of the GamePad, enough to make me ignore the very "cheap" feeling materials it's made out of. The device was designed for you to be hunched over with your wrists bent, hammering away at any of the awesome Android games that are out there. The shape, lightness, and most importantly the layout of the controls are almost perfect for this.
I was less impressed with the screen's low resolution and hideous viewing angle, and the overall performance of the tablet itself. Decent gaming controls, and a nicely done app to map them to their on-screen counterparts are quickly outweighed by sluggish performance, a bad screen, and dreadful battery life.
If you're looking for a great gaming experience on Android, I'll have to suggest you look elsewhere. The cons -- especially the extremely poor battery life -- outweigh the pros on this one, and you would be better served to spend your money elsewhere.
Get the Android Central Newsletter
Instant access to breaking news, the hottest reviews, great deals and helpful tips.
Senior Editor — Google Ecosystem
Jerry is an amateur woodworker and struggling shade tree mechanic. There's nothing he can't take apart, but many things he can't reassemble. You'll find him writing and speaking his loud opinion on Android Central and occasionally on Twitter.