Apple considered bringing iMessage to Android in 2013, but chose not to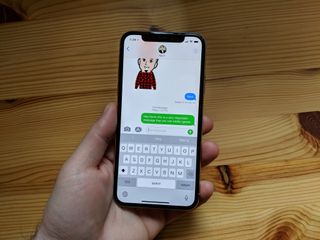 (Image credit: Daniel Bader / Android Central)
What you need to know
A new deposition by Epic Games has revealed Apple's Eddy Cue wanted to bring iMessage to Android as early as 2013.
Most other Apple executives were not in favor of porting iMessage to Android as it would make it easier for users to switch to Google's mobile OS.
While there are a few workarounds available, iMessage on Android may never become a reality.
A court filing by Epic Games had revealed earlier this month that Apple had decided against releasing a version of iMessage compatible with Android to keep users within its ecosystem. A new deposition by the Fortnite maker has now surfaced, which affirms Apple's senior VP of software and services, Eddy Cue, was in favor of bringing iMessage to Android as early as 2013 (via The Verge).
In its latest deposition, Epic Games has cited an email exchange between Cue and Craig Federighi, who currently serves as Apple's SVP of software engineering. Per the exchange, Cue wanted to make iMessage the industry standard by making it available on Android. He believed that Apple would "lose one of the most important apps in a mobile environment to Google" by keeping it restricted to iOS.
Federighi, however, wasn't convinced and responded saying it would take "more than a marginally better app" to get users to switch to iMessage from the best Android messaging apps such as WhatsApp. He added that iMessage on Android "would simply serve to remove an obstacle to iPhone families giving their kids Android phones."
While it is now unlikely that iMessage will ever be available on Android, Cue still appears to be convinced that porting the messaging app to Google's mobile OS wouldn't have proved to be a mistake. When asked by a questioner if not having iMessage on Android has created an obstacle to families giving their kids Android phones in the deposition, Cue replied saying, "No, not at all."
Oh well. Just another Apple product I'd not use.

Spoken like two people without teens. Green bubbles are a massive problem for them, as one android phone in a group text changes the the whole conversation - it limits the size of pictures and texts they can send, the emojis, the formatting, and more. iMessage is a major roadblock to android adoption in the US.

IMessage only matters in the US, not the rest of the world that uses WhatsApp and far better alternatives that don't lock you in an ecosystem, Samsung's messages app is just as good as iMessage, scratch that, its better than iMessage because it gives you freedom, features and customisations and I can make mu chat bubbles blue like the overrated iMessage too. Here in the UK, I hardly know anyone who uses an iPhone outside of family, most people I know use Android, more specifically Samsung. Its about time US consumers realised that there's life beyond the Apple prison and walled garden.

Michael Saxon
You are correct sir. It took me a year to get my friends group and family on Whatsapp because of these issues. It's a problem. hen I can't send or receive a viable video of my child. At one point I was the only one of the 12 friends and 6 family members that used an Android device. I would have happily paid Apple a monthly fee to use iMessage on Android. I don't like Whatsapp's new privacy policies but there is nothing I can do now. No way I'd be able to get everyone to switch again.

They're teenagers. Pick a different cross platform clique app. They'll all get it if they want to be in and exclude those they want to exclude. Easy for me to say, but If I'm excluded because I don't have an iPhone, well....

Would be super helpful as I have elderly parents who live in different states and each own an IPhone. I am an Android user as my immediate family are mostly Android users. I do have an IPad (wifi only) and a Mac and sometimes use IMessage to check in with them. I am away from the Ipad and Mac quite a bit and parents forget to send message correctly to me. Phone calls are great but sometimes a message and back and forth is all that's needed for quick answers/help. I would volunteer for a beta program as I definitely would find value in it.

That was a smart move from apple. If Imessage was available on Android devices they would sell less iphones
Android Central Newsletter
Thank you for signing up to Android Central. You will receive a verification email shortly.
There was a problem. Please refresh the page and try again.