Another day, another Instagram update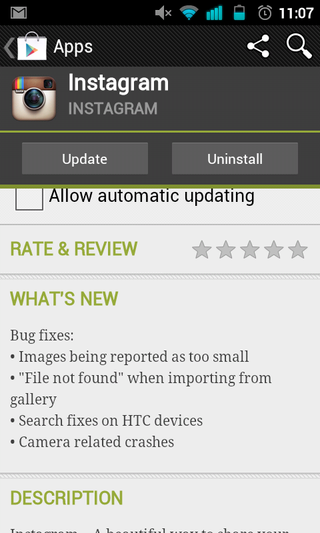 After finally being released for Android Instagram understandably had some bugs to squash. Later that day Version 1.0.1 fixed compatibility with certain cameras (it notably did NOT fix compatibility with the HTC One X). A little over 24 hours since that update hit we have another update. This time the changelog is a little more specific, though, which is good. It means that the developers are paying attention to bug reports and are working quickly to fix them. The HTC One X, though, is still not supported. Maybe they haven't received enough bug reports about it yet. Show your support for #teamandroid and be sure to hit the forums to share your Instagram username.
Twitter: ramonm2
Instagram: ramonm2
AC Forums: ramonm2

what are you doing, dude?

Is your name, by chance, ramonm2?

Trying to gain friends..huh?

WTF why is this tagged with "One X"? Just because it's incompatible with HTC One X doesn't mean that everyone interested in One X wants to read about lame updates of lame software...

Maybe they do. Maybe you should rage less about something that doesn't fucking matter.

I download Instagram yesterday so I am on version 1.0.1. Now it says my device isn't compatible. I'm using the HTC EVO 3D so I am guessing they disabled more HTC phones and not just the One X. I haven't had a problem yet though.

I'm on a EVO 3D and I just updated the app and its working fine for me

I'm not going to update. In fact I'm uninstalling. iPhone people are getting mad at me.

Who gives a shit if iPhone people are mad or not? Why does that influence you at all?

It was irony, I suppose...

Using Galaxy SII and it say your devive isn't compatible with this version trying to update

Move to SD Card, where is it?!

I can even find it on market place anymore uninstalled it to put it back because it kept saying your devive isn't compatible with this version trying to update. Samsung Galaxy S II

About the only reason I can find to keep this overrated turd is to irritate iTwats, and it really isn't even worth that. I installed it, looked at the community, and uninstalled it. Sorry for the early morning grumbling. #getoffmylawn

twitter: @LilLucky83
instagram:lillucky83
AC:liljoe83

still not compatible with HTC flyer. Lame sauce!

Can anyone help me out. I know I have an old phone in the Samsung Transform but I'm running on the most current version of Froyo 2.2.2 and it says my device is not compatible. How is this so and this is a nice app but should not be that robust that a 1 1/2 year old model cant handle it. Any suggestions?

Its an erro it said the same to my samsung galaxy s II. The trick is to install it from the web browser not the app market. It automatically sends it to your phone

Nope, tried from web browser, market and even browser through phone. Yes its not compatible. Pretty pissed but there is nothing I can do :(

Oh Android.... It's nice that they're fixing all the bugs promptly, but definitely gives weight to the "fragmentation" argument. No wonder it took so long for them to get this app done.

You know me, I'm on most major forums and social media 'things'. Same ID, naviwilliams ;)
Android Central Newsletter
Thank you for signing up to Android Central. You will receive a verification email shortly.
There was a problem. Please refresh the page and try again.