Angry Birds updated to v1.6.0, includes 15 new levels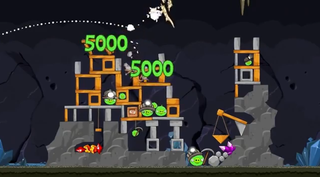 Youtube link for mobile viewing
Angry Birds has just gotten an update, which among other things, brings 15 new levels to your favorite addictive game. If you've had all of the levels beat for months and have been pining for more, you best run to the Market to get this update.
The new theme is "Mine and Dine," which takes your birds and pigs and places them in a series of caves. On the levels you'll find stalactites hanging from the rocks, which you'll be able to strategically target in order to hit the pigs.
Here is the full changelog:
Mine and Dine: a new cave themed episode begins with 15 new levels!
Find all the collectible jewels
Use hanging stalactites to pop those pesky burrowing piggies!
Any particular levels stonewalling your progress? We tweaked a couple of them to spare you a few gray hairs!
If you've somehow never played Angry Birds, find the link after the break.
Someone remind me again why I purchased the ad-free version from the Amazon Appstore?? Ridiculous.

"Any particular levels stonewalling your progress? We tweaked a couple of them to spare you a few gray hairs!" Nice of them to list the levels that were tweaked.

I can't download it... the new update in the Market is telling me that it's 18 MB to update. Sort of ridiculous.

Is this update in the Amazon app store? I'm not seeing anything

Amazon will put it up sooner rather than later, it's been the same with other updates. I guess I'm not complaining too much because I only picked up the ad-free versions when they were free... :p Only got Rio and Seasons off Amazon, missed the original when it was free so I'm still running the market version of that one (which has seen the least amount of updates as of late).

Root your phone & install "Adfree Android" & even your Market Angry Birds won't have ads. :-)

Everyone missed the original when it was free :) (never happened)

Can anyone help? I am trying to update this on my Droid Incredible, and I get a message saying there isn't enough space to install it. I checked through settings, and I have 6.4 of 7.4 GB free on my SD card, 6.41 of 6.46 GB free on the phone, and 502 of 748 MB free in phone memory. What gives?

I have a Droid incredible also, and this is an issue that a lot of apps have. You need to move angry birds from your SD card to your phone then unmount the card, THEN update. Some apps won't install so you have to unmount the sd card.

Just FYI, the QR code listed above is for the Angry Birds Seasons app, not Angry Birds itself.
Android Central Newsletter
Get the best of Android Central in in your inbox, every day!
Thank you for signing up to Android Central. You will receive a verification email shortly.
There was a problem. Please refresh the page and try again.