Angry Birds coming to the the Chrome Web Store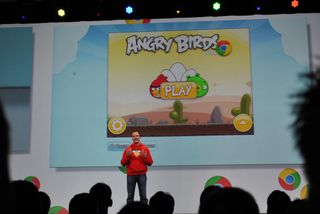 Chrome was the highlight of today's keynote from Google IO and while Google mostly covered the history of Chrome and it's recent growth in numbers, Rovio was invited on stage to discuss their latest project. Yes, Angry Birds is hitting the Chrome web store and it will most certainly include Mighty Eagle and special levels only available on Chrome.
Until now, Rovio hasn't been able to make this happen but the new advancements in Chrome make it totally possible. Built on WebGL with support for Canvas, Rovio can make Angry Birds in the Chrome available in HD and playable while even offline. Check it out in the Chrome Web Store.
Android Central Newsletter
Get instant access to breaking news, the hottest reviews, great deals and helpful tips
It's available. Went live around 10 minutes after the guy from Rovio came on. It's not bad. Not nearly as fun without a touchscreen though. Just wish they unlocked the Chrome levels from the start so I don't have to go through all 30 other levels first. (Or better yet, hurry up and get syncing finished Rovio! :P) Edit: Okay, turns out the 'Chrome levels' are the versions Golden Eggs.

I'm pretty much Angry Birded out. Talk about milking a franchise.

This has got to be a nightmare for IT departments. They just love telling us what we can and can't install. Had to secretly install Chrome to get out of internet explorer since they refuse to let us install anything else because they can't 'verify it's security' hahahaha (what a joke they are since IE gets hacked all the time) and we don't have anything that requires tight security. Now I can install angry birds and they would never even know. How will they police this?

just so you guys know .. all you really have to do is go to http://chrome.angrybirds.com/ -- works on firefox and ie9 .. i thought it was exclusive to google chrome only? lol oh well

anyone know how to zoom out? i cant seem too

I'm all angry bird burnt out.

I hear the music but the game doesn't appear. I tried it on Firefox and it works. BETA indeed :)

They say it is playable offline. I installed it in Chrome but if I am offline, it doesn't load the game. How do I make it available offline, and if possible save my progress across my desktop and laptop?
Android Central Newsletter
Get instant access to breaking news, the hottest reviews, great deals and helpful tips
Thank you for signing up to Android Central. You will receive a verification email shortly.
There was a problem. Please refresh the page and try again.