Android Wear companion app update brings fresh design, a few neat features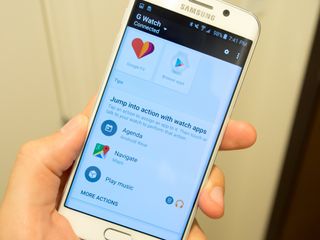 The latest Android Wear app brings a solid design refresh and a few new features, but some of them will require you to wait for your Android Wear smartwatch to get the latest firmware update. On the design side, a new home page makes use of more Material Design with stronger shadows and depth, while new cards bring apps and tips to your attention.
You'll notice the biggest visual and functional changes in the settings, where all device-related settings — ambient screen, tilt to wake, card previews, etc. — are tucked one tap deeper behind the name of the device and general Android Wear settings are surfaced on the first page. You now have the ability to choose which calendars show on the watch (hallelujah!) as well, even down to specific calendars on each connected account.
Image 1 of 8
The last item in the settings you'll see is the new "Cloud sync" feature, which will only be working once you have the latest firmware on your smartwatch. It's turned off by default, but once enabled lets you receive notifications and search on your watch even when it isn't connected directly to your phone via Bluetooth. What's nice here is that as soon as you join a Wifi network on your phone, those credentials are shared with the watch so that it automatically connects on its own. A big disclaimer lets you know that Wear data will be stored on Google's servers to make this happen (which makes sense), and if you ever turn off cloud sync Wifi will be turned off automatically on all of your Android Wear devices.
This is a pretty solid update to the app, and we can't help but think this really should have come along sooner. We're happy to see it now, though, and it has us mashing the update buttons on our smartwatches looking for that new firmware update. You can snag the latest version of the companion app from the Play Store and play the waiting game along with us.
Android Central Newsletter
Get instant access to breaking news, the hottest reviews, great deals and helpful tips
Andrew was an Executive Editor, U.S. at Android Central between 2012 and 2020.
Apparently the G Watch isn't getting WiFi. Bummer! But the rest of the wear and app updates are much needed! Posted via the Android Central App on N7 '13

Why not ? Its got a sd400 Posted via My G2

True, but LG supposedly didn't include the rest of the necessary hardware with the chip that would enable wifi. The other watches from other manufacturers,that use the 400, included the necessary hardware in the watch to be able to activate wifi. That's the word right now anyway. I'm not thrilled about it for sure.

Yesh just read about it.
Its got the cpu but lacks the 802.11 chip Posted via My G2

It's hard to connect to Wifi without a Wifi chip no matter what CPU a piece of equipment has.

Wait a minute!!??? The lg g watch and g watch r have the same CPU????? Posted via the Android Central App

The R uses a different variant of the 400 chip, one that includes wifi. The cheaper 400 version in the G did not include wifi.

Android wear is no longer on my drop-down notifications! Posted via the Android Central App

The new version of google play services/android wear removed it.

Always wanted it gone. Posted via the Android Central App

Thank goodness. In no way did it ever belong on the drop-down notification. It's like a "DEVICE POWERED ON" notification. Duh, useless info, thanks for cluttering my drop down shade!

Yup that's the new version of Google Play Services. Works even with the old AW companion app. Posted via the Android Central App

i liked this. by clicking on the notification i could disconnect the g watch when not in use. this reduces wakelocks. i guess i could just go into the app...

Still have issues connecting with my galaxy s6 edge. Keeps telling me to uninstall and reinstall to refresh and it becomes a never ending cycle :( Posted via the Android Central App

Mine works fine with a Moto 360

You can FINALLY pair/connect multiple Wear devices at the same time without a friggin reset! Sneaky new feature just in time for the 2nd gen watches.

I dont see the update on the Play Store :-( Posted via My G2

You might not think the Sony Smartwatch 3 has the looks but with this update and Wifi support it must be one of the most functional smartwatches out there. Get back home, connect to wifi - no need of a connected phone to get updates...and at work.

Don't forget it also has NFC that further future proofs it. Everyone criticised it for its looks but forgot it looks this way for the utility of a sports/fitness sport watch function. At least, unlike other smatch watches it performs that function very well AND also has the notification features of other Android Wear.

Sports and fitness? Minus the heart rate monitor? Posted via Android Central App

Point taken however I'd rather have wifi connection than a heart rate monitor.

If they aren't accurate they aren't serving a purpose. None of these onboard smart watch heart monitors are accurate unless you are sitting perfectly still. Once you are running or exercising you look like you are having a heart attack. Good decision on their part actually. The onboard GPS is far more usefull and with the Ghostracer app and bluetooth I can connect to a dedicated heart monitor product and achieve superior results. That said, when I am running I care more about my pace and distance than being in a "zone". The Sony Smartwatch 3 is one of the only watch that lets you keep your phone at home and train, whether that's running, swimming or at the gym.

HR monitor is the only "function" missing on the sony wear and its the "feature" im least interested in. GPS is about a billion times more useful to me. That and longer battery life and generally waterproof make it the best watch for me. The new updates are looking to be pretty good

I use the Jabra Pulse Bluetooth headset. Works great and adds nothing to your workout gear (assuming you are listening to music). Gives you the flexibility to get heart rate on the phone without a wear device.

Well I agree HR would have been great but the fact it acts as a gps + small music storage made this a fitness device for me. Give me another year for the HR :). Anyone know why the Galaxy S6 is not compatible with Google fit?

Wow, I have the Edge and didn't realize that until now. Probably b/c Samsung is trying to force you to use their S Health app. Which is OK I guess if the S Health app would work with Android Wear. I find that really annoying.

I dug for this answer and it seems to be a current glitch with the app which keeps the HR sensor the entire time and drains the battery. I am assuming it will stay non compatible till they fix this bug.

I thought the Moto 360 didn't have a wifi chip? Posted via Android Central App

Here's a question Will the watch have better or worse battery having and using Wi-Fi instead of Bluetooth? I really like that your watch can be independent now. Unless you have an og g watch which doesn't have Wi-Fi. I'm excited about Smelt. Flat tire hopefully gone along with at least a snapdragon 410 and 768MB RAM and a 450 mah battery. Excited to see that and the Huawei smart watch Posted via the Android Central App

Anyone know what the latest software version is for wear? I am running 5.0.2 on my SW2.

In there any word as to when the moto360 watch will get a firmware update for Motorola? Posted via the Android Central App

I am getting a Sony Smartwatch 3 shortly. I noticed that the latest reviews for Android Wear in the Play store are full of people complaining that the new update is a nightmare. Is anybody else getting any issues with this update?
Android Central Newsletter
Get instant access to breaking news, the hottest reviews, great deals and helpful tips
Thank you for signing up to Android Central. You will receive a verification email shortly.
There was a problem. Please refresh the page and try again.