Android Wear 2.8 adds system-wide black theme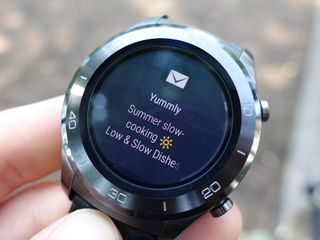 For those of you that continue to march on and use Android Wear, a new 2.8 update should be arriving on your wrists soon. When it does, you'll likely notice that things look a bit darker. According to a thread on Reddit, updating to Android Wear 2.8 gets rid of Android Wear's system-wide gray background and replaces it with a black one.
As you can see in the pictures below, this black color is found on the quick settings page, the app drawer, notification shade, etc. I personally never had any issues with the old gray theme, but the new black coat of paint looks incredibly sleek.
Users have reported getting the new look on the Huawei Watch 2 and original Huawei Watch, but it's unclear at this time if the black theme is only available for watches with an AMOLED display.
Also, as Droid Life points out, the naming for the software doesn't make a lot of sense. The Android Wear app on your phone will be updated from 2.7.0.177669439 to 2.7.0.180439970, but the actual software on your Android Wear watch will change to 2.8.0.181612071.
If you're still rocking an Android Wear watch, have you gotten this update yet? Drop a comment down below and let us know!
TAG Heuer announces Connected Modular 41 smartwatch, starts at $1200
Get the Android Central Newsletter
Instant access to breaking news, the hottest reviews, great deals and helpful tips.
Joe Maring was a Senior Editor for Android Central between 2017 and 2021. You can reach him on Twitter at @JoeMaring1.
I still regularly use my LG G watch. So, that means no 2.8 update for me. I might upgrade to the Huawei Watch 2 at some point.

You should still get this update. This is just a regular update for the Android Wear app. Not a OS update.

One would think... right?... But this is Android Wear.

They are now pushing feature updates through Android Wear App and the Play Store on the watch. This is actually a big deal for us Android Wear fans. No more waiting on firmware updates for some nice additions.

I just updated my Fossil Q Explorist watch to the 2.8 version and I'm still rocking a gray background.

Same here. Frustrating that Fossil isn't including this option.

I believe Fossil was already incorporating a more black theme. It was part of the sales pitch for the Explorist over the Marshall from the year before. I even noticed the difference when I bought the explorer (I have both).

Got the update on my Huawei Watch 2 and mine does have the black background when you pull down, the app drawer and notifications. If you click on settings it does revert back to the gray screen when you are in settings.

I'd prefer getting the old wrist gestures back they removed from AW 1.5 etc than a black theme

Got it today on my LG Urbane! No amo here...

Ian using fossil Q explorist Gen 3 daily rose gold...totally love the watch....Will check for update

Is it just me or why is it hard to simply have an option to change whatever theme/background colour you want?
I'm still rocking my original Huawei Watch and wear it everyday, might sound something little but damn, why did they remove the button double press to turn off the screen when they release 2.0? Not sure if this is google's doing to Huawei, surely they can have an open for the power button as to what you want to use it for...Other than that, I enjoy my watch, this is my second Huaweu watch, the first one, one of the charging pins on the watch was corroded, so they replaced it for me.

Google's doing and I hate this on the LG watch urbane lte as well.

No update with moto 360 46mm. My android messages and gmail notifications abruptly stopped (once again) a couple days ago. Correlation perhaps?

Is yours the 2nd gen 360 or 1st as the 1st is not getting 2.0 as I know but not had any issues with my 1st gen 360 since I got it.

Mine is second gen, 46mm. I don't really need an all black theme but I would certainly not mind it. As long as it doesn't break anything more on my watch. Late last night I did get an incoming call notification... so maybe things are turning around. My experience with android wear 2.0 has not been good. The more Google messes with it, they more things get broken. They just can't seem to leave well enough alone.

I got the update today on my Moto 360 2nd gen.

Does the update require cellular connectivity? I live in a "1x"" verizon dead spot.

I got the update today on LG g watch R

Nothing yet on the Ticwatch E

Just got it on my Ticwatch E. All black backgrounds, even in settings. Looks nice.

I got it today on my LG Watch Sport. Like the black theme.

"still rocking an Android Wear watch." There are actually more Android Wear users out there than people know. I'm seeing more and more of them, especially in the designer brands. I think Android Wear is unfairly attacked. While it is not as refined as Watch OS or Tizen, it actually "just works." I've used one for the last few years and it does everything I'd expect in a SmartWatch. I like it that the OS can inherently handle a lot of notification and responding functions without the need of an "app." I'd like to see more Android Wear watches that are fully functional (stop leaving out the GPS and Heart Rate Monitor) and a sports watch made for women. I think Android Wear deserves more attention.

Same here. I've used all the Smart Watch OS' and found AndroidWear the best by far. I hate that they removed some of the functionality when 2.0 came along but it still beats Tizen

I wanted to like Tizen. I truly did. But I find Android Wear a lot more useful and productive and yes, that may be a shock to some.

What does, "For those of you that continue to march on and use Android Wear..." mean?
Are less and less folks using Android Wear?

Agreed. I think it is growing some. With the designer watches, many may not even know it is "Android Wear."

It means there are a lot of consumers who have had a lot of problems with android wear.

Got this update this morning on my Moto 360 (2015).
Loving the black 👌🏻

Got it for my ZTE Quartz.

Still nothing on my ZenWatch 2 despite the AndroidWear app updating on my phone and watch

Got it on my original Huawei Watch. Is anything else different apart from the new black background?
Cheers

I got it on my OG Hauwei watch I wonder if the black background is for AMOLED screens I'm not sure but I like it i get alot of comments on my watch I wear it every day especially helps at work since it's wicked loud in my shop and rather leave my phone on my desk very surprised how good my watch has held up I've broken alot watches or scratched the **** of the glass but this sapphire glass is great I wish Hauwei 2nd gen looked better really looking at the Movado connect but think I'm gonna hold off til this watch dies I paid 230$ with 2 yr insurance and got the stainless steel band I've spent much more on couple of watches and they have stayed in the draw since

My LG Urban is rocking an even newer version at 2.8.0182534774 how that?

S7 Edge Black + Huawei Watch v1, still no update in the phone (app version 2.7.0.177669439.gms) or in the watch (Android Wear OS version 2.7.0.178645119). This is a very nice UI upgrade IMHO. I will love trading the gray background for a black one, when the update finally arrives.

My Style got the update but it didn't change the theme. Which is disappointing because I really like it. Anyone know why that is? I have an OLED display.

I manually updated to Android Wear 2.8 from 2.7 on my Zenwatch 3 but I did not and do not see any differences at all. If anyone wants to manually update to Android Wear 2.8 here is the download link for the Android Wear 2.7 APK which enables the 2.8 update to appear on your your phone's playstore and your watch's playstore. First install the 2.7 android wear apk into your phone from the link below then wait 2-3 minutes and go to the phone's playstore and check for updates, you will see the android wear 2.8 update for your phone. After updating the phone to the 2.8 update wait 2-3 minutes and the 2.8 update will also appear in your watch's playstore after you check for new updates in the watch. The Android Wear 2.8 update is not device dependant and it can be used with most any android wear watch which has the Android Wear 2.0 firmware in it. Here is the download link for the Android Wear 2.7 which allows the 2.8 update to appear in both your phone and your watch.
https://www.dropbox.com/s/0xxt6yd1zhpet2c/com.google.android.wearable.ap... Good luck, have a great day!