As an Android user, what's your favorite thing about iOS?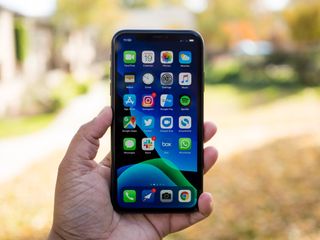 (Image credit: Harish Jonnalagadda / Android Central)
On a website called "Android Central," it shouldn't come as much surprise that Android is our mobile operating system of choice. Whether it be Android's vast customization options, a large variety of available devices, or anything else in between, there are a lot of reasons why we prefer it over iOS.
Even so, that's not to say that iOS is a bad operating system. In fact, there are a lot of perks and benefits that come with it.
Recently, some of our AC forum members began a conversation about switching to iOS/iPhone and the various upsides that come with that transition.
This got us to wondering — As an Android user, what's your favorite thing about iOS?
Get the Android Central Newsletter
Instant access to breaking news, the hottest reviews, great deals and helpful tips.
Joe Maring was a Senior Editor for Android Central between 2017 and 2021. You can reach him on Twitter at @JoeMaring1.
Facetime. With all that is going on with COVID, articles talk about how nurses are facetiming family members who are close to passing away. Well, what if that person is on android? Nobody is going to download an extra app for video. I like the hardware. Not the OS. Haptic feedback and notifications on IOS, as well as Bluetooth and Speakerphone seem to generally work better on IOS then Android in my opinion. Love the hardware button for muting the ringer. Yes, Oneplus has this, but I wish more manufacturers would adopt this. One feature of the Treo I wish they would bring back.
What I don't like? Well there is a bunch but the reason I never went with Apple is because in the early days you had to use Itunes for EVERYTHING. Heck it still doesn't put apps alphabetically when installing.

Pretty sure WA is way more used than FaceTime

Wow, Treo reference. You're old school. Yeah my 1st smartphone was a Treo 700p. I had music, videos, & media. I could manipulate it how ever I wanted. No iTunes required. Having an apple product was restrictive to what apple allowed. Also paying the apple status tax, not me.

Favorite thing is that I don't own one.

GarageBand. Nothing else.

GarageBand on iPhone isn't that good, it becomes awesome when used on an iPad thanks to the bigger screen

I actually use it on an iPad. I wasn't thinking of a phone...

I love GarageBand and still haven't come across anything on Android that comes close as the Android equivalents are too complicated for me where as GarageBand is much easier to use.

The software updates. I don't care about iMessage or FaceTime cause Google duo works pretty well and it supports both iOS and Android, as far as I message I really don't see what the big deal is like for real. But the software updates Is what I like about iOS. Your phone will get updates for years

Android's number one problem is that it has always been too fragmented. There are a plethora of manufacturers, all doing their own thing. There is no single dedicated messaging app that has to be used across all devices for video and text a la iOS' FaceTime. I guess that's the downside of being too liberal. However, I do relish said freedoms which does make it double edged sword, from a personal standpoint. It would be nigh impossible for me to join the iOS lockdown. The iPhone was invariably developed for a certain target audience which I was never a part of.

Nope that's actually thing about android Customization and options to choose from that's advantage over apples so called locked app store

I prefer Apple's approach but it's not perfect though, having to go to the setting app for the camera and all along with having no app drawer or file system but that's my inbox complains abound iOS. Android is just too fragmented even with security update and while the app experience is much better on Android than before I still feel iOS has the edge, especially with iOS getting features first for apps that are on both platforms. I'm looking forward to switching back to iPhone (I'm also getting an iPad because I want in the Apple ecosystem) with an iPhone 11 which has impressed me no end.

I agree. If all Android phones got on board and got all the Android updates regularly like iPhones, then it'd be my OS of choice. Why can't they just let Google build Android instead of having to make their own skins and update schedules? But since all Android phones are too fragmented, and all with their own skin on Android, it's not something I want to deal with anymore. Heck, Android devices can't even manage to get regular security updates. Sure, my iPhone looks like every other iPhone, but my iPhone has the latest version of iOS.

Everything I've ever seen about Apple products has led me to know I made the right choice in NOT choosing them.

For over a decade they have been unable to fix their home screen and also weird settings like for each apps settings one has to go through settings app not perticular app settings

Those things work exactly how Apple wants them to. They don't need fixing, they work as intended. Whether it's the right or wrong choice is up to the user to decide. There are other bugs that actually need fixing, but neither of what you mentioned actually needs fixing.

Security and years of updates

Security is an illusion nowadays

How would I know? As an Android user i don't use iOS hahaha. I have an LG TV and a Sonos sound system, would you like to know my favourite things about Samsung TVs and JBL speakers? I don't know, i don't use them. I've never been to a Chipotle, five guys or shake shack... Want to know my favourite thing from each of their menus? I DON'T KNOW, I'VE NEVER BEEN!

My job phone is an iPhone and I pretty much dislike everything about iOS. Everything I try to do is difficult and nothing seems intuitive.

I'm in the exact same situation, I don't get people that say iOS is easier to use

The software updates is the number one thing I like about iOS (and this is coming from a Pixel 3 user). Even iPhones a couple of generations old can still get the latest iOS.

Software updates for 5 years but that's literally it. Can't think of any other reason to want one these days 🤷🏻‍♂️

Getting a new phone and having it be setup automatically to be exactly like the last one.
Android has become better at this, but I still have to reinstall apps from the Amazon App Store separately, and setup my email accounts manually as well.
I do like the haptic touch on my old iPhone 7, but weirdly, it does not work consistently with games.

Yeah this too tbf. Literally punching in a few passwords and your new phone is set up exactly as before. If you go through a lot of phones then this is a major stress saver

This is easy for me. Facetime and iMessage. When 9.5 out of 10 friends are on iOS things can get difficult. For me they have to download a secondary video chat and use SMS. The SMS is seamless for them but what isn't is the downgraded quality of pictures and videos. Say what you want but trying to get the to use another service just for the 3 android users is a large task because their services work great for them. I would gladly pay Apple a fee for the ability to use those services on my Android phone. BUT I WOULD NEVER SWITCH JUST TO GET THOSE FEATURES.

The things that draw my attention to IOS is the fact there is one company controlling, the hardware and software. Most things work well with each other. The odd thing is that even most of Googles own apps work better in an Apple than most Android phones and that is causing me to think of switching since being with android since the beginning.

I would say OS updates for 5'ish years.
Maybe FaceTime and iMessage because my wife has an iPhone, but thats it.
Everything else I dislike immensely.

All new phones seems exactly like old phones! ;D

This is an easy one FaceTime, iMessage, and Apple Music along with the day I updates and the App Store, I've been away from iOS for over 2 years and the time is right to come back to iPhone for good with what I've seen of the iPhone 11 which has won me over after being mad at Apple for "battery gate" and Android simply doesn't have anything as good as FaceTime and iMessage simple destroys anything on the Android side. I plan on getting an iPad as well because I plan on locking myself in the Apple ecosystem. I can see the appeal of the iPhone SE for someone looking to try iOS for the first time at a more wallet friendly $399 (it's £419 here in the UK) but o feel I've been there and done that already (the screen on the SE is slightly bigger) but the point of the SE is not it's looks although I still like the classic (dated) iPhone look, it's iconic but the main selling points of the SE are the A13 bionic chip and the long term software support. No mid range Android phone can offer that along with water resistance and wireless charging for $399.