Android R will use Qualcomm's Snapdragon 865 to store digital drivers licenses and other IDs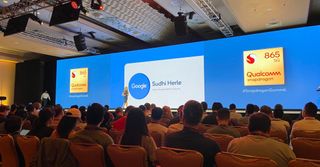 (Image credit: 9to5Google)
What you need to know
Google's Android Identity Credential APIs will enable electronic IDs and mobile driving licenses.
Qualcomm and Google this week announced their partnership in bringing the tech to the masses.
The Snapdragon 865 and 765 will be the first SoCs to support the standard.
If you've ever forgotten your driver's license at home, Qualcomm and Google have some good news for you. At the company's Snapdragon Tech Summit in Maui this week, Qualcomm invited Google's Sudhi Herle to talk about the two tech giants' collaboration in making digital IDs a reality. You can see the entire announcement below (via 9to5Google):
The Qualcomm execs proudly announced that the company's latest chips — the Snapdragon 865 and the Snapdragon 765 — will be the first to support Android Identity Credential APIs. To demonstrate the point, the company's reps had a cheeky animation showcasing a cluttered pile of IDs, money, keys, and a wallet all fitting inside your smartphone.
As the company explained at its I/O developer summit (via VentureBeat) earlier in the year, though, we're still a ways away from a digital utopia where your passport, driving license, and club memberships are all stored on your phone. The mobile driving license (mDL) standard is still being worked upon, and it'll likely require quite some time before governments would be willing to accept electronic verification in place of a physical passport. Till then, having a Qualcomm-made chip will, at least, ensure you're on the cutting edge of technology and can avail this convenience whenever it's made available.
Qualcomm Snapdragon 865: Top 4 best things (and 1 bad)
No. Just no. Everything we have identity wise is at risk as it is. I can't imagine losing my phone with all of that info on it. And before all the naysayers chime in, things can get hacked now. That will too. Then all is lost.

I completely agree. It's beginning to sound like Skynet ( Terminator movies)

Will this benefit Disney+ (Disney Plus) in anyway? And aren't all Android versions going forward just be numbers? Android 11....

In Brazil we already have our IDs in the cellphone provided by the government i.e. Driver's license, car's license, IRS personal tax....

That's truly frightening.

If you are happy with that, that's all that matters.

Hand your unlocked phone over to a police officer to show him your license, and you've just granted permission to everything on your phone.

Bingo. Without some ability to lock the rest of the device while showing the ID, this should have the privacy nuts in a tizzy. Such technology exists, or existed. Windows Phone had a kid mode, where you could swipe right to get to a separate partition on which you could load limited apps/access. To get back to the rest of the phone required your PIN.

If this is totally true, I will definitely go with an iPhone the next time.

The future is truly scary.

The State of Louisiana has an App that has been in service for about a year now. It locks your phone so the officer can only see the license information and cannot access anything else on the phone. Works on both Android and iPhone. Valid for Louisiana drivers inside the state of Louisiana.
Android Central Newsletter
Thank you for signing up to Android Central. You will receive a verification email shortly.
There was a problem. Please refresh the page and try again.