Android Quick App: QuickPic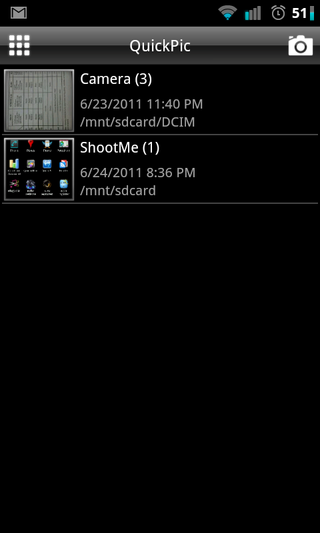 If there's always been one stock app I've heard people gripe about, it's the gallery. QuickPic aims to be your total gallery replacement, eschewing some of the eye candy Android's gallery offers and giving you heaping bundles of functionality in its stead.
Instead of the slick, floating stack of pictures the normally gallery gives you, you're granted a static list. No cool effects, no changing angles as you move your phone, nothing. What you do get, however, is speed. The list loads near instantly (at least with my meager amount of albums). I mean, hey, the app is called QuickPic.
Something you lose from the stock gallery app is the ability to long press an entire album, and from there, move it, share it, delete it, etc. Long pressing on a gallery from the main menu only gives you the option to see a slideshow, hide the gallery, exclude it, delete it, or rename it. You also can see the exact location of the gallery from the main menu. It's not necessary at all, but it is helpful, especially if a lot of your different apps all save in different locations. (For me, that's ShootMe in one folder and everything else in DCIM.)
Once you actually select a gallery to look at, the quick in QuickPic becomes readily apparent. Pictures scroll without hesitation from a left or right swipe, and a double-tap gives you not one, but two levels of zoom. A third double tap brings you back to the original size. There's also pinch-to-zoom. That's nothing revolutionary, but it's included and it works.
Before you can do anything with your pictures (like share or rotate them en masse), you're going to either want to press the checkbox in the top-right corner of the screen, or press Menu > Multiselect. From there, you'll notice the stock Android checkboxes appear on each and every picture, allowing you to select them for editing.
Once a picture (or pictures) are selected, you can share them, copy them, move their location on your SD card, delete them, or rotate them. There's also a double check button that let's you select everything in an album instantly, so if you were planning to copy or move, that'll save you a bit of time (especially on a larger album).
Other than that, there's not much to talk about. QuickPic doesn't try to be something it's not, but for what it aims to be, it excels. If your preferred gallery experience is a fast, straight-to-business approach, QuickPic is the app for you. At the whopping price of free, it won't break the bank, and with nary an ad in sight, there's nothing to sully the experience that QuickPic offers.
Download links and more pictures are after the break.
Sign up for Black Friday email alerts!
Get the hottest deals available in your inbox plus news, reviews, opinion, analysis and more from the Android Central team.