Android Pay to rock out at Coachella 2016 thanks to Square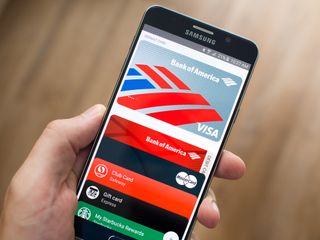 Square has announced that it is bringing NFC payment support to the 2016 Coachella music festival. The latest Square Reader, which supports NFC payment systems like Android Pay and Samsung Pay, will be available as the exclusive point-of-sale during the festival, letting attendees pay for anything without needing to take out their wallets.
From Square (opens in new tab):
Of course, if you still prefer paying with a physical credit or debit card, the new Square Reader also accepts EMV chip cards, which have recently started rolling out in the United States.
The 2016 Coachella festival will take place April 15-17 and 22-24 in Indio, California.
Certainly one pretty good way to bring mobile payments one step closer to being mainstream

Samsung Pay rocks out everywhere. Posted via the Android Central App

Yep, I prefer Samsung Pay even for NFC payments. Android Pay hasn't been reliable as of late. I'm also sick of NFC terminals not working. MST FTW! Posted via the app ~ GS7

Doesn't matter if neither payment method is accepted by my credit union or bank. Both Android pay and Samsung pay are still crippled by how few institutions deal with them and how few terminals accept them. Posted via the Android Central App

Samsung Pay works almost everywhere. For the few places that don't, I use my backup card. It's worth using when it means that I don't have to use the much slower chip method, 99% of the time. As for not supporting your dinky little credit union, get a credit card. Samsung Pay supports most major credit and debit cards, like Chase, Citi, Bank of America, and many more. Their list is quite long. Android Pay...not so much. Posted via the app ~ GS7

You should really educate yourself on samsung pay acceptance,which is just about anywhere,thanks to mst.Android pay,definitely not so much. Posted via the Android Central App

I'm assuming that reply wasn't meant for me. Posted via the app ~ GS7

No,it was meant for Sam,the same as your reply.I love Samsung pay.I just want them to make it functional on the gear s2 as well now. Posted via the Android Central App

If your credit union/bank aren't officially on board yet, you can still add the card in Android Pay and Google will create a virtual card number. So, yes, you can use it.

That is incorrect. Google did that in Wallet, but not Android Pay. They are only allowing users that had a card in Wallet, to use that card in Pay, for a limited time. If the card wasn't previously in Wallet, it cannot be added to Pay...unless it is an officially supported card. Posted via the app ~ GS7

Yep Posted via the Android Central App

Since they announced discontinuing support for GW card, I stopped using Android Pay. Posted via the Android Central App

why would that stop u from using android pay?

The Google Wallet card is part of Google Wallet, which is not the same as Android Pay. There's no reason to stop using either of them.

What they could've done is let people pay via the wristbands that you've gotta keep on anyway. That's much easier than phone or wallet.

Like a bluetooth wrist band?

Like an Android Wear watch.

I wish you could do Android Pay from a rooted phone. Posted via the Android Central App

Beer barn, here I come!!! Posted via the Android Central App
Android Central Newsletter
Get the best of Android Central in in your inbox, every day!
Thank you for signing up to Android Central. You will receive a verification email shortly.
There was a problem. Please refresh the page and try again.