Android P isn't launching with a Dark Mode (Update)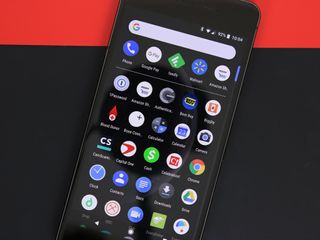 Update: After a few hours of this rumor percolating the internet, Google shot down the rumor with the following statement:
Oh well, it was fun while it lasted. Again. The original story is below.
Over the past few months, there have been a handful of indicators suggesting that Android will soon offer native theming support. Android Oreo allows users to customize their phones with the Substratum Theme Engine with the use of a simple desktop app, the Pixel 2 introduced white and dark themes that change based on the wallpaper you have set, and now it looks like Android will soon get a native dark mode.
Last November, one user took to Google's official Issue Tracker asking for a "Dark Mode or Night Theme in Android 9.0." Google responded a day later saying that it'd shared this suggestion with its engineering team, but after that, things went dark.
However, during the wee hours of the morning on February 23, 2018, Google updated the thread once more with the following response:
AKA, a dark/black theme is finally coming to Android 🙌
Google's comment doesn't offer any insight as to when this feature will be launched, meaning it could debut as soon as Android P or it may not. This seems like a fairly small addition considering that Pixel and Nexus devices already offer this with accompanying wallpapers, so we'll be sure to keep an eye out for this during Google I/O in May.
Joe Maring was a Senior Editor for Android Central between 2017 and 2021. You can reach him on Twitter at @JoeMaring1.
I'll believe it when I see it. Also, I hope it's actually a pure black theme (for OLED displays) and not just that greenish-blueish-vomit colour they used to have on past developer previews and the notification tray.

Update: and there we go. Google once again proving they have the taste and design capabilities of a blind whale.
And reiterating why stock Android is sh*t.

Available on .001% of devices for the first year!

Available on 100% of MY devices in probably a few weeks!!!

More than 50% of Android devices already have black themes. Because unlike crappy stock Android, Samsung, LG etc already offer a system-wide black theme on their phones (Samsung offers you the possibility of making it whatever the hell you want even).

Non-stock skins are crappy, Stock is the best.

Stock is crap. Skins are the best.

This is not system wide. Not at least on my galaxy s8+. It does not work with Google apps, only works with the Samsung apps.

Apps are not part of the system. They're apps ;) Good news though. You can use Substratum for Samsung which will allow you to theme the Google apps as well as a bunch of other apps from the Play Store ;)

Deja vu, same bullsh*t rumor every year, like it would be difficult to implement. At this point, I pretty much believe they just don't provide it to f'ck with people because they asked for it. Get back to me when you can tell me that I can open settings and select it.

Finally, let's get back to black!

"...but after that, things went dark."
I see what you did there. ;)

I just want more customization. Just copy what oxygen is on the OnePlus at least.

HALLELUJAH!!! IT'S ABOUT TIME!

Hopefully it will apply to apps that have changed the navigation bar to white. Even with my substratum black theme installed all of the Google apps still have the new blindingly white navigation bar

You can also customise the navbar with Substratum.

This just means I will have one less thing to use Nova launcher for, but until then, I will continue to use it to make my theme black.

Dark theme, running it now on my 6p. Nova settings

Doesn't apply to system UI, navigation tray nor on apps.

Finally, if there's one thing I've been wishing that stock Android had was a dark mode which OnePlus, Samsung have all had for years.

I forget it doesn't have a dark theme🤔...Nova does...😎 It doesn't matter to me when they add it...

Nova needs a pure black night mode because their current one is only dark gray and not good enough.

It's only 2018, what took so long?

It better. The fact that it hasn't been an option on stock as of yet is unacceptable.

Lol, you guys should update this article, Google put that thought down pretty hard.

At this point, I don't trust Google to put out a dark theme for Android anytime soon, they've been so stubborn for a long time about it. Have to do it the hard way with Nova, Material Status Bar and 3rd party apps with dark theme(textra, dialer, samsung browser etc), its not perfect but gets the job done.

Great to know that as a Samsung user and ATT customer I should see this update sometime around the 3rd quarter of 2019.

Nope, not happening: https://www.xda-developers.com/google-dark-theme-android-p-weather-widge... "Update 6:08 PM CST: The show's over folks. Looks like the dark theme was a false alarm. Unfortunately, it seems to have been a miscommunication. Well, at least there's always Substratum and Andromeda! " https://issuetracker.google.com/issues/69759140#comment20 "Hi folks, you may remember me from the last three releases where it looked like Dark Mode was being added. Unfortunately, this bug was closed prematurely due to a miscommunication with the team that handles AOSP issues. "What we *have* added in a future Android release is a developer-facing setting (via Developer Options) to toggle the -night UI mode qualifier, which will make it easier for developers to create and test apps that implement night mode. This qualifier has been in the platform since Froyo (SDK 8) and globally modifiable via UiModeManager since Marshmallow (SDK 23); however, there was never an explicit toggle made available anywhere in Settings."

Yeah, not sure why the article hasn't been updated.

They won't do that till they decide to make phones $2,000.

I knew it was too good to be true. This is getting ridiculously annoying now. Google needs to stop being so stubborn. Do they not use their own phones? Can't they see that the white UI is not as visually pleasing as a dark theme? At least give us the choice! Smh.
My next phone will be a OnePlus.
Android Central Newsletter
Get the best of Android Central in in your inbox, every day!
Thank you for signing up to Android Central. You will receive a verification email shortly.
There was a problem. Please refresh the page and try again.