Android Pie Beta 4 'release candidate' now available for Pixels, making way for public launch soon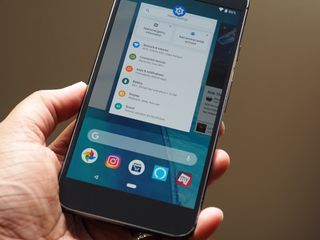 Google has just released the fourth beta of Android Pie to developers and enthusiasts, marking the final release before the final is officially unveiled as a public release. Android Pie Beta 4 isn't designed to offer much change over Beta 3, as any substantial change now would likely just be held for the public release. Instead, Beta 4 is the final reminder to app developers that APIs have been finalized and this software is a great testing ground to make sure their apps are ready to go for the new software.
Google is putting the official title of "release candidate" on this build, which means it's supposed to be stable and complete enough for regular use with "final system behaviors" and no major foreseen problems. Because of that designation, for those of us who aren't developers Beta 4 is a great way to get an early look at Android Pie with the least amount of risk prior to the official release. There won't be any big differences from Beta 3, but if you had previously only looked at the first beta or held off altogether, this will be a pretty big change for you.
If you have either generation of Google Pixel, it's simple to enroll in the Beta Program and get an over-the-air update with the latest software. You can also manually update it with your computer if you're really eager. In either case, if you need any help with the process we have a great guide to help you through it.
How to install Android Pie on your Pixel right now (and how to roll back to Oreo)
Andrew was an Executive Editor, U.S. at Android Central between 2012 and 2020.
App developers, does it usually require a lot of work updating your apps every year with each new release? Is it something you look forward to, or is it a pain?

Any guesses on how soon the final release will be? Within couple of weeks?

Probably August. But maybe September. October is just around the corner too. (Pixel 3 season).

So I just picked up a Lenovo 500e Chrome Book for our daughter that I am VERY pleased with (thank you Jerry) It's so good and the OS update (it had one at boot up) was seamless. This device will be supported officially for 6.5 years. Why in the heck is Android not similar, and supported on mobile devices for as long? This seems like a no brainer to me and would greatly assist OEM's and carriers with updates. I know there is more to it than I understand but the minds @ Google should be able to find a way. They have already done it with Chrome OS. Jerry have you written on these differences prior?

These annual OS updates whether it be iOS or Android seem inefficient and costly for everyone. If the backbone of framework remains similar is it not just tweaks and refinements rather than complete re-writes that could be handled in security updates?

Not the same thing. Unfortunately.

This annual naming of os versions and its announcement is really just a glorified advertisement.

Update now available for the Essential PH-1!

The Beta 4 update killed my WIFI reception on my Essential phone. YMMV

Patiently waiting for it to come to me in the beta. More stability is always welcome.

None of the Android P releases will launch Android Auto on my Pioneer head unit in my car. All P has ever done is cycle the power/charge connection and never launch. Hope this gets fixed soon

Waiting for it on Nokia 7 plus :)
Android Central Newsletter
Thank you for signing up to Android Central. You will receive a verification email shortly.
There was a problem. Please refresh the page and try again.