Android N Developer Preview 4 now live, devs can now target N APIs on Google Play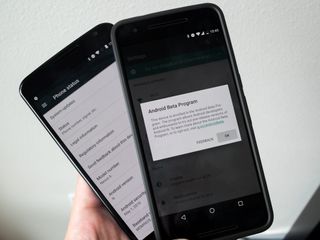 Google has just made the fourth Android N Developer Preview available for download. This update includes a final set of APIs so developers can begin compiling their apps and publish them in Google Play. Developers will also be able to run alpha and beta tests of these apps that target API 24 through Google Play if they wish.
From the official announcement:
You can download the images to flash right now, or wait a little bit longer for the OTA's to become available.
Jared started off writing about mobile phones back when BlackBerry ruled the market, and Windows Mobile was kinda cool. Now, with a family, mortgage and other responsibilities he has no choice but to look for the best deals, and he's here to share them with you.
Cool beans Posted from my cracked Nexus 6/Nexus 7 2013/Surface Pro 3

I wonder how much longer it'll be to the final release

Usually with the next Nexus phone, October is my guess. Nexus 6P

I don't think it'll take nearly that long. We got the first Marshmallow beta about this time last year, then it was released in October (same timeframe for Lollipop). This year, we got the first N preview in March, and the final preview today. Following the same four month timeline from initial preview to final release, I imagine we'll see a final release next month.

They've stated end of summer a few times, I'm guessing we'll see the new phone(s) then too; my money is august

Is that what they are calling it? Nerds? They sholuld do it.

My money is on August. This is a signature.

So, does this version allow Microsoft apps to install and update properly (Cortana, Xbox, Translator etc.)?

Problem is usually the app and not the OS. I find that many apps with aggressively proprietary security features have issues with newer OS and almost never work with beta builds. Kind of weird that Xbox does not even update on N preview, however.

Ya, and same with Cortana. Can't play with the beta until I get Cortana et. al.... (And of course Skype gets nice warning messages about the system files and can't make voice or video calls, same with RingCentral etc. etc. etc.)

How quickly can I expect this as an OTA? Posted via the Android Central App

Check for updates, mine came I immediately

Yep. Me too. Trying to see if there is are any differences/changes. So far I can't see any. Nexus 9 still running zippy on it though! ☺️

Does your Nexus 9 run better than with MM? Posted via the Android Central App

Believe it or not, yes, mine definitely does. Almost no lag, and super smooth. I was pleasantly surprised.

Awesome! Hopefully this fixes the settings issue I'm having.. Nearly every time I open my settings and mess around with it a little bit it locks up and I have to do a reboot.. :( Posted via my amazing, bent nexus 6p

Me too though I don't usually have to reboot. Posted via the AC App on my Nexus 6P

Update
Everything works as smooth as butter! Haven't found anything glitchy yet! Lovin it Posted via my amazing, bent nexus 6p

Does this build fix Android Wear notifications? Posted via the Android Central App

I hope !! I will see tonight ! :P

Yeah I really hope so!! Posted via the Android Central App

Yes, work with Gmail now !

Damnit! No WiFi at work! My job sucks!

Still waiting for the OTA for my Moto Nexus 6.

If I install the beta, will I then get the normal OTA's when it gets the general release later in the year? Posted via the Android Central App

Yes Posted via the Android Central App

What's new? Posted via the Android Central App

Does anyone know the build number? Posted via the Android Central App

My 5x downloaded NPD56N upon checking for updates

Npd56n is the build number downloading now Posted via the Android Central App

Downloading NPD56N to my N6P right now. 327 meg file.

Android notifications are working again!!! Happy to see this update fixes whatever they broke in the last update.

Got the OTA on my nexus 6. Updated to DP4. !!!

Same here on Nexus 6p. Just had to be on WiFi Posted via the Android Central App

weird. I wasn't on wifi and got mine just fine

Hmmm timing must have been a coincidence. Posted via the Android Central App

Bottom speaker still isn't working. Stopped working on the beta. Posted via the Android Central App

Just checked my Nexus 9 when I saw your post. Both speakers working fine. Odd.

Nexus 6p Posted via the Android Central App

That's a strange issue. Works fine on my 6P. Only thing I found broken so far was the Bluetooth quick toggle in the status/notification bar.

HBO Go.....Still a no go on my Nexus 6p after the update. Crashes when trying to open. Watch ESPN is now working.

May not want to flash this if you use Android Pay. Multiple reports of problems, even though Google says it works. https://developer.android.com/preview/support.html#dp4 Posted via the Android Central App

Bluetooth quick toggle no longer toggles! Tap it an it opens the quick Bluetooth settings in the notification shade. Why mess that up?

I wonder if the YouTube app works in this build.

They removed the quick toggle for calculator. Really disappointing. I was quite excited to see that last update as I use it all the time for work. Posted via the Android Central App

Is Amazon Prime Music fixed yet? Posted via the Android Central App

OTA is live. Check for updates and you should see it. Build is NPD56N on Pixel C. Posted via my Nexus 5X or Pixel C EDIT: This is the first build to use the new "updating" graphic. Not particularly fond of it to be honest.

I much prefer the new updating graphic. Better than that tired old Android with the atomic stomach.

I'm with you on this. The current graphics feel like I'm watching a 3D movie without the glasses.... Just unnerving and awkward feeling. I miss the Android and I feel like we see less and less of him as time goes on :( Posted via the Android Central App

Anybody else having issues with replying to text messages with their Android wear watch? Posted via the Android Central App

Anyone having issues with random reboots. I have had it happen to me multiple times today on my Xperia Z3

How is the smoothness and speed compared to developer preview 3? Posted via the Android Central App

Not only that try tracing the N with your finger and watch the magic happen! Surprised no one has caught this yet. Nameymcnameface selfie a anyone? Posted via the Android Central App
Android Central Newsletter
Get the best of Android Central in in your inbox, every day!
Thank you for signing up to Android Central. You will receive a verification email shortly.
There was a problem. Please refresh the page and try again.