Android Messages picks up Allo's Smart Replies feature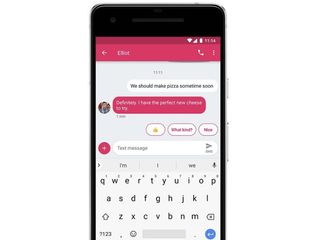 Although Google Allo may not have a user base as large as Facebook Messenger or WhatsApp, it has some of my favorite features of any messaging platform – one of which is Smart Replies. Smart Replies are those little bubbles under your Allo conversations that let you send off automated responses with just the tap of a button, and they're now coming to Android Messages.
This is something that was first spotted in Android Messages back in September of last year, but the official Project Fi account just announced that it was now officially available for folks to use.
If you've never used Allo, Smart Replies are actually pretty neat. For example, if you get a text from a friend saying there's a new coffee shop they want to check out, you'll see little bubbles underneath that message with responses such as "Where's it at?", "Cool!", and "👍." The Smart Replies you see are generated based on the conversation at hand, and this contextual layer to them actually makes it a pretty useful feature that I loved messing with on Allo.
The Project Fi Twitter account says that Smart Replies are coming to its subscribers starting today, January 24, but if you're on another carrier, you might not be able to take advantage of this quite yet. It's unclear at the moment if Smart Replies will work on other carriers with an app update to Android Messages or if it's reliant on the RCS standard, but we've reached out to Google for further clarification and will update this article when we hear back.
Huawei joins RCS movement by using Android Messages as default texting app
Joe Maring was a Senior Editor for Android Central between 2017 and 2021. You can reach him on Twitter at @JoeMaring1.
When will the Android Messages app get web link previews?

Dark theme would be nice.

I wish they would just combine the two this is crazy

+1 sick of the fragmented messaging apps

AGREEEED 100% I wish Google would roll the features of hangouts into Allo or vice versa. They need a single, well designed messaging app that combines all these features in an intuitive way. Having to switch between apps to get a different feature is KAH RAZY.

Allo is just a testing ground to figure out what features people want and how they'll use it. They'll keep breaking pieces off and sending to Messages until they can eventually kill Allo. They don't want to take the risk of breaking people's message app by moving it all into messages to quickly (i.e. how Apple iMessage did which caused huge User frustration and brought some lawsuits.)

I think it may be the other way around (e.g.: kill messages for Allo)

I highly doubt Google will keep the name Allow as their default messaging app on Android... People unfamiliar getting a new phone would scratch their head at "what's this Allow thing" and probably not even use it. It's not too difficult to figure out by the name what Messages is.

I've had these in my Android Messages for months now. I have a Pixel 2 XL and a Pixel XL before that. Maybe it was a Pixel only feature at first?

Is there an option on Android Messages that you can view all pictures/videos sent/received within each conversation?

The only way I've been able to do it is to open the most recent photo and swipe to the right. This will take you chronologically through the pictures.

I would use Android Messages but I absolutely can't stand that the notification doesn't go away after I reply. So annoying.

> It's unclear at the moment if Smart Replies will work on other carriers with an app update to Android Messages or if it's reliant on the RCS standard It's definitely not an RCS thing, because Fi doesn't support that.

Until Android Messages gets GIFs, I won't use it. Smart replies save what... 3 seconds? No thanks.

I use gifs with Android Messages all of the time. I am on a Pixel 2, maybe it is exclusive.

Just use a keyboard that supports it? I use SwiftKey and I can send GIFs. Android can receive them too just fine even if you can't send them. Or am I misunderstanding?

Textra with Gboard. Nothing comes close.

Is it possible to use Google Messages with my Google Voice phone number?

Or they could just add SMS support to Allo and problem solved.

There is no visual difference between a new and an old message. That's by far the most annoying thing about Messages.

I used Messages for a while on my Galaxy S8+ but I ended up switching back to the stock Samsung app and now I can't remember why. 🤔 There were some feature that the Samsung app had that Messages didn't seem to do well.

I feel like I switch messaging apps bi-monthly. When I got my V30, I tried Pulse. I always seem to end up right back on Android Messages; Pulse didn't handle MMS well enough for me. Sometimes people weren't even getting SMS from me...

I don't know what the big deal is hear. I've been getting this feature for months. I'm on Fi. Almost 3 years now, and I have allo. Pixel XL on January 8.1 update. Never used Allo., It's just there. I find the instant replies annoying. Even though they're there, never use them. To me this is a useless feature.

Amazon music app has error 505 what do I do how do I fix it

My phone's got a virus they got through lookout and it got through Defender antivirus and I got through Turbo antivirus

When will universal RCS come to the United States
Android Central Newsletter
Get the best of Android Central in in your inbox, every day!
Thank you for signing up to Android Central. You will receive a verification email shortly.
There was a problem. Please refresh the page and try again.