Android Market now allows content filtering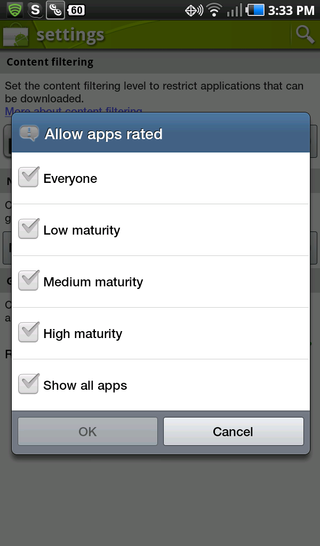 Most of the Android news hit us yesterday during IO's day 1 keynote, but today we have a lot of Market improvements to rejoice about. Google expanded app sizes to 4GB from 50MB, which should improve the selection of quality games available. They also made a lot of improvements to the Web Market in terms of app discovery.
A few of these enhancements will be hitting phone as well, including the improved 'Related Apps' category. Some of us have already received the new Market update, which also includes content filtering, which shold make parents very happy. You can access this feature at Market -> Menu -> Settings, where you'll see 'Content filtering' up top. You can filter content by allowing the user to access apps rated:
Everyone
Low maturity
Medium maturity
High maturity
Show all apps
This is certainly an area that needed to be addressed as parents didn't want their children to be able to access the entire Market. Thanks, Richard!
Android Central Newsletter
Get instant access to breaking news, the hottest reviews, great deals and helpful tips
What about filter by user rating/star rating?

There's an Amazon for that

Except that not all Market apps are in the Amazom Appstore.

I would love to use the Amazon app store, but I'm in the UK, so here's me hoping that it is eventually released in the UK too.

I honestly think they are starting to IGNORE this on purpose. Seems like they don't want apps getting drowned out because of a bad update or something. . . . Seems like they want to give all DEVs a fair chance. BUT. I do agree that this would be very helpful.

"they don't want apps getting drowned out because of a bad update..." We're looking at you, NY Times app.

horrible move their Android. Horrible. And before you start beating the "why drum"... they didn't lock it down. if you are going to filter it for the purpose of hiding stuff from kids you need to lock that shiz down.

EXACTLY ... What's stopping kids from going in and un-checking the filtered material ... Also those are some pretty lame ass filter choices.

I agree with you to the extent that they should make it possible to lock down the restriction on your account, but I disagree with your "horrible" designation. The fact that they acknowledge the issue, and have provided a positive first step in the right direction is a real plus, IMHO.

Those are mostly parenting controls ... NOT filters ... I would like to see "highest ratings" , "Most downloads" , "negative feedback" for example.

Low maturity, high maturity...why is there not a filter for "Immaturity"? Like those fart apps.

If you go and Look at the filtering you will see that in the settings area there is a lock right next to the filters menu, thisgives the option to set up a pin to lock changing the filters. Explore before you bitch* about things.

I don't even have this feature in my market.

Well nevermind then. I now have this in my settings finally. Not a bad start for Google on this feature.

I'm still on an old ass version of Android Market. I had to uninstall updates to fix my apps that weren't showing up. Its been 3 weeks and it still hasn't updated.

+1 Vic, I totally agree gotta start somewhere and I for one am happy with the move.

Focusing on the "Devs" and not the consumer isn't going to help things. Dev's need money, well for that to happen we need two things. higher quality apps and some way of finding them without wading through all of the GARBAGE because there aren't appropriate FILTERS!!!!!!!!

Great so now they can bring back the game Dog Wars.
We are all adults here anyway right Phil?
Oh wait, no he is still a hypocrite for preaching openness in one area of the site while talking about censorship in another.

I would much rather have advanced searching, filtering, and sorting by at least: * Price
* Rating score
* Number of ratings
* Number of downloads
* App name
* Description
* Review content
* App category
* Age of app/ date first posted
* Last update date
* Size Wouldn't you think the "king" of content indexing and searching would be able to handle that on their own market??? Especially after so much time has passed?

Glad google finally decided to do this.
Android Central Newsletter
Get instant access to breaking news, the hottest reviews, great deals and helpful tips
Thank you for signing up to Android Central. You will receive a verification email shortly.
There was a problem. Please refresh the page and try again.