Android 5.0 Lollipop rolling out to the LG G Pad 8.3 Google Play edition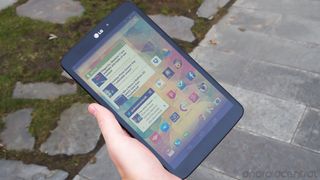 The LG G Pad 8.3 Google Play edition has started to receive Google's Android 5.0 Lollipop update, according to user reports. While cogs have begun turning, it may be some time before your device receives the update due to the staggered rollout.
The G pad (see our review) previously received Android 4.4.4 back in June, so it'll please owners to know they'll have the latest version of the OS soon. The update has also been shared over on XDA Developers, just in case you simply cannot wait much longer.
Have you managed to load the Lollipop update on your G Pad? Let us know how you get on in the comments.
Source: Android Central XDA Developers
Wonder if Sony plans on lollipop for the z ultra gpe. That'd be nice:) Posted via Android Central App

It's coming... ... ( 0ppo F5) ...

Can you take a normal LG Gpad 8.3 and turn it into a Google Play Edition by flashing the factory image when Google puts it out?

More than likely no. Each varient has their own ID that the software needs to verify in order for it to install. So someone would have to build a custom ROM just for it. And that is going straight from lgs software to Google's. However, if you already have it converted to a gpe, then you may be able to, not sure. Posted via Android Central App

You cannot. There are small differences that have made even porting the ROM unsuccessful, let alone straight up flashing it.

Wonder when LG will update the standard G Pad 8.3 to Lollipop. Posted via the Android Central App

It will be way before the LTE version... Posted via the Android Central App

Wonder when my Nexus 7 2 is getting Lolipop :P Posted via the Android Central App

Same here. Still waiting for my N7 2013 OTA in the UK... Posted via the Android Central App

I love how Nexus 7 owners are complaining about my tablet hasn't got Lollipop yet. Go flash the damn factory image! If you want an OTA, then you have to wait. The update was made available in a timely manner. OTA's aren't guaranteed to be timely. Posted via "the Contest-Won" Sprint Galaxy Note 4

Lol, still haven't gotten the OTA on my N7 2013. I'll wait. No rush for me as battery sucks on my N5 with lollipop

Hi very nice looking but thickness and wid just care

Just when I sold it. *Sigh* Posted via the Android Central App

Still waiting for my Nexus 7 2012 wifi only to receive Lollipop

Wondering when it'll come to Moto G 2013...!! :( Posted via the Android Central App

I dont wanna complain, but I'm still waiting to get it for my Nexus 7 2013. Cmon Google. Posted via the Android Central App

The farcicle roll out of Lollipop continues, this time instead of in counties no one lives it's to devices no one owns. Jesus Google, get a grip. Posted via the Android Central App

The update to this tablet is made by LG not Google. Google just approves the update. Posted via the Android Central App on the 1st Gen Moto X

I have updated my G Pad GPE this morning. I have to say, it is really silky. I'm waiting for the battery to charge up so I can encrypt the tablet, but I already have smart lock setup. It's nice to finally have lollipop on one of my devices. Next hopefully my 2013 Moto X gets it because I'm not planning on buying the Nexus 6 for a couple more months. Posted via the Android Central App on the 1st Gen Moto X

Hi. I was wondering if with the lollipop update the 'tap to wake' function is now available on the g pad Gpe? For me that was a compelling feature of the regular g pad that was lost in the gpe. I know tap to wake functionality is supported with lollipop but only on certain devices, and I'd like to think the g pad is one of them! I should add this is because I'm considering purchasing a g pad and now have the opportunity to buy either the regular version or the gpe. As I'm in the UK the Gpe is a fairly rare occurence, but want to make sure it'll be worth it. Thanks! Ed

Will the normal LG G Pad 8.3 be getting the lollipop update?

Got my upate this morning to my Lg GPE

Haven't received my notification yet sadly. Posted via the Android Central App

Using a custom Lollipop ROM on my original G Pad. Runs great...but that's likely the only way that the original will see 5.0. Posted via Android Central App

Uncle Louie.....could you please share the name of (or link to) the ROM you're using? I only saw one on XDA and the comments made it appear as if there were a few more things to get ironed out. Thanks!

Just got my update. Installing it now. Its about 405 MB in size.

Is at all too about 50 mins, most of the time was spent updating the apps. It works real smooth, no issues so far.

When does the update for the GPAD 8.3 LTE become available?
Android Central Newsletter
Get the best of Android Central in in your inbox, every day!
Thank you for signing up to Android Central. You will receive a verification email shortly.
There was a problem. Please refresh the page and try again.