Android Honeycomb 3.1 SDK add-on now available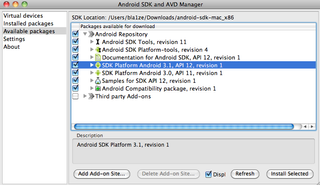 With the announcement today of Android 3.1 rolling out to Verizon Xoom owners today, Google has gone ahead and updated the Android SDK to reflect the changes as well. If you're working on some Android applications and want to make sure you're totally up to date with all the available offerings, fire up your SDK and grab the Android 3.1 add-on.
There is quite few API changes in this latest release, most of which revolve around USB connectivity and USB host options as well as the freshly announced Android Open Accessory system. The full change log is available via the Android Developers website. Be sure to check it out for a full, complete breakdown.
Source: Android Developers
Android Central Newsletter
Get the best of Android Central in in your inbox, every day!
Thank you for signing up to Android Central. You will receive a verification email shortly.
There was a problem. Please refresh the page and try again.