Android Game Review: Shadowgun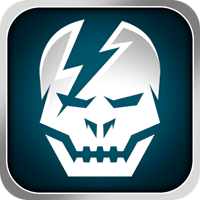 The day has finally come. It has arrived. It's here. (Well, for us -- the rest of you get it soon). Shadowgun, Madfinger Games's excellent looking, console-quality action/shooter is coming to Tegra-powered Android devices. From the moment Shadowgun was announced, I was itching to get my greasy little fingers all over it and shoot whatever it is they're shooting in those trailers.
You play as Bruce Willis John Slade, mercenary extraordinaire, sent on a mission to capture (but not kill) the nefarious Dr. Simon from wherever he's hiding. You're accompanied by your robot lady-companion, S.A.R.A. So you hop in your mercenary spaceship and hightail it to the nearest evil genius hiding spot.
Standing in your way are hordes of bad guys (no, I don't know what they really are), obstacles, and gigantor bosses (like the Cyberlobster). So what do you do? Take your trusty machine gun and blow enough holes in all of them to keep on trucking through the muck, obviously.
The whole shindig is voice acted (and captioned!), which is done really well. Sure, sometimes the text doesn't match up with Slade's voice (like when ALL CAPS suggest he's yelling but he's mumbling to himself), but the fact they managed to voice act an entire game this long is insane.
Graphically, I feel like I'm playing Gears of War on my Electrify (or Thrive). That might sound like a cop out, but it's true. You control a big, burly man who carries a big gun and shoots things with graphics that look like they're worthy of blockbuster hits we're seeing on consoles. It's stunning and I think it's AWESOME. After Emissary of War, I was beside myself at how nice that game looked. Shadowgun takes those effects up to 11, if you will, and really spoils the player.
Fortunately, the graphics scale well from a phone to a tablet, but the controls are definitely tighter on the phone. It makes sense. Smaller screen, it's easier to hold, you don't have to move your thumb as much, I get it. Still, be aware that when you're gaming on a tablet, there's definitely a chance you'll accidentally stretch your thumb way too far out right when you're in a critical part of your fight against Cyberlobster, and well, at least you get to restart at your checkpoint.
Adding to the awesome, Shadowgun is big. I haven't managed to play through the whole game yet, but the trailer up there promises six hours of gameplay, and six hours on a mobile device sounds pretty sweet to me, especially if I get to gawk at super sweet eye candy for all of it. To really maximize your time, you could always start off on easy mode so you get three play throughs on it (on all of its difficulty modes). There's also achievements to be had and bonus cards to be collected, so once you've fulfilled your merc contract, don't think you can just put Shadowgun down and walk away.
If you've got a Tegra device, you'll want to get this game. There's no reason not to. It's the finest looking game we've had to grace our Android-green shores, and with all the features it's packing, you'd be silly to pass it on by.
Now we just wait for release.
Demo video and screen shots are after the break.
Update: Just got word that Shadowgun's going to cost $4.99 when it hits the Market. No date's announced yet, just "soon."
YouTube link for mobile viewing
t-zone ,dont show it yet. sadness. i need to waste a few hours!,,lol

This looks incredible! Infinity Blade 2, eat your heart out!

It isn't showing up in the market for my Thrive yet either.

its out for apple , we must get it next. (

Designed for tegra. Eat it apple boy

it's in my tegra zone store .... but it won't allow me to buy. It just says "coming soon" ....

Joshua, we'd love to download it....if it were available to download! Looks like it's only available in...... iPhone App Market!!!!! Must be one of those "coming soon to a theater near you".

Now PLEASE let's hope they bring this to Galaxy SII SOON... I'm still waiting for Shadow Guardian :(

You guys did read this in the first line of the article above, right? The day has finally come. It has arrived. It's here. (Well, for us -- the rest of you get it soon).

Can you do custom key mapping for a gamegripper or a ps3 controller?

It would be nice to have a release date from the developer. I would assume the developers would have a date set since it is due in October 2011 and it is now October 2011.

"It looks great" is NOT a good reason to spend money on a game. Are the controls great? How about the camera? Is the story solid or is it more like something that a 16 year old who likes lot of mayhem wrote? Is it worth playing through more than once? Your reviews for games are not very good. This site should just stick to hardware and non-gaming app reviews.

From what i remember this title is much more expensive on iOS.

+1 for "Emissary of War" ... hope they release more as it was very short -- was very enjoyable. Looking forward to Shadowgun!

Only for Tegra devices? Hey Phil, this is why FRAGMENTATION is an issue!

This "Fragmentation" you speak of happens on all platforms. Can a Playstation 1 play ps3 games? no. Can the original iphone play brand new graphically intense games? no. If you want to use the newest software, no matter the platform, you will need capable hardware.
Android Central Newsletter
Thank you for signing up to Android Central. You will receive a verification email shortly.
There was a problem. Please refresh the page and try again.