Android fingerprint sensors, ranked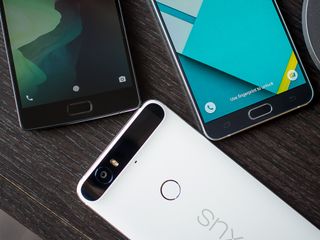 It's pretty easy to see that 2015 was the year that Android phones started getting some really great fingerprint sensors, with several different manufacturers either getting into the game for the first time with great offerings or iterating on old designs to get something that's more consistent and easier to use.
Huawei, Samsung, LG, OnePlus and HTC — just to name a few — have all gotten into simple one-touch fingerprint sensors on at least one of their phones, and now that you have several options we figured it's a great time to rank them all.
Implementation, feel, reliability, software and security all factor into making a good fingerprint scanner on a phone, and we're going to tell you which do it best, and which may need a little more work for the next generation.
The top Android fingerprint sensors, ranked
Nexus 6P and Nexus 5X
These are the first Nexus phones with fingerprint sensors, and Google absolutely hit it out of the park on the first try. Though the Nexus 6P and Nexus 5X are manufactured by different companies (Huawei and LG, respectively) they both have the same fingerprint sensor, mounted on the back of the phone. It sounds weird at first, but that's exactly where your index finger lands when you pick up the phone, and when it does your phone will instantly turn on and unlock. The sensors are super accurate, and as you use them the phone's software gets better at recognizing each finger you have registered.
Beyond just having a great sensor and software for recognizing your finger, the latest Nexuses are top of our list for their integration with Android's new fingerprint APIs in Marshmallow. As developers integrate these standard hooks into their apps for higher security, the Nexuses will be ready to go to let you authenticate payments, log into secure areas and fill in passwords with just a touch of your finger. That means developers don't have to target each phone individually, and the future for fingerprint-secured apps looks bright.
Samsung Galaxy Note 5 and S6 edge+
After using clunky swipe-style fingerprint scanners on the Galaxy S5 and Note 4, Samsung stepped up its game to a new one-touch fingerprint sensor on the Galaxy S6 and subsequently Galaxy Note 5 and S6 edge+. The new sensor is still embedded in the home button, and it works fantastically with either your thumb when holding the phone in your hand, or with an index finger when it's laying flat on a table. Success rate seems to be good for most people, and you can train up multiple fingers to be recognized.
Samsung's implementation requires the phone's screen to be on for the sensor to be active, so you have to take the extra step of pressing the power or home button before scanning. Unfortunately the implementation is a tad clunky on the lock screen if you need to fail back to a non-fingerprint authentication, as your only backup option is a long password, not a PIN or pattern like on other phones.
Unlike the new Nexuses, Samsung (out of necessity, having started this back in the KitKat era) has its own fingerprint APIs for developers to integrate with to specifically target its phones — from the Galaxy S5 up to the Galaxy Note 5 and S6 edge+. Because these APIs have been available for some time and Samsung has sold hundreds of millions of phones with these sensors in place there are a good number of developers who have specifically integrated with Samsung's fingerprint API, but it also means that new apps being built with the new Marshmallow fingerprint APIs just won't work with these Samsung phones — and we don't even know if they'll work once Samsung rolls out its Marshmallow updates.
Huawei Mate S
It's no surprise that Huawei, which made the Nexus 6P, managed to have a great one-touch fingerprint sensor on a previous device, the Mate S. Just like the 6P the sensor is on the back of the phone, right where your finger rests, and much in the same way it can turn on and unlock your phone all with one tap and no further interaction with the screen or buttons. As we noted before, that's the best way to get it done.
Though the sensor itself is right on par with the Nexus 6P in quality and finger recognition, the Mate S is a step below the Note 5 and S6 edge+ because it lacks lots of apps that support it. Right now you can basically just use the Mate S fingerprint sensor to unlock the phone, and there's really not much prospect of app developers targeting it specifically. We don't yet know if Huawei's implementation of Marshmallow will incorporate the standard fingerprint APIs, but given the lessons learned from the Nexus 6P we wouldn't be surprised if it did.
Read our full Huawei Mate S review
OnePlus 2
The OnePlus 2 sort of splits the difference on our previous picks, going with a one-touch fingerprint sensor that can turn on and unlock the phone, but putting it below the screen as Samsung does. The sensor is a bit smaller than the others but seems just as accurate, and if you choose to set it up it can also be used as a capacitive home button if you'd like.
The software story backing up the OnePlus 2 is much the same as the other non-Nexus phones here — right now the fingerprint sensor is basically just used to unlock the phone, and until Marshmallow hits we won't see it integrate with the operating system-level fingerprint APIs. OnePlus has its Marshmallow update set to come out in the first quarter of 2016, and we'll know for sure then — but based on how it handles OxygenOS we'd expect full compliance with Marshmallow's new APIs.
LG V10
LG has also gone with a fingerprint sensor on the back of its phone, but unlike the Mate S and new Nexuses, it's integrated into the back-mounted power button on the phone. Because of this, the V10 requires you to first press the physical button to turn the screen on, and then keep your finger placed on the button to activate your fingerprint. It's that extra step that makes things a little more difficult — even before you factor in some issues with the secondary screen messing things up — and that's why it's further down the list.
Just like Samsung, LG uses a proprietary fingerprint API for developers to hook into if they want to use the V10's scanner for authentication in their apps. Unfortunately LG hasn't been at this as long as Samsung, so far fewer developers are on board with the new API — at this point all you can really use it for is unlocking the phone itself and protecting some content on the phone in LG's built-in apps. We aren't sure at this point if LG includes the new standard fingerprint APIs in its Marshmallow update, but that'd be the best choice for LG if it can get it done.
Your favorite?
Which one of the fingerprint sensors out there is your favorite? Clearly there are several different great options, and we can't list every phone with a fingerprint sensor in one article. Fingerprint sensor quality may vary depending on how you use your phone and just how your fingers end up working with it as well, so we want to know which you prefer — whether it's on this list or not. Let us know in the comments below!
Sign up for Black Friday email alerts!
Get the hottest deals available in your inbox plus news, reviews, opinion, analysis and more from the Android Central team.
Andrew was an Executive Editor, U.S. at Android Central between 2012 and 2020.