The most important features in a phone — ranked by the Android Central staff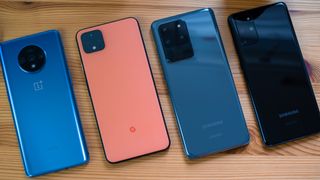 (Image credit: Daniel Bader / Android Central)
Your phone can say a lot about you and your personality. The features that matter the most to you largely determine what phones you should consider when looking to upgrade; the Pixel 4 takes amazing photos, for example, but it's off the table if you need all-day battery life.
We asked around the Android Central staff to see what each of our writers look for in a phone, and what phones should be on your radar based on your needs.
Alex Dobie Camera
Lousy battery life? Pick up a power bank. Slow connection? It's not hard to wait a couple of extra seconds for your stuff to load. Bad camera? Well, you're SOL.
There's no substitute for a capable, high-quality camera array in your smartphone. A bad photo is bad forever, after all. A modern flagship phone should offer at least three options — covering wide, ultrawide, and telephoto photography — along with a dedicated computational night mode for lower-light snaps. For me, having all these options available (whether in last year's Huawei P30 Pro or in this year's Galaxy S20 Ultra) has been a revelation for how I use my smartphone to take photos.
Whereas other shortcomings in smartphone hardware or software can be overcome with accessories or changes to the way you use your device, there's just no way to replace a high-quality camera that's with you almost every hour of every day. That's why, to my detriment, I've often found myself compromising in areas like software quality or battery life to be able to use the best smartphone cameras out there.
Go ahead. Buy a phone with the best camera you can. You'll thank me when we can go outside again.
Camera King
(opens in new tab)
A monstrous phone with a fierce camera
The "money no object" Android flagship ... provided you can deal with the size and weight. An impressive camera array and a massive battery sit underneath Samsung's biggest screen. Plus, an option for 512GB storage and 16GB RAM.
Andrew Martonik Software
Normally I would hold camera quality in the highest regard, but in the last couple of generations, most high-end phones have really good cameras, closing the gap from phone to phone. That means I'm focused on software, which can still vary widely. And that encompasses many aspects: design, features, performance, and stability. You can usually get two or three in most phones, but not all four — for me, Google and OnePlus check all of the boxes.
Having software that's easy on the eyes, but also smooth and well-performing every single time you unlock the phone, is incredibly important. No matter what hardware features or specs you have, if your software doesn't take advantage of it, it's pointless. There's nothing you do with your phone that doesn't involve the software — it's the glue that holds together the whole experience. It's also something that's tough to advertise and sell a phone against, but it's something that will turn first-time customers into repeat customers.
Just how important is the software experience to me? Important enough that I'm giving up other features to use the Pixel 4 XL. I don't have an ultra-wide camera (which I love to use), and I deal with weak battery life, so I can experience Google's software every day. The fluidity, simplicity, and feature set Google offers in its flavor of Android is top-notch, and is good enough to overcome shortcomings elsewhere in its phones.
Android at its best
(opens in new tab)
Google knows how to make wonderful software
Yes, the battery life isn't good. But the software performance and experience is fantastic, and that matters every time you pick up the phone. And it still has the best camera in the business.
Ara Wagoner Stability
Not everyone needs (or gets) a flagship device that feels like it runs on lightning and moonshine, but no matter the phone and no matter the user, what I need is for things to work the way they're intended to. Am I getting sudden freezes or semi-regular app crashes? Am I getting six hours of screen time on one day and three hours the next before the phone dies mid-afternoon? I don't mind if it consistently takes five seconds to open and load Reddit or Twitter, but the camera randomly not saving pictures or the Bluetooth randomly turning itself off is not okay.
Performance inevitably degrades over time, software is either updated and deals with occasional bugs or isn't updated and just gets stale, but no matter what, I need to be able to depend on my phone doing what it's supposed to do when it's supposed to do it. And yes, I know some people will flash their phone to the latest Android 11 beta or go out and flash a custom ROM, but for me and the vast majority of Android users, I just want a phone that works and works consistently.
Pixel for everyone
(opens in new tab)
Google gets it (mostly) right
The Pixel 3a isn't the newest or flashiest phone on the block by any means, but it's got Google's software prowess and a consistent update schedule that helps ensure that when bugs arise, they are stomped out quickly.
Chris Wedel Camera
While this decision began with an internal struggle as to whether I most valued the software or camera in a phone, an external event provided the ah-ha moment that tipped the scale for me. I was outside enjoying a beautiful spring day, and I saw a rare moment of my two young boys playing a game they made up together, without arguing, spurred me to reach for my phone to capture the scene.
As with most people, my phone is always with me, and that means I am always ready to take a photo should inspiration strike. I'm by no means a true photographer, which is all the more reason I need a camera that is essentially "dummy-proof." I have had the pleasure of using a variety of phones these past few years, from Samsung to Motorola and Pixel to OnePlus. Though all of those phones are capable of taking a great photo, I always floated back to the Pixel lineup.
Pixel phones have always produced beautiful photos with little fussing required. The photos, more often than not, are ready to post to social media or share with a family member right out of the phone with no editing necessary. So while the software is important to me, the next time my children are in the midst of an adorable moment — a camera is what will be the most important thing I need, and it's in my pocket.
Camera king
(opens in new tab)
Simply beautiful photos
The Android phone straight from Google offers the tight software integration you'd expect with an amazing camera experience we've come to expect. The dual-camera system produces stunning shots in both day and night so that you can capture that special moment whenever it happens.
Daniel Bader Camera
I always valued a phone's camera over practically every other feature because, even though I'm not a great photographer, I love the medium. Now that I'm a father, it feels like taking photos is a full-time job, so whatever phone I'm using has to match my intent.
My needs from a camera have evolved over time, too; when I was younger and an avid traveler, it was the versatility of being able to capture a particular vista in any lighting condition. Now, my main priority is being able to trust a phone to capture faces with enough detail, and without becoming a blurry mess, so that I can share them with family and friends. Easy enough, right? Not exactly.
While the Pixel 4 is still my favorite way to take portraits, the OnePlus 8 Pro has proven itself as being a versatile and reliable camera in every situation, and that's why it's my recommendation right now.
No strings attached
(opens in new tab)
More expensive, more capable.
The OnePlus 8 Pro is an impressive and well-designed Android smartphone that doesn't upend the traditional OnePlus formula so much as extend it to its logical place in the 2020 canon — more features, higher price. With the addition of an impressive primary camera, waterproofing, and wireless charging, though, OnePlus has finally checked all of the boxes on its spec sheet.
Harish Jonnalagadda Value
I'm incredibly privileged in that I get to use the latest phones, but if I had to buy a phone for myself, I would pick up a value flagship. Most flagships in 2020 cost $1,000 or more, but you don't need to spend so much to get a phone that excels at the basics.
Value flagships deliver most of the features as "true" flagships for less than half the cost. This category has evolved over the last three years, and now you can get a phone with a 90Hz or 120Hz panel, high-end hardware, and a premium design for under $500. The only reason for shelling out north of $1,000 for a phone in 2020 is for a truly standout camera, and I don't take nearly enough photos to justify the added cost.
To put it in another way, phones like the OnePlus 7T give you 80% of the features of a true flagship for 50% of the cost. Sure, the camera on the 7T isn't as good as the Pixel 4 XL and you don't get a crazy 100x zoom lens as the Galaxy S20 Ultra, but it takes decent enough photos for social media, and for $500 it's a steal for the hardware on offer.
Everything you need
(opens in new tab)
The best value in 2020
The OnePlus 7T gives you a robust set of features for half the price of regular flagships. You get a 90Hz AMOLED display, Snapdragon 855+ chipset, 8GB of RAM, and a 3800mAh battery with 30W fast charging. There's also clean software in the form of OxygenOS, and all the basics are covered here. You miss out on wireless charging and the camera is average, but the value on offer here is fantastic.
Hayato Huseman Camera
I nearly chose battery life over cameras, since the Pixel 4's miserable endurance is what drove me away from its incredible cameras. But the fact is that I spend far too much time taking photos. I love travel and street photography, I'm engaged to a photographer, and my job has me constantly taking photos of phones and press events. Dealing with lesser cameras affects my personal and professional life.
I love going out with friends or walking around late at night — or at least, I did back when it was safe to — so low light photography is especially important to me. The Pixel used to be the only logical choice for shooting in the dark (and for what it's worth, I still think Night Sight is the best in its class), but plenty of other manufacturers are starting to catch up.
Even Samsung, whose low light performance I found amongst the weakest just last year with the S10, takes great night shots with the S20 these days, and nets you the added versatility of ultra-wide and telephoto cameras as a bonus.
Cameras for any situation
(opens in new tab)
Cameras I can trust to capture nearly any photo
The Galaxy S20+ really surprised me this year with significantly better low light performance than years past. Its photos still have Samsung's typical over-processed look, but it's hard to complain when I get three different perspectives to shoot from and much better battery life than the Pixel 4 I carried before it.
Jeramy Johnson Battery life
While I too ooh and ahh over fancy flagship features like 120Hz refresh rates, Quad HD AMOLED displays, in-display fingerprint readers, and crazy night modes on cameras, I'm a simple man at heart. If I'm honest, my eyesight isn't all that great, so advanced screen technology is largely lost on me, and I almost never pixel peep at photos I take on anything larger than my smartphone, so most of the mid-range and premium cameras are A-OK in my book.
Even though I work from home (don't we all now?), I do like to get out into nature for hours at a time and travel more extensively when I can. For those times, it's so nice to have a phone with good battery/resource management, or a large cell, or both. The anxiety of running low on juice has much more of a pull on me in day-to-day life than any other feature. I've had a pretty great experience with the battery life on my OnePlus 7 Pro, and I can't wait to see how the OnePlus 8 Pro with its 4,510 mAh battery performs once I get one in my own hands!
Battery buddy
(opens in new tab)
Keeps going and going
The OnePlus 8 Pro gets a lot right — whether it be its 120Hz AMOLED display, excellent performance, or near-perfect software. One feature you might overlook is its battery life, which is excellent thanks to a massive 4,510 mAh unit and good optimization. If you're often away from wall outlets and/or spend a lot of time outdoors, it's a great pickup.
Jerry Hildenbrand Security
Your phone is a snitch. It knows everything about your life, your finances, and even what brand of underwear you buy, and is itching to tell someone all these secrets. And if a way to keep this from happening isn't built into it, well, someone out there will be giggling while digging through your digital stuff.
The company that makes your phone knows this, and it will do everything it can (mostly) to stop it from happening. Android presents a special challenge, though, because unless you have a Pixel phone, the company that built it doesn't create the software that's running on it.
Google works with Samsung, LG, OnePlus, and every other company that makes Android phones to fight against the ways that your phone's security can be bypassed. Every month, Google publishes a software update that patches as many of them as possible. It's important that your phone gets these patches. And if you're like me, it's so important that you don't want a phone that doesn't get them in a timely manner.
I don't care if you know I buy Jockey brand boxer briefs. I just don't want you to be able to find that out by yourself.
Timely patches
(opens in new tab)
All about the updates
Don't buy a Pixel 4 for great battery life or a laundry list of extra features. Buy it for the great 90Hz display, incredible camera, and a guaranteed security patch posted the 5th of every month.
Joe Maring Software
There are a lot of hardware traits that go into making a top-notch smartphone, but for me, it all boils down to the software that powers a device. You could easily argue that Samsung's Galaxy S and Note phones regularly have some of the best hardware on the market, but since I'm not a fan of One UI, I tend to stay away from them.
My Android phone of choice is the Pixel 4 XL, largely because of how much I adore Google's take on Android 10. It's clean, buttery smooth, and isn't bogged down with unnecessary features or duplicate apps. I can also rest assured that it's first-in-line for new versions of Android as they're released, which is something you can't say about most other phones.
There are plenty of handsets out there with a better display, battery life, and more rear cameras, but the software on the Pixel 4 is what keeps me coming back for more.
Android at its best
(opens in new tab)
Good software is a big deal
The Pixel 4 XL may not be a perfect phone, but Google's clean and smooth Android 10 software is so good that I continue to use it day after day. Google's software is easy to navigate, not cluttered up with duplicate apps, and gets Android updates faster than any of the competition.
Michael Allison Battery Life
A good display and a good camera go without saying. Clean software? That's also up there for me. However, the part of a smartphone — or any portable device — that I consider most strongly before pulling out my card is the battery life. The fanciest of displays and the best of cameras don't mean anything if I'm running for a charger after half an hour of outdoor photos (looking at you, iPhone SE).
In general, I'm a fairly active and social person, and my weekends and evenings can (ordinarily) see me spend extended hours away from home. This means that a mobile phone that can keep up with me is an important accessory.
My Android phone of choice is a Pixel 3a XL, the decision coming after extended time spent with a Huawei P20, Honor View 30, and the smaller Pixel 3a. The camera and software are great on that, the screen is big and bright enough, and the battery life doesn't disappoint. My initial thought was that I'd pick the 4 XL months later, but with the battery situation being what it is on that, I'm looking forward to seeing what Google's next phones will have to show in that department.
Stamina champ
(opens in new tab)
Battery life that can keep up
The Pixel 3a XL may not boast the best of anything, but it has a good balance of everything I consider important in a phone. The combination of a good camera, frequently updated software, and a battery that lasts makes this a satisfying purchase to someone who used to phone hop. I'll be keeping an eye out for the 4a's performance when it ships, but this remains my phone of choice in the meantime.
What are your priorities?
Are you a photographer who needs the best cameras a company can possibly cram into its phones, or is long-lasting battery life all that really matters to you? Maybe you're more security-focused, or software and stability reign supreme. Whatever matters most to you, let us know in the comments down below!
Get the Android Central Newsletter
Instant access to breaking news, the hottest reviews, great deals and helpful tips.
Hayato was a product reviewer and video editor for Android Central.
I see your back to putting invasive clickbait ads on this site again!!! I'm sure I'm not alone in being angry at ads that take you to sites you don't want to go to!!! There's enough ads on this site without putting more on that you can't help clicking on and being redirected where you don't want to go.

Maybe you should change your browser. Opera works great for me and I get none of that crap. Don't blame A/C, though, it's a business right? They do have a right to make a living right? Do you work?

I completely agree with you and although it may have come over like that I don't mind the ads as I know they need to make money. What I don't like is ads that you can't remove or the ones that make you jump out of your skin because they so loud or the ones that as soon as you click they take you to the advert site. That is my gripe. Having ads is fine as I don't pay for the ad free app just don't make them so intrusive.
And yes I do work 60 hours a week on nights in a care home for dementia and end of life patients and have not stopped during this pandemic.

Nice for you! Tough job, my props. It just came off strange...we all need to but bread on the table. Anyway, I don't get any of that so maybe I'm not sure what you're referencing. What browser do you use?

I use the Android Central app and I expect ads because I don't pay for the ad free version. It's just some of the ads are extremely intrusive or loud and they pop up out of nowhere. Anyway it's just first world winging (from me) and there are much more important things happening across the world at this time. Thanks for the reply though 👍

1. Performance/stability - there's nothing that brings me back to a phone than buttery smooth performance. I'm talking about scrolling fluidity, immediate touch response, fast app loading/launching, and smooth animations and keyboard performance. It's the little things that add up over time and I immediately miss when a phone lacks ever so slightly on one area or the other. 2. Battery life - just make me not have to worry about it at all for an entire day. It should never slip into battery saver in a single day use. I haven't had an XL or Note or Plus phone that does this so I'm always envious. 3. Software updates - I was burned by Samsung with the S6 waiting until June for Marshmallow. Never again. I want the newest Android features day 1.

It is speed I can make everything else work for me if the phone is fast enough. Some phones I really liked but could never get fast enough were LG G3, Nexus 6, Galaxy S7 just off the top of my head. That is where Samsung has improved more than any other smartphone maker, One UI is so good now manages ram so well to where I think Samsung combo hardware software is more unique and better than all even Apple now.

You wish, OnePlus Oxygen OS is better than One UI, clean and bloat free, I would even choose a Pixel over Samsung too but I'd pick Apple over all of them, yes iOS doesn't have as many features as OnePlus or Google and most Android phones in general but it has what it needs in terms of features (I don't need any gimmickry features I'll hardly ever use) it's easy to use and Apple give you hints to help you get the most out of your iPhone along with the best software support, app quality and battery life which has crushed all Android flagships from last year and this year.

Someone needs to create a beno bot.

Ok, the staff revealed their biases, and intended or not, they are pushing the Pixel lineup of phones that nobody buys.

Camera, followed closely by battery life.

Which I think takes you to OnePlus. A good camera (not great but good), really good battery life, and for those times you have killed it a very fast charging system.

At this point, most phones get the job done. Most OEMs are bringing their A game. So at this point for me it's battery life all day and all night, literally. Poor to average battery life is a deal breaker.

1) Cell reception and phone display clarity. 2) Fast and clear data transmission. 3) Battery life and longevity. 4) Camera.

1. Clean software with regular latest updates.
2. Camera
3. Non carrier model.

1) Features that work as they're intended...in other words well thought out and not glitchy
2) Phone functionality
3) Speed
4) Camera
The first three could be clumped into software I guess.

I'm surprised nobody mentioned an excellent screen. The OnePlus 7 Pro is still at the top for me though I wish they did away with the curved edges OR fix the palm rejection. But mine are camera and battery life. Both of which I'm getting on the Pixel 3a for now. The 7 Pro had great battery life and the camera was really good, but it just needs a little push in the details and sharpness category. That's the only place it lacked for me. Video was awesome. Color accuracy and dynamic range were good as well as portrait mode but the Pixel's processing just gives photos that extra bit of crispiness.

Performance and stability (like Atypicaluser).
Call quality with rich natural sound, and good antenna reception.
Headphone and line out audio performance.
Camera in Pixel league for photos, but with full manual mode, and video with iPhone-like stabilization.
Battery that can go two or three days if needed.
Excellent screen that is sharp and vibrant (Thanks for the reminder RaRa85!)
No notch or holes in the screen to detract from games, movies, and other media.
Excellent gaming performance and touch response.

PS: This was a fun article. Thanks!

My priorities in are software (and software support), battery life, security, stability and camera in that order so the features I value most are a Combination of Andrew Mortnik (I hope I spelt your surname right) Jerry Hildebrand, Ara Wagoner, Joe Maring and not so much Alex Dobie and because because most phones nowadays have great cameras but software, battery life, security and stability are more important than a camera on a phone and only Google and OnePlus nail those features for me although Google does the security part better than OnePlus but overall I think Google actually ticks all the boxes except battery life but overall I think Apple ticks every box for me, they have great software, fantastic software support, great battery life now, a camera that is great for point and shoot people like me (only the Pixels can match Apple here) because I don't care and never have cared for manual modes on cameras and of course security and privacy, bit on the Android side it's OnePlus or Google for me, I know people on here love Samsung and Huawei but I just don't like their software and take on Android, I'm a purist and OnePlus is the only other OEM I like outside of Google which I think is better than Google but only loses out to Google because of their lax attitude to security updates which most reviews gloss over and they used to be great with software support but not anymore after what they did to the 6T in dropping it from it's beta program which means that Android 11 will be it's last OS update so yeah, Apple overall for me but on the Android side, it's OnePlus and Google.

I should have mentioned Nokia as well for Android One so it's Google, OnePlus and Nokia on the Android side.

Software, timely updates, performance, camera, battery life, value
Is it any surprise I'm a OnePlus guy?

OnePlus has great software but not timely updates as you claim (my Nokia 8.1 gets consistent updates way more) and I say this as a OnePlus 7T user who's had enough and is switching back to iPhone as a daily driver (with an iPhone 11 in the summer), the fragmentation of Android is annoying.

Performance and battery life (I combine these because it's usually a tradeoff.
Good screen that is usable in bright daylight
Dual SIM and SD slot.
NFC (I use payments a lot).
Camera (most are good enough).

Cool Article. I have to ask though, am I the only one who read this and thought based on the priorities that iPhone would fit the bill for most? Not trying to start a flamer war- I use both the Note 10+ and 11 Pro Max (currently using the iPhone for daily use because of the Watch but I prefer the Note for most things.) Maybe I didn't read the beginning closely enough but Camera? iPhone 11 models are second only to Pixels. Stability? iPhone models are notoriously stable. Software? Isn't Apple the simplest, most capable software available? Security? No debate here. I understand why people detest Apple as a company. I also understand why people dislike iOS. I guess what I'm really saying is, after reading the AC contributors priorities, if you remove any 'Android-Only" type filter from the results, I understand why the iPhones are the overwhelming choice for the majority of people. It's the only device that doesn't make one compromise significantly on any of the criteria listed.

Finally someone who gets it, and only the Android fanboys "dislike" iOS which I can somewhat understand because Android fanboys on here have an obsessive compulsion to mess around with their phones and iPhone fits the bill for me as I know most people with an iPhone and I like all the other things about the iPhone, the software, the app quality which is better in my opinion, the security and privacy and updates along with piece of mind if anything goes wrong with an iPhone (currently an Android user who's looking to go switch back to iPhone) and there's the ecosystem because apart from Samsung, nobody can match Apple and I'm not interested in owning a Samsung phone because I like my software clean and simple and Apple ticks all the boxes for me and on the Android side, it's Google and OnePlus but Google has the edge over OnePlus in consistent security updates.

"iPhone 11 models are second only to Pixels"
Nope. There are professional photographers, videographers, media artists, and producers that disagree.
I myself am a paid professional photographer and I own the iPhone 11. I've shot photos side by side, even have dual brackets for testing, and I know personally that it does not capture the best images. Do iPhones take great photos and video? Yes they do, but claiming they are always better than everything but the Pixel is a either ignorance, arrogance, or denial. And guess what else? I filled in on video project for friend who is pure Apple, and uses his iPhone 11 Pro for some of his film sessions. I also used an iPhone, but not as the primary camera. Why, because filming side by side from the same tripod in the same room with the same lighting at the same time, the iPhone video was inferior. That opinion is not coming from me, by the way. The videographer himself gushed about how good they were and loved the color. As did a number of people. Then I got a call from the president of the company, and both he and the vice president want me to do the filming with my equipment from now on. In terms of stability, iPhones are generally good. However, when pushed hard, things can get a bit rough and I've had about half a dozen crashes in the last two weeks. Then there's the consideration that iOS 13 has had more bugs than you can shake a stick at. I like Apple and own more iPhones than anything else. I have four of them on my desk right now and two out for loan. But, my list above, regardless of Android or iOS, can't be fulfilled by any iPhone.

I think on it's own, the iPhone simply isn't enough, but with other Apple products then that's where the seamless experience comes in. Even if you have an iPhone and iPad but Android doesn't have that problem with Android phones generally being enough for what they can do compared the the iPhone but overall when it comes to camera, I always felt the iPhone fell just short of the Android competition, especially the Pixels but the iPhone 11 had really impressed me with not only it's camera but as an all-round phone because while the screen isn't as good as the Pro models (being LCD), it's good enough for most people I feel the camera on the iPhone 11 is as good as those on Android now or better in some cases too. I take my hat off to Apple for their significant improvement in their camera. I still think iPhones have the best video recording quality though.

Yeah, I'd agree that the overall package experience is more seamless with Apple. I guess it should be since the same company does the phone, desktop, laptop, and watch. For me, everything is from a different company and my PC is a Frankenstein I built 😜. The most important stuff (for me) is being able to drag and drop 7 gig video files from the phone to the PC, and that bit works well, but I know it's not as integrated as it could be.
You don't really notice the screen on the iPhone 11. An excellent LCD is pleasing to use, and Apple uses some of the best. Apple has improved a lot in the camera department. I know a lot of people claim that they have always been great, but running around with an iPhone 7 and the 11, there can be a significant difference at times. One thing is the 7 just does not do well in low light. It's better than the 6, but nowhere near as good as the 11. Oh, by the way, remember that side-by side comparison of night mode I did? I got to the bottom of the reason why the iPhone 11 shot looked grainy (besides it being at midnight 😉). For camera ISO, using a low setting gives you better detail and less noise, but requires a longer exposure time and increases the risk of motion blur. For Apple's night mode, they chose to keep the shutter speed short and a high ISO. With the ISO cranked up to 1250, it also cranked up the noise and lost detail. It's Apple's choice and probably translates into a more acceptable user experience, and they probably are not expecting people to look at the photos at 100% resolution.
Meanwhile, the other phone sat there with the shutter open for a good 20 seconds collecting photons from the universe, so of course it had good detail and minimal noise just because of physics. About the video performance, I'll have to wait on testing because I gave my iPhone 11 to someone who lost their job. I still have an iPhone 7, and I've shot test video with two phones mounted to the same bracket, but the 7 video stabilization is not as good as the upgraded U12+. I'm pretty sure the iPhone 11 will be even better, but I'll have to wait until I get another one.

Naturally the U12+ video stabilisation is better than the iPhone 7 as the U12+ is a more recent phone and it was HTC's last Android phone, I can't comment on the video on that phone but I remember one video comparison I saw against the iPhone and Samsung, I can't remember which phones they were but the Samsung had clearer audio than the iPhone, so yeah I guess the audio on the iPhone isn't always perfect but in most cases it is better than its Android rivals, but yeah, the iPhone as a standalone device simply isn't great, of you don't know many people with an iPhone but of you do and have at least am iPad or the Apple Watch and a Mac then with how seamlessly they all work together is the best of an vendor from what I've seen, I had an iPad Air and 5s and it was cool to be able to answer my phone calls through my iPad, I think it's the same for Android as well but not quite as good as Apple though due to the fragmentation of Android.

You can do the phone calls on the desktop, but I have to use a third party app.
The U12+ is newer than the 7, but the video stabilization was one of the upgrades and is pretty darn good. There is a possibility it will match the iPhone 11, but it depends on the video settings. One of the comments I hear a lot is "Did you use a gimbal?", and that has come from a photographer, a videographer who owns his own company, and a producer. The iPhone supports OIS plus EIS at more frame rates or resolution combos though, while the HTC just does it for the most popular resolutions. I'm kinda interested to find out the setup on the new flagship HTC is releasing soon. They've been pretty good at playing possum and keeping it a secret.

While it's great to list expensive phones like OnePlus 8 Pro or S20+/Ultra you left out an important consideration (especially with the economy) - COST. Way too many people who can't afford it spend TOO much money on their cell phones. A Pixel 3a/3aXL or S10e have top notch cameras and meet most criteria for most people while being in the 20/25$/month (if you go with device payments on a carrier) or the $400-$600 range that is affordable rfor the middle class. You are doing everyone a great disservice with only recommending Flagship phones.

Take away the Android only our of the results and the iPhone is the best phone for most people because it doesn't make the compromises significant at least to me but that's subjective but most people on here sneer at the iPhone and iOS but the reality is that most people in developing countries prefer tho use an iPhone it's a fact, because Apple is the number 2 smartphone vendor in the US, UK, Canada and other rich countries.

My Sammy works beautifully, love it and will keep it for 3 years.

I can tell you after working for different carriers and my own store over the years. Most people in the states don't care about the price of the phone. As even the most popular phone is avoidable for most. Every time price is brought up its always the same "as long as it's less then 100 a month I don't care"

It's the software that makes or breaks a phone. I want a smooth Android experience that gets the job done. I am very happy with my Pixel 4XL. I'm not a fan of Samsung's interface tweaks and, honestly, have no idea what Oxygen OS looks like nor do I want to; I want an unfettered Android experience. The fact that it has one of the top cameras available is the icing on the cake. It's not the fastest or flashiest phone out there, but it just works. I shouldn't have to learn a phone's interface when I've used Android phones for years. I'm very happy using my Pixel 4XL.

Oxygen OS is very similar to the software on the Pixels and is actually better as it adds features like the ability to customise your button layout, your icons, the colours of the UI and more and all this while remaining light weight but OnePlus isn't great for security updates at least after the first 3 months so overall Google is better for security updates each month but OnePlus has the better overall software.

Battery for me. If it can't get through a full day of use then nothing else matters.

Performance, battery, display updates are top of the food chain for my phones: pixal 4xl, the S10+. What one doesn't have the other does? Both work very well for my uses!

Responses show it varies by user. Myself, while I like to take photo's, it is not to the exclusion of a phone with poor battery and limited memory. I am perfectly happy with taking acceptable photo's with a plethora of useful functions at a decent price. One reason I reluctantly moved away from Pixel 2 to OnePlus7t and currently am quite satisfied.