Android Auto is finally coming to select Toyota vehicles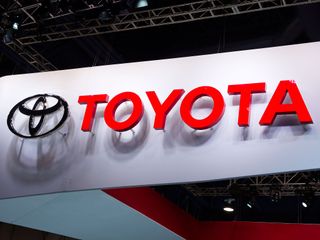 Android Auto is our favorite way to interact with maps, music, and notifications while on the road. To ensure as many people as possible can experience this for themselves, Toyota is finally jumping aboard the Android Auto bandwagon.
Toyota made the announcement at the Chicago Auto Show, saying the following:
You can obviously still just use Android Auto right on your phone or via an aftermarket infotainment system (opens in new tab), but having it built right into more and more cars is great news for anyone planning on making a purchase like that in the near future.
Do you have a car with Android Auto built-in?
Joe Maring was a Senior Editor for Android Central between 2017 and 2021. You can reach him on Twitter at @JoeMaring1.
Engine stinks. Too bad they are not including Camry.

Yeah I wonder why not Camry. That's probably their most popular line...

I have a 2018 Camry SE, will it get an update to get Android auto?

I doubt it since even the 2020 camry isn't listed.

I hope this is the start of availability for existing vehicles. I'm eyeing the RAV4 Hybrid and this would make the decision easy.

To bad we can't get an update to their claims of every phone that's running pie will work wirelessly

I know seriously. This can't be it or maybe these are coming pre-installed. They will be getting a lot of questions after that remark so I'm sure we will here more.

What a joke! Maybe they will come out with automatic headlights too since so many Toyota drivers don't know to turn on their headlights well after sundown.

Meanwhile Hyundai/Kia have had Android Auto support since 2015 in most models. Today is almost standard across the board on all models.

Exactly!!! I don't understand why is it so hard for Toyota to implement it. Subaru had no problem with it on Accent. 🤷🏻‍♂️

First they refuse to put put Android Auto in any of their cars for years. Then they put only Apple CarPlay, basically discrimination. Now they release it but do not put it in their 2 highest selling vehicles?! Wtf?! I know of several other people who have choose other models over Toyota cause of this feature missing. They are making themselves lose business for absolutely no reason. I won't be supporting them. Plus I like Hondas better anyways.

I dont think you know what discrimination is.

I don't think you know what exaggeration is ;-) This is a Android news website. Die hard Android lovers are here if you haven't noticed yet.

This was one of the reasons I bought my Chevy Colorado instead of the Tacoma. Just a bit too late Toyota!

If you bought a Toyota truck over a Chevy, Ram, or Ford you'd have to be out of your mind.

You clearly don't read truck reviews. Most car/truck journalists rate Tacoma the best mid size truck. But I'm guessing you didn't know Tacoma was a MID size truck. You're thinking of full size trucks.

Im in the industry. You clearly aren't in the industry... auto reviews are more slanted than any other market reviews. Dont yet and talk down yoi me when you obviously are trying to B.S your way through this. A Colorado ZR2 capabilities will make a Tacoma look like a Fisher-price knock off. Sad how much your trying to pretend you know what you are talking about because you're still bitter about being "discriminated" against. And I'd you start about this Asian "quality" garbage, like I assume you will, that is a myth that has been disproved time and time again.

Despite your claims Toyota trucks still have highest resale value and bulletproof engines compared to everything you listed. Chevy is the only one that even comes close and Id rather get a Sierra over a Silverado any day. The only downsides to Toyota trucks is towing/payload in comparison to the competition. If you want an electrical nightmare that will leave you stranded buy a Ford, if you want a truck made of plastics and terrible transmission buy a RAM.

Hahaha. If you think Ram is the worst made of the all, it shows you how clueless you really are. The Toyota's are about as plastic as it gets yet, you want to ignore that fact.

Wow, don't get so worked up. Relax. But no matter what you say, Toyota Tacoma is the best selling mid-size truck in the US. It's not even close. Tacoma sold more than double the amount of trucks in 2018 compared to the Colorado. See for yourself http://www.trucktrend.com/news/1807-midsize-truck-market-share-breakdown/ The Tacoma is the best selling, because most people know it's the best. So maybe you should consider why the majority of Americans who buy midsize trucks disagree with you. Although the full size American trucks are generally better than the Toyota Tacoma. At least in terms of all the features and utility capabilities.

For what it is worth, Toyota pretty much owned the market for over 5 years because of no competition. Nissan being the only truck left in the segment. Market share has been decreasing the past 3 years, but sales have increased. And the market is about to get more diverse with a new Ranger this year and Frontier next year. Great truck, but I don't believe there is a bad choice in this segment. We just had years of no choice. Competition breeds better product. Good for all of us.

Lately reviews are rating Tacoma low do to the 3.5 engine and the tranny not giving a smooth ride at 70 mph it revs way to high in overdrive but they are the number one selling midsized truck in America.

Toyota has been building GARBAGE for about a decade now. No thanks.

Pretty lame. It's one of the reasons we didnt go with a Lexus again back in Dec. Tired of companies trying to shove apple down my throat.

I'm driving a Toyota rental while my Civic's in the shop....no Android Auto for two weeks now. I'm having withdrawals!

Not surprised there. CarPlay just came out for 2019 models. Looks like the list is vehicles due for a redesign in 2020. No Camry or Corolla hatch for a while. Too bad.
Android Central Newsletter
Get the best of Android Central in in your inbox, every day!
Thank you for signing up to Android Central. You will receive a verification email shortly.
There was a problem. Please refresh the page and try again.