Android apps to improve your Twitch broadcast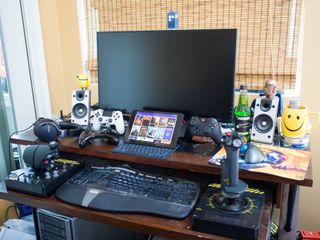 Twitch has done a lot to dramatically lower the barrier to entry for gamers showing off their skills, so much that you can play just about anything on the streaming service nowadays. On rare occasions, you'll even see some fish playing games on Twitch, but for the moment lets assume most of you are human beings enjoying the Twitch for Android app. Playing games on whatever device you fancy usually means setting your phone or tablet to the side, unless you've got it mounted on your controller. That means your phone is basically doing nothing while you game, and it doesn't have to be that way.
Here's a quick look at three apps every Twitch broadcaster should consider adding to their next stream.
Twitch Dashboard
This app is incredibly simple, and not particularly pleasant to look at, but serves a vital purpose for those looking to quickly get out there and stream. Twitch Dashboard lets you quickly set your stream data, like the name of your broadcast and the name of the game you are playing, from your phone. This is particularly handy when dealing with third party apps that plug in to the Twitch API, as those systems are frequently prone to not update everything when switching from one game to another.
The app also gives you a glanceable look at how many viewers you have for a given stream, though that information is usually readily available elsewhere. The real feature here is control over the stream data, which is frequently easier to edit from a virtual keyboard than a controller or leaving the game you are in altogether. It's also free on the Google Play Store (opens in new tab), so it never hurts to check it out.
Huey for Philips Hue and LIFX
Lots of Twitch broadcasters who dedicate specific days of the week to different games will have a colored light in the background to match whatever game is being played. This is cool, but if you're using Philips Hue bulbs or LIFX bulbs there are more interactive options out there for your. Huey uses the camera on your phone or tablet to grab the average color on your display at the moment, and changes the smart lighting to match that color. This means the color in your background will always match the content in the game, and if you've got more than one light in the room for this sort of thing it just plain looks cool.
Huey can be used for just about anything, and admittedly is something of a battery hog, but if you've got smart lighting and are an avid Twitch broadcaster this free app (opens in new tab) belongs in your inventory.
My Twitch Channel
Not all Twitch broadcasts are of games on a screen, but the Twitch app for Android doesn't exactly make creating those real world broadcasts particularly easy. The My Twitch Channel app gives you access to a ton of stats and graphs about the performance of your Twitch channel, but also lets you tap the camera on your smartphone or tablet to broadcast whatever is happening in meatspace.
The app defaults to your front facing camera, but with a tripod you could easily Twitch everything from tabletop games to fencing tournaments. Whatever makes your audience happy, right? Plus, like the others in this list, My Twitch Channel is free to enjoy (opens in new tab).
Android Central Newsletter
Get instant access to breaking news, the hottest reviews, great deals and helpful tips
Hey Russell just curious what are the specs of your rig BTW helpful article Posted via the Android Central App

More interactive options out there for your...??? Posted via the Android Central App
Android Central Newsletter
Get instant access to breaking news, the hottest reviews, great deals and helpful tips
Thank you for signing up to Android Central. You will receive a verification email shortly.
There was a problem. Please refresh the page and try again.