Android App Review: Musicnotes Sheet Music Viewer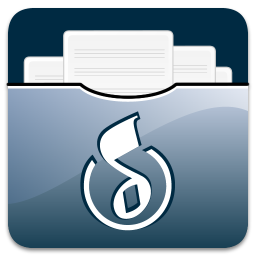 It was way back in January when we first reported Musicnotes would be bringing their sheet music viewer over to Android and I'm happy to say that it has finally arrived. Meeting at the intersection of music and tech, the Musicnotes Sheet Music Viewer doesn't promise much, but for what it advertises, it does really well.
When you first boot up the app, you're given the option to sign in with your Musicnotes account. If you don't have one, you can register from this screen, but if you do, sign in. The app will automatically start syncing music you've purchased onto your device for your viewing pleasure. In the event you don't have anything (like me), you'll probably be given something for free, like Toccata and Fugue by J.S. Bach.
Once you've logged in, you'll notice there's five buttons at the bottom of the screen: My Sheet Music, Sync, Shop, Settings, and About. My Sheet Music is just what it sounds like; music you've already purchased and synced to your device.
The sync button allows you to decide what music you own to your device. This is done through flipping switches to on and off positions. Flip the switch to on and your music will be synced. And yes, the buttons and switches look like iPhone images.
The shop button is pretty cool, as it opens up the Musicnotes website in a browser within the app so you can browse and buy without ever having to get on a computer. From what searching I did, the website is both fast and functional, letting you search by instrument, song name, or keyword and letting you purchase as soon as you've found what you're after.
The settings menu houses information like what account is signed into the app as well as when your music should sync (or resync). The most important settings are at the very bottom, called Paper Type and Page Change. Paper type is purely aesthetic, letting you choose between white, old, crumpled, rough, and recycled "paper" to view your music on. (Why you would ever want to read music off of crumpled paper is beyond me, but, I digress.)
The page change is the best option, letting you pick between swiping or tapping the screen to advance a page. Personally, the tapping makes more sense because it takes less time, but if you want to truly simulate turning a page, knock yourself out.
It'd be really killer if Musicnotes could eventually integrate a player into the app so you can play along with a MIDI recording of your music in real-time, and better yet would be if the music could listen to you play and turn the page accordingly, but none of those features were promised, so I'm not too torn up about it. Like someone said earlier today, pipe dreams are dreams, too.
The Musicnotes Sheet Music Viewer is free in the Android Market and requires you have Adobe AIR installed on your device to run. It's optimized for tablets but works one phones, too.
More screenshots and download links are after the break.
Android Central Newsletter
Get instant access to breaking news, the hottest reviews, great deals and helpful tips
Hmmm, besides the synching, this doesn't really offer anything over using just pdfs (which I do now) for music. The midi feature you mentioned would be nice. A killer feature would be if it would use the mic and listen to what you're playing and try to figure out when the turn the pages for you. Heck, add a metronome ability to it too to make it useful. Hopefully they'll continue to update this and make it something really worthwhile.

Actually, it does even less than just pdfs because it restricts your sheet music to what musicnotes has. Which means unless you're ready to pay for things you'll be especially limited. If you already have a pretty big library of music that's NOT from this site... well I guess that's not what the app is for. Oh, and as far as the "killer feature" that is page turn options.. lots of apps that display pdf's have similar options. Aldiko (which is more for ebooks but works with pdfs) and EzPDF both do for example.

Aldiko and EzPDF can listen through your microphone, figure out where you are in music, and automatically turn the page for you?

No, but neither can Musicnotes. Musicnotes can only turn via a swipe or a tap, sames as many other PDF readers.

I'm trying to figure out how much I would use this. I do have a MusicNotes account and have several pieces of music through them. The idea of just setting my tablet on the piano and having a large selection of music available is rather appealing. I think the trick is the screen size. In landscape mode, the music is pretty close to standard page size on my 10" screen (gTablet). Putting my tablet in portrait to see the whole page makes the notes rather small on the screen. I guess if I am learning a piece of music (memorization), I could see placing the tablet in landscape, going over each section (not even a whole page) to make sure I have the notes correct, then turning the tablet upright to see the entire page as I play the memorized page. At least I now have my music available to me without digging through the piano bench. :)

Mostly playing live I found the Fakebook app works best for gigs. Not a lot of strange features, but simple and stable and holds all my songs and playlists. It has like thousands of Real Book tunes built in, and imports all the PDF sheet music I throw at it (so I can have all songs for the a gig in a single playlist (unlike e.g. Musicnotes and iRealb)).
Really recommended!
Google Play here: https://www.androidcentral.com/e?link=https2F2F...

Three different comparisons of sheet music apps (iOS and Droid) that might be useful when evaluating:
- www.musicreaderreview.com
- goo.gl/9BeuW2
- www.airturn.com/apps Good luck!
Android Central Newsletter
Get instant access to breaking news, the hottest reviews, great deals and helpful tips
Thank you for signing up to Android Central. You will receive a verification email shortly.
There was a problem. Please refresh the page and try again.