Android App Review: Media Converter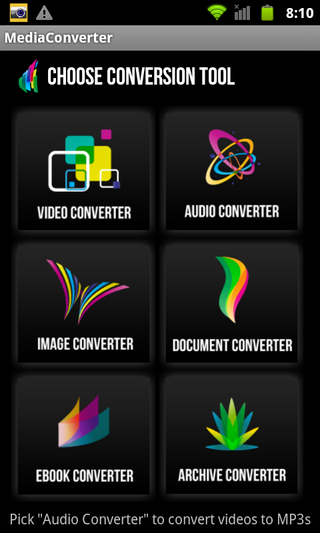 Media Converter is a versatile application for converting videos, audio, images, documents, and e-books on the go. The app is easy to use. Simply select what category of media you are converting, choose the file and what format you want to convert it to, and click submit. With almost 50 different file types you can convert your files to in six different categories, there is sure to be a solution for your needs. The speed of conversion was surprisingly fast, at least faster than I was expecting, and since everything is uploaded and converted in the cloud, your battery doesn't feel a strain.
Supported file types:
VIDEOS: Convert nearly any format to 3GP, 3G2, FLV, MKV, MP4, MPEG-2, OGG, WEBM, or WMV.
AUDIO: Convert nearly any audio format to MP3, OGG, WAV, WMA, AAC, FLAC, M4A, or MMF.
IMAGES: Convert nearly any format to JPG, PNG, BMP, EPS, GIF, HDR, EXR, SVG, TGA, TIFF, WBMP, or WEBP.
DOCUMENTS: Convert just about anything to PDF, DOC, TXT, ODT, FLASH, or HTML.
EBOOKS: Convert ebooks between many formats such as EPUB, MOBI, PDF, LRF, FB2, LIT, PDB, TCR.
ARCHIVES: Convert files to archives, or convert between archive formats! Supports ZIP, BZ2, 7Z, and GZ.
I didn't have a problem converting any of the files I threw at Media Converter, but there are some important things you'll want to take note of. First of all, you have to be connected to the internet to convert anything. Files get uploaded to the cloud, converted, then downloaded back onto your device. Also, files must be under 100mb, and DRM and password protected files can't be converted. Also, to select files from your device, Media Converter will prompt you to download and install a free app called OI File Manager, otherwise you can only select files from your picture, video, and music galleries. With all that said, if you are looking for a versatile file converter, Media Converter is worth a look and is available for $3.99 in the Android Market.
Download links and screenshots are after the break.
Android Central Newsletter
Get instant access to breaking news, the hottest reviews, great deals and helpful tips
Pretty cool but limiting for me since I am on Sprint 3G most of the time. Having to upload to the cloud would take too long. Nice for the phones that are capable of much higher upload speeds or if you're on wifi.

I would be better if it could convert on the device. With CPUs like the Exynos around conversion is pretty quick now.

This thing is bound to attract lawyers like flies to 3 day old fish. What assurances are there that what you send is private? What are you likely to have on your phone in a format that was unsatisfactory for use on the phone?

I don't know where there's a 'privacy' concern as the user is already aware they're using an outside service. User's choice. As for what uses? I could think of several. Somebody emails a PDF file to me, but I need it in DOC format? No problem. I have a DOC file and somebody asks me to send it to them in PDF format? No problem. I have a video I took from my camera, but somebody wants it in a different file format for whatever machine they'll be editing it? No problem.

I certainly see the purpose as this is something I have been looking for recently. I am not so sure I want to sent documents out to "the cloud" just to have them sent back to me. Can this not be done on our 1+Ghz phones?

There's 45+ file formats it supports (and I would imagine more to come as it gets updated). To do it all on your device would require a boatload of resources to install all the codecs/libraries/executables to handle every type of conversion. I don't think it's a matter of the hardware being able to handle the conversion, but more an issue of how much you'd have to install on your device.

Michelle sounds cute. I'm just saying.

You sound like a creepy internet stalker. I'm just saying.

Bought this app and have yet to get ANY file converted to any other file format. No reason why...
Android Central Newsletter
Get instant access to breaking news, the hottest reviews, great deals and helpful tips
Thank you for signing up to Android Central. You will receive a verification email shortly.
There was a problem. Please refresh the page and try again.