Android 8.1 causing swipe issues on Pixel and Nexus devices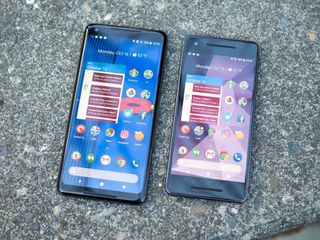 Android 8.1 was a pretty minor update when it was released in early December, and while it added nice touches such as enabling the Pixel Visual Core and a new security patch, it also introduced a new bug that doesn't appear to have been fixed since it was discovered nearly a month ago.
On December 7, a thread was started on Google's support site titled "Android 8.1 Issues" with a user reporting that swiping up on the lock screen to enter their pin often doesn't work and requires them to swipe multiple times before it goes all the way up. Shortly after this, many other users responded with similar issues.
In addition to it being difficult to swipe up on the lock screen to go home or enter a PIN/password, it's also reported that it can often take multiple tries to swipe away a notification that's on the lock screen. This is something that I've been noticing on my Pixel 2, and I can confirm that it is extremely annoying to sometimes have to swipe three or four times just to dismiss a notification.
Along with issues on the lock screen, users have also noticed problems when trying to answer or decline phone calls. This is again something I've run into on the Pixel 2, and more times than not it requires multiple tries before the gesture is actually completed.
Based on Google's support site and Reddit, this is an issue that seems to be affecting both Pixel and Nexus devices running Android 8.1. We reached out to Google to see what's going on, but have so far only heard that the company is "looking into this." When we get a more detailed response, we'll be sure to let you know.
In the meantime, have you noticed any of these issues on your Pixel or Nexus phone?
Joe Maring was a Senior Editor for Android Central between 2017 and 2021. You can reach him on Twitter at @JoeMaring1.
I experienced it when I had my pixel 2 XL. It's not too bad but it is annoying when it happens.

Well Google sent me a 2 XL that the assistant kept getting stuck on the three dots strobing after much trouble shooting I sent it back. Now I'm sitting on $395 in credit in the Google store till the P3 comes next October. Google really needs to get inhouse control over hardware's QC and test hammer the crap out of it's device release software loads to stop these rediculus glitches. There is simply no excuse if you want to play in Apple's $$ ballpark for a top flight device to have Gremlins or Tribbles crapping out screens or software when you release your flagships. Honestly I think it's just "Piss Poor"

Agreed. First, my Nexus 5 power button failed, just out of warranty. Then my Nexus 6P began exhibiting the infamous "early shutdown" problem, also just out of warranty. (I'm still using it, but it's barely usable at this point.) Finally, my Pixel C tablet touch screen malfunctioned -- you guessed it -- just out of warranty. In fairness, Google graciously gave me a "one-time courtesy replacement" on the tablet, but it too malfunctioned. So now, I'm on my third Pixel C. (I've been using it for around one week; we'll see what happens.) It's nice that Google replaced my tablet, but they wouldn't budge on my 6P. I doubt I'll ever buy another Google product.

I've noticed all of these issues, I thought I was shipping wrong or that I had sweat or grease on my finger, good to know this is a bug and it'll be fixed because it's super annoying.

doesn't surprise me, their phones have never had good quality, especially the nexus models from LG. Both the 5 and 5X overheated, and since pixels cost double of what the nexus did, i'm weary of giving them my money when the pixel 3 arrives and my nexus 5x won't receive more updates. oneplus is cheaper, but they take too long to get updates.

I've noticed on my pixel 2 that when I swipe left for the newsfeed I can no longer swipe away articles. Instead I have to click the three dots in the top right and click hide story.

I've noticed this as well but I don't think that's what this article is referring to.

That's a "feature" not a bug. It's stupid

Sitting here on a Nexus P6 wondering why and if I should get the Pixel 3. With every update different issues, thought I had a bad app or something.

I have not noticed any of this on my pixel 2

I haven't experienced any of those issues on my Pixel 2 but I will say just a few minutes ago as I unlocked my phone the screen just stayed all gray. So I locked and unlocked again and was back to normal like nothing happened. Which was fine but is concerning.

Now aren't you glad you bought a Google phone so that you're always first to get the latest Android?

Like the Note 4 and Note 5 are still getting updates... Hmm... And currently on the Dec 2017 or Jan 2018 security patch...? That would be apples to apples..

Matter of fact..... I am. I hope I made your day

Given the recent news about Meltdown, yes I'm very glad that I have a Pixel XL that will get me the fix quickly. I can put up with a few minor annoyances if it means my phone won't get hacked. Can you say the same about a Samsung?

Samsung and other OEM phones typically get the security patches 3-4 weeks after Google releases them. So malicious coders have a month to get malware on my phone vs. Google phones. The clock is ticking, so get at it, boys. And, in the meantime, unlike Pixel 2 phones, everything on my phone works. For the record, I've never had any malware on any of my phones -- ever.

Check out the Samsung subforums.... Lots of issues with Note 8 and S8 phones. Granted they sell more phones but they are far from trouble free

I'm sure people are having problems with Samsung phones. In fact, I'm sure people have problems with all phones. Please scan forums and compile some lists and we can compare them to the Pixel 2 list of problems: The only problem is that I'd have to expand this list as new Pixel 2 problems appear, and I can't edit this post to add them after a short time. Buzzing speakers
Disabled bootloader unlocking [fixed]
Muted mic issue
Phone calls sometimes default to speaker phone
Issue installing October OTA
Slower finger reader [8.1]
Failing portrait mode
Unresponsive headphone adapter
Unresponsive touchscreen near edge [fixed]
Bluetooth connectivity problems
Unable to use Google Assistant with bluetooth [fixed?]
WiFi disconnect/reconnect issues if multiple APs
Causes other WiFi devices to disconnect
Poor audio quality when recording video [fixed]
Random reboots <<kernel panic!="">>
Strange banding display - LED allergy
Locking/unlocking flash attack
Clicking [fixed]
High pitched sound
Launched without saturated color mode [fixed]
Shipped without an operating system [fixed, right?]
Uneven "grainy" appearance
Off-angle blue-shifts
Thick bands of darkness or bright color
Android Auto crashing
Slow to charge
One FFS speaker louder than the other
Multi-touch broken in games since 8.1 update
Black crush/smear when scrolling (same as banding?)
Poor audio volume for message recording
General swipe problems since 8.1 update
Bluetooth battery level problems
Unwanted answering calls with speaker phone
Unable to swipe to answer a call Not flaws, but should be considered: No headphone jack
No microSD slot
No wireless charging
One rear camera, not two Best Android phone you can buy.

Not worth my time to compile lists of problems with phones I don't intend to buy. Not all the items on your list are accurate or affect all phones by the way. Have fun keeping track though....it's what you do best.

You're the one who thinks what you see on Samsung forums is a fair comparison. So put your money where your mouth is, and give us a comparable list.

There's plenty on the Samsung forums...who needs lists or who even does that? Oh wait...you do.... Maybe you have issues.....no wait....there is no maybe about it. Have a nice day unless you make other plans.

To each their own. People suck because of you who are so strong behind their moniker. To even care enough to reply puts you in the same boat.

Same problem on my Pixel 2 XL. I was thinking this morning about multiple ineffective swipes to complete an action and was wondering if it was just me. In any event, it's nice to see this article and know I'm not too crazy.

I thought the same thing, but I had a similar issue with my HTC 10 on nougat. So I thought it was just me not swiping correctly.

I've been experiencing the same exact issues. I've also experienced the Bluetooth devices not showing their battery level in the quick settings, unless that's just for the Pixel Buds. I've also been experiencing Bluetooth issues where when I call someone or vice versa, if I have a Bluetooth device connected like say, my watch or headphones, it won't send sound to anything including the phone. Multiple calls have to take place before a connection can be properly established. I believe I've experienced this w/o Bluetooth devices connected. Love this phone though. Pixel 3 better be much more improved!

Stockholm syndrome. It's the only explanation.

THANK YOU FOR MENTIONING THE BLUETOOTH ISSUE!! IT'S THE SOLE REASON I RETURNED THE 2XL THAT I HAD!

I haven't noticed either of the issues listed in the article, mainly because I use fingerprint unlock and am not in the habit of swiping notifications on the lockscreen. BUT, I do try to pull down on the lockscreen so I can toggle things like flashlight on/off or put my phone into silent and I have noticed that sometimes it takes several tries to get that to stay all the way down so I can tap a button. So, yes, it seems like something in the "the finger has slid this far which constitutes a swipe in this direction" variable is getting upset every now and then ... no matter which way you're swiping.

I've definitely noticed this on my Pixel 2 XL when trying to answer/decline calls.

Same here, this is very noticeable and most annoying

Another issue that is ongoing with no resolution is mentioned here: https://productforums.google.com/forum/?utm_medium=email&utm_source=foot... The issue is broader than what is mentioned in that forum. I am on a pixel xl 1st gen and not using a mesh router and every time my phone wakes from sleep on wifi every device including my chromecasts and google homes all get kicked off wifi. It's incredibly annoying and there has been no update on what is going on since the beginning of Nov

I fixed the issue I factory reset the phone

I was given a Pixel XL by Google Fi as a replacement for my 6P (after multiple 6P replacements that never worked). It wasn't long after that I received the 8.1 update and so I just thought it was my phone. Nice to know it MIGHT get fixed. I say might because I did own a 6P!

Yep, I regularly experience both of the swiping issues discussed on my Pixel XL and thought it was just me. WooHoo!!! Misery loves company!

I have noticed this while trying to answer a call on my Pixel XL. No lock screen issue though

I'm having this issue with my Pixel C tablet, not able to swipe up to unlock the screen and draw my security pattern. Often, the only thing I can do is reboot the device.

Lol Google just can't catch a break with their Pixels this year.

Well hopefully the positives are they won't make the same mistakes going forward with the pixel 3

That's always the hope with them, isn't it? Maybe next year

Not sure if this is related, but tap to wake sometimes doesn't work for me.

Yeah tap to wake always seems busted. Nexus or Pixel. Grab a LG G6 and you'll see how it's supposed to work (not that their phone is perfect but they got tap to wake and sleep down)

I had to turn it off on my V30. The phone would be in my pocket (dress pants) and 911 kept calling me back. It must have bounced around and double tapped enough to do an emergency call.

Moto's implementation is great as well.

Lemme guess? Google has a fix to address this issue but it won't be available until the next coming months or with Feb update

Yes, I've noticed this too. I thought it was just me.

I started a thread here a few weeks ago...
https://forums.androidcentral.com/google-pixel-2-pixel-2-xl/855723-pixel...

Welp.. I guess I know what update NOT to download on my 6P.

But... but... but... one of the main reasons to buy a Google phone is to get the latest updates first.

"Fast updates though"- pixel (Google's beta testers) users

Best Android phone you can buy. Buzzing speakers
Disabled bootloader unlocking [fixed]
Muted mic issue
Issue installing October OTA
Slower finger reader [8.1]
Failing portrait mode
Unresponsive headphone adapter
Unresponsive touchscreen near edge [fixed]
Bluetooth connectivity problems
Unable to use Google Assistant with bluetooth [fixed?]
Poor audio quality when recording video [fixed]
Random reboots <<kernel panic!="">>
Strange banding display - LED allergy
Locking/unlocking flash attack
Clicking [fixed]
High pitched sound
Launched without saturated color mode [fixed]
Shipped without an operating system [fixed, right?]
Uneven "grainy" appearance
Off-angle blue-shifts
Thick bands of darkness or bright color
Android Auto crashing
Slow to charge
One FFS speaker louder than the other
Multi-touch broken in games since 8.1 update
Black crush/smear when scrolling (same as banding?)
Poor audio volume for message recording
Swipe problems since 8.1 update
Bluetooth battery level problems

Now I have to add "'WiFi disconnect/reconnects when there are multiple Access Points" and in some cases, it knocks all your other devices off the network. Also, isn't there some problem where everything dark turns totally black in a movie when you reduce the brightness?

I had the same issue and eventually had to reboot my Pixel XL. Afterwards, I was locked out of my cellphone until I contacted the Pixel Hardware Support Team.

Oh, and calls defaulting to speaker phone when they're not supposed to. I forgot about that one.

I use the $4 Freedom 251. Best phone I've ever used.

Three more reasons the 2 XL was named best phone by android central: No expandable micro SD storage No headphone jack. A very average 4GB RAM Good article. Thank you, I've now blocked auto Android OS updates. Thank you, pixel owners, for subjecting yourselves to the 'pure android experience' as Android OS beta testers.... Hahaha!

Thank you haters for revealing what little spark you have left in your meaningless lives. You are the beta testers for the pure life experience and teach us all on how not to live out our lives.

I wish nothing but success for Google through their Pixel phones. In fact, I wish they had made a better phone than what I purchased... Because I would have purchased it. But the truth is Google doesn't make the best Android phone with anywhere near the best specs. The merged Google & HTC phone engineers will need two to three years to produce something worthy of a premium price. If I were looking for a phone... The industry is close enough to 5G that in North America, I wouldn't pay the top early adoption price for any 4G mobile phone. Upcoming 5G networks a game changer and no 4G phone will be worth anything once 5G rolls out.

And that's exactly why I love to mock the Pixel 2. If AC had simply said it was a poorly executed, vastly overpriced phone with too many defects, I'd have nothing to mock. But when AC takes one of the most troublesome and overpriced phones that lacks features even mediocre phones have and calls it "the best Android phone you can buy", they put a huge "kick me" sign on the site's header. So I enjoy rubbing their noses [and the noses of Google fanbois] in all the problems their "best Android phone you can buy" has. I hope Google delivers an outstanding phone next year. If AC calls that one the best Android phone you can buy, more power to 'em. Given Google's history of lack of QA, I'm not optimistic. But you never know.

You're welcome! I enjoy mine immensely. No issues at all on 2 of them. Correction, 4 of them in the immediate family now. All run like tops. 2 from kids who hated their Samsung's and love them. Then myself and my wife. Only phones I didn't return or sell or put in a drawer. But keep hating.. You are missing out.

Oh yeah? Well I have 12 Motorola Flipout phones in my immediate family, and all run perfect - better than any phone on the market right now. They're the only phones I didn't return or put in a drawer. Best phones you can buy. And you can count on it, because I said so.

Now that, that I believe. It's in your price range.

All my relative's previous phones were Pixel 2s, but my family and relatives hated them. And you know it's true, because I'm telling you this anecdote.

Wow. I knew it had issues, but I didn't realize how many. After my 6P and Nexus 9 experiences, I won't be buying Google hardware again, especially at the prices that junk is being peddled for these days.

Don't have the issue on either my 2 or 2XL.

I used to have a Nexus 6 and I loved that phone I am now on a pixel and every day I swear it's the least stable phone I have ever owned besides my Samsung note 4. It's Monday blowing that Android got released with this swipe bug because this bug has been bothering me since the first day that I had the beta of 8.0 which for me was some time in August.... Google needs to get their act together because pixel should be the most bug free way to enjoy android

My Note 4 was incredibly unstable when it had Lollipop (memory leaks). But after Marshmallow, it was like a rock. Until it died completely, which pissed me off. It was just short of 3 years old, and my ancient S3 is still working fine.

People hate it when I mock Google phones. People hate it when I complain about a Samsung phone. There's just no pleasing some people. :D

Love my Pixel 2, but have been a little irked by the following: last few days my tap to wake feature is hit and miss; have to swipe up/down several times to answer/decline calls about 50% of the time for last few weeks; last few weeks at least, people say they just called and I was literally holding the phone in my hand, the screen won't turn on when someone calls and it doesn't ring, I only get lucky if my Bluetooth headset buzzes to let me know; side note when I ask the assistant to send a text, it listens, types it on the screen, and then closes. Crossing my fingers these are in upcoming updates! Still love the phone big time!

I have the same issue with incoming calls. I uninstalled the "Phone" update, and the phone now wakes up when a call comes in. Hopefully, they will fix that soon!

I'm noticing an issue when I'm scrolling through Twitter where if my thumb lands on a photo while I'm scrolling through my Twitter feed, a ripple effect occurs, much like when one throws a rock into a lake. This is a new thing for me. Maybe it's related to this?

The Trump affect. He is in your head. Its actually all ok.

I have noticed these. Also have an issue of phone calls defaulting to speaker phone. I have to tap the speaker phone button to ACTUALLY turn on speaker, and then turn it off again for the call to be in " non-speaker" mode.

Yes!!! Yes! Yes! I've noticed these things and more importantly to me I use the Fleksy keyboard which allows you to swipe to delete words and put in spaces. It misswipes 40% of the time causing me to add characters I don't want in my words. I actually ripped off my screen protector thinking it was the problem. Here is an example of me swipingfgwithdgthe nistakessffrom misswipes Gah!

No issues here on my pixel 2 XL, my co workers, or my wife's pixel 2.

I wonder if this is related to the failed scrolling issue I've been experiencing in Chrome. Whenever I am scrolling through an article I will experience at least one failed swipe. Super subtle, but annoying.

That's just how laggy and janky a Pixel 2 is. Upgrade to a Note8 or an OP5T for a buttery smooth experience you can't get from Google phones.

Google has lost the fundamentals why they grew, it is to make life better not harder, Pixel 2 is worthless and I am stuck with it.

Is it just me or is there a new issue every single month when they release an update? Almost makes me glad I only get 1 stable update every few months on my Moto.

Same issue here. This is my first Google phone and I bought it as I thought it would be the best android experience there is. I was wrong. I am experiencing bugs on daily basis and there seems to be hundreds of people with same issues, yet nothing is fixed months after phone release.
My current issues:
- misses screen inputs/taps. Double tap won't be zoom in in Photos until several tries, same for zoom out
- double tap to wake is hit and miss, sometimes not working at all.
- difficult to swipe away notifications from lock screen or swipe up to unlock
- getting camera fatal error message and camera app still freezes after factory reset and update to 8.1, repeating camera fatal error over and over
- home screen widget never shows any upcoming events if created on web or though another account like exchange, only when manually created on the phone. super stupid
- Bluetooth is totally unusable. Dropped connections in a car, audio that won't go neither in connected Bluetooth device nor phone speaker itself
- the audio dongle to connect wired headset rarely works and requires phone reboot with it connected to work I was on BB Priv and even there first try in android had way less bugs that this.

Wouldn't be able to confirm the issue... Google still hasn't pushed 8.1 to my Nexus (5X) device.

I'm experiencing the problem answering phone calls on my P2XL. I'm not having any other problems, though.

Haven't had a single issue with my Pixel XL. Don't know if the fact that I use Nova Launcher and fingerprint to unlock have anything to do with it.

Releasing a beta OS every year to commercial devices is absurd. Google should only release a new OS after OEM partners and users have worked out all the bugs. I know it's not endemic to Google but enough already. I'll happily wait for a stable version of Oreo for my S7. Perhaps this notion of having to have new OS every year is over blown? I would prefer subtle refinements in regular security releases for a period much longer than 2-3 years but I know that does not move hardware.

Happy to say I'm not experiencing this

Having this issue om my Nexus 6P:
Especially when trying to answer a incoming call.
Sometimes I need to swipe 4-5 times before being able to answer.

Yes I have the same issue when it comes to swiping up to unlock.
Yes I now have issues where I must tap 2 times or more to launch a feature in an app
I thought this was me.
Plssss Google help!

Using the first pixel xl and not having these problems at the moment.

Yes I noticed that, rejecting calls has been a pain. Also noticed that keyboard sometimes doesn't pop up in Chrome text fields

Is this linked to the problem whereby I pick up the phone and it then acts as if I'm squeezing it and then launches the Assistant? I'm just picking it up gently but more often than not i feel the vibrate and the Assistant pops up. Very weird and annoying.

I think you have a setting that you can adjust the amount of pressure needed for the assistant.

I noticed it immediately after the update. I have the original Google pixel XL. it is noticeable on many areas of the phone where swipe is needed up and down or side-to-side. I took the phone back into Verizon to speak with my sales rep I have used for years and he did some searching about a month ago trying to find a fix and what made the issue and was not able to resolve it. It is extremely annoying since it happens constantly all day everyday. Absolutely the best phone I've ever owned but this is just an annoying issue that Google needs to address it immediately

The ONLY swipe issue I've experienced has been persistent throughout the last 5 or 6 updates... not just 8.0 & 8.1. When attempting to accept an incoming call, I may have to swipe 3 or 4 times, and even then there are times when I simply cannot answer the phone at all! When attempting to swipe up to accept the call, it only moves the icon about ¼ of the way up the screen and won't complete the action. Until this article, I couldn't find any postings or mentions about the issue! I'm glad it's finally getting some attention

Any phone that can't reliably do the one most basic thing a phone is supposed to do must be the best Android phone you can buy.

First gen Pixel here. Haven't been able to make or take a call for two weeks. Mic won't work for assistant, recording videos, nothing. Videos in YouTube don't have sound. Videos in 3rd party apps don't even load.
Phone reboots out of the blue. Sometimes get a "static" image on the screen that goes away when screen is touched.
Contacted Google everyday for two weeks. "It's been escalated" is their only response.
They can't ignore this.

I have a pixel xl that had the swipe issue after the January update that i sideloaded. What i did to temporarily fix the issue is to go to settings/apps & notifications expand all apps, then press the 3 dots on the top right of the screen, select show system, scroll down to input devices and clear cache under storage. That cleared my swipe issues.

I have been experiencing the same kind of lag or delay with different swiping motions, noticed mostly when swiping into the home screen or with using the calendar app. But I tried what you suggested here and it worked! Thanks for the tip!!

I followed those instructions and can no longer received calls. It rings but immediately disconnects when I answer. Interesting though, when I tried calling it from another phone, over and over, sometimes it gave me the ANSWER DECLINE option. Hope it wasn't your instructions that is causing my problem.

I dont have one of these, but there seems to be be an issue on a very frequent basis? Puts me right off, considering the hardware /software is pure Android so to speak it's quite alarming when Google is in control over it.
Come to think of it my friend had one and that kept having issues, she took it back to her phone vendor during its contract and swapped for an S8 edge and had no problems with that phone.

Had the swiping problem on Pixel 2 before the 8.1 update. Using the fingerprint solves the signing on swiping problem though. To answer the phone have to press harder and swipe slower. It would be nice to have the answer decline buttons, at least as an option.

I don't have these specific issues. I have a plethora of other issues since 8.1 release. For example, the instability of my screen and/or every app on my pixel is making it extremely difficult to make this comment now. My wireless connection only lasts for a second at a time, rendering it useless. Any tap of the screen may cause other apps to open or worse. This phone is new. I'll likely be taking the financial penalty to return to all things Apple, never to return to Droid or Google.

My Note8 is 100% lag-free and I've had zero problems with it. But if it wasn't, I'd gladly move to an iPhone. My wife's iPhone 6S Plus is still a dream to use, even as a fairly old phone now (as phone ages go). It would be hard to give up the S Pen and Samsung Pay, but it could be worth it, depending on how bad an iteration of Android might be.

ι нaven'т нad any ιѕѕυeѕ @ all.... none

Sounds like Pixel owners should confiscate #METOO.

Wow! Guess what this isn't just happening on those phones! I have Samsung8+ & it says Android 7.0 with samsung 8.1 experience. Yesterday could not answer important call while coming in. Swiped up for pin lock screen went black. Also even after restarting phone 2days in a row & clearing phone cache still running like a dog! #tmobileSamsung8+ sad face

Nexus 6p: Problem swiping up to answer a phone call or down to reject a call. PixelPhone PRO, Action Launcher.

But but but I thought Pixels were perfect 🤗

Take it from Andrew Martonik, it's the best Android phone you can buy.

They updated the phone app yesterday, I was having a tough time making phone calls with the phone app locking up on my XL2. Now it's fine.

Pixel 2 XL, having swiping and pinch/zoom insensitivity problems. Thought it was my screen protector, but persists after I removed same. Kind of pissed, haven't had such problems since my old Moto Droid X.

Yeah, but the Moto Droid X wasn't the best Android phone you can buy.

it's a feature, not a bug

2017's best Android phone you can buy due to the fantastic software experience and camera. Well now the software experience isn't so great after all. Sure hope that camera holds up.

I have this problem on my N6P. Seems like I had the same trouble after a prior software update (can't remember if it was on this 6P or on my N5) and it eventually got fixed on a subsequent update. Hopefully that is the case this time as well.

"Google is investigating and plans to fix the problem in an upcoming software update." (just copy and paste that for every problem) "Google hired professional QA personnel to prevent these things from happening in future updates." (just ignore that -- will never happen)

Have trouble swiping. followed Hub1 advice of clearing cache. Then wasn't receiving calls. Then received calls but it disconnected on my side immediately, went to voicemail on otherside. Then after trying calling to it from another phone over and over it started working but giving me the Answer Decline buttons--which is great --solves the swiping problem. So long as it keeps working will be alright. Usually have to reboot phone to get it to connect in the car. I guess a bluetooth problem. Thats annoying.

2 to 3 swipes to answer a call. Totally reinstalled android firmware thinking maybe some other conflict. No change. Also phone cuts off during calls now. Phone has become a pain... By the time I can answer most people have already hung up. Google this is pants.

Downgrade to nougat... Only option... Well it's not exactly a downgrade.... Just a pain... Suggest Google test their updates before poisoning people's overpriced phones.

Just in the past few days I've started having major issues with answering and making phone calls. My phone will ring and the menu comes up asking for Decline or Answer, but I can press the Answer button over and over and it won't answer the call. Eventually it takes the caller to my voicemail. I've also been having problems making phone calls. I can press on the call button for one of my contacts and nothing happens. Sometimes it will eventually make the call a minute or so later. I can restart the phone and it may work the first time I try making a call, but then for subsequent calls I try to make it doesn't work. I've got a Nexus 6P phone with Android 8.1 and the latest February 2018 security update. I'm thinking this latest security update messed something up. Very frustrating. The upcoming Samsung S9+ is starting to look more tempting by the day with the problems I'm now having.
Android Central Newsletter
Thank you for signing up to Android Central. You will receive a verification email shortly.
There was a problem. Please refresh the page and try again.