Android Oreo is now on 0.7% of devices, but Marshmallow is still king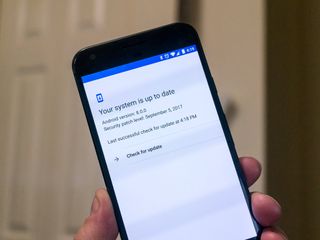 Google releases the Android Distribution numbers once per month to let developers know which OS versions to target, and January's numbers are now available. Not surprisingly, Marshmallow is still on top with 29.7% of the Android pie.
Oreo did make some gains, though. Android 8.1 is making its first appearance with 0.2% of the Android marketplace, while Android 8.0 stayed at the same 0.5% it was at last month. Nougat is still in second place with 26.3%, with Lollipop at 25.1%. KitKat and Jellybean lost marketshare, while Ice Cream Sandwich and Gingerbread are still somehow hanging on.
As we move through CES and into MWC, we'll see more phones announced running Oreo, with last year's devices like the Galaxy S8 and OnePlus 5T getting their updates to Oreo in the next few months. Once that starts happening, Oreo's marketshare will take off.
Which version of Android does your phone have? Let us know down below!
On Oreo since November, <3 you Sony.

Same. XZP most underrated phone of the year.

On 8.1, but it's only because I have a Pixel 2 XL. What I'd like to see is a breakdown of where the latest version of Android is at the same time each year. It sure seems like fewer and fewer phones are getting updated as quickly after new versions come out. I mean, we're months into Oreo, and it hasn't even cracked 1%.

Yeah, percentages will not change until probably March when Samsung does their thing. Don't care , I have no problem being a beta tester. How I roll.

Good for you. I'm glad people like you exist so that the rest of us can have a more stable OS on our non-Google phones. But normal consumers don't want to be beta testers.

Running nougat 7.0 and loving it much better than marshmallow was, all with the power and creativity of my awesome geniusly designed AT&T LG G5. Don't know about the AT&T part but love the phone.

I have four devices on 7.1.2 with Lineage OS (2 Nexus 4's, a 2013 Nexus 7, and a 2014 Moto X), and my Moto X4 on 8.0. My wife's 2014 Moto X is still on 6.0.

8.1 for me on the Pixel XL...wife's V30 on 7.1.2....sons S8 on 7.somethin....daughters iPhone X on janky ass IOS....lol

I'm actually ok with marshmallow being the dominant OS. To me, it's been very good.

You're probably joking, but I would be perfectly happy with KitKat or Marshmallow. Nougat is fine, but I can't tell the difference between it and Marshmallow. Lollipop was the disaster with all its memory leaks.

KitKat custom ROM on my Note 4 is awesome. No joke.

Yup. I was so sorry I took the Lollipop update on my Note 4, because it disabled the ability to go back to KitKat.

Forever Marshmallow on my Xperia Z3. 😜

Nexus 5X on Oreo and three phones stuck on Marshmallow. Moto E on lollipop that never comes out of the drawer.

Xiaomi Mi A1 running Oreo 8.0.0

I guess it's no coincidence that I saw a Pixel 2 on a corner by a lamp post saying, "Sailor? Sailor? A dollar?"

Wow people should not be using older devices than Android 5.0 since you can open them with a usb stick and those phones have huge security issues!

Some people don't care or can't afford new/newer phones.... Too each their own.

Wake me when a real person actually suffers some sort of loss from these security flaws.

0.7 hardly a number to write about not climbing much?

4 phones in the house (that are used regularly) one on 8.0 (my Nokia 8) one on 7.1.1 (daughters Wileyfox Swift 2) and two on 7.0 (GS7E and a Lenovo P2). More important is security patch level to me and three are on November and my Nokia 8 is on December.

Did you get an OTA update to 7.0 on the Lenovo P2? Mine is still on 6.0 in the UK on the Three network.

I have a Galaxy Note 8, 7.1.1.

Just need Oreo for PiP. Then I'm set for life. 😁 LG V20

My Samsung Galaxy Tab E 8.0 (AT&T variant) just received the update to Nougat 7.1 last night. Really surprised to see that, but happy that it's being supported nonetheless.

I own a Samsung sm-G955U1 a Samsung s8+. I would have loved to beta test, but that only went to the sm-G955U and sm-G955F. But for now I'm on Nougat 7.0 until Samsung decides to finally update. I guess patience has its virtues, SO HURRY UP SAMSUNG!

On 7.0. Samsung Galaxy s7

I wouldn't be bothered if I stayed on Nougat without ever "upgrading" used 8 and 8.1 on my Pixel and the difference in minimal.

Running 8.1 on my Pixel XL. It's pretty good. Still on 8.0 on my Nexus 5X backup phone and 7.1.1 on my Chromebook. Chromebook and Pixel XL are both on January 2018 security patch, whilst the Nexus is a month behind.

I'm using android lolipop on a Galaxy s5
Android Central Newsletter
Get the best of Android Central in in your inbox, every day!
Thank you for signing up to Android Central. You will receive a verification email shortly.
There was a problem. Please refresh the page and try again.