The OnePlus 5T in Sandstone White is gorgeous, and probably won't stay that way for long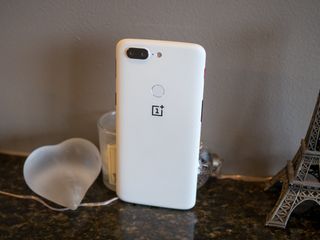 When OnePlus announced the Star Wars Limited Edition version of the OnePlus 5T, it was inevitable that it'd parlay the intrigue in this new model to a more widely available version without the movie branding. So here we are, with the "Sandstone White" OnePlus 5T — that's significant because it's white, dramatically different from the "Midnight Black" launch color, but also because it reintroduces the "Sandstone" moniker that was popularized with the OnePlus 2.
It only takes a few moments to realize that this is, indeed, "just" the Star Wars version without the branding and the exclusive software skinning. The white finish is identical, as are the contrasting buttons: red for the Alert Slider, and the black for the others. The idea of contrasting colors is found all over, with the camera lenses shrouded in black, and a shiny chrome accent line running all around the edge where the white sides meet the black front.
Yes, the black front maybe takes away from the "all white" look you get from the back, but keeping black on the front bezels is far better for glare and actual usability of the phone. I'm cool with it.
Yes this has "Sandstone" in the name, but it isn't really the same Sandstone we know from the OnePlus 2 and subsequent Sandstone cases for newer OnePlus models. The white version of this texture is far lighter, closer to some of the coatings we've seen on metal phones from other companies over the years than the ultra-grippy Sandstone of the latest OnePlus cases. Regardless of that detail, the exterior finish is extremely well executed both in look and feel. OnePlus says the coating on each phone takes 75 minutes to complete, using low yield processes that make it the most expensive metal case it's ever produced.
In looking at the Star Wars Limited Edition phone, our own Harish Jonnalagadda said "the textured coating makes the device incredibly grippy, and is generally a huge improvement over the standard 5T," and I have to agree. The super smooth and lightly rounded shape of the OnePlus 5T, when added to its bit of extra height beyond the OnePlus 5, can make it a bit of a slippery fish. It's for this reason that I've been using a case on my OnePlus 5T ... but I don't feel like I need a case for grip on the Sandstone White model. It's far easier to snag out of a pocket or pick up off of a flat table by just getting your fingertips onto the textured surface on the sides. Generally, a big usability improvement.
But let's stop the gawking at this beautiful exterior for a second and note one downside with having a white textured exterior: it gets dirty. Very easily. I haven't even been using this phone as my primary device the few days I've had it, and just in moving it around on my desk and in my pocket a few times, it has little bits of black and blue scuffs on it. Our own Alex Dobie, who has been using his Sandstone White model longer, says it regularly gets blue discoloration from his jeans. Thankfully these scuffs and discolorations rub out quickly with a damp cloth, but you have to wonder if over time they'll add up to a permanent change of hue on the white body.
There's a reason why very few companies do white phones, and even fewer do white phones with texture. It's extremely hard to walk that balance between having a texture that's nice to hold, and having one that picks up scuffs from daily use. OnePlus obviously could avoid the discoloration concerns but still have the grip by doing a black Sandstone finish, and I sure wish it would, but for now these are the two options we have to go with.
Just like previous limited edition OnePlus phones, there are limitations when it comes to picking one up. The Sandstone White 5T only comes in the higher-spec 8GB of RAM and 128GB model, and therefore carries a higher price: £499 in the UK, €559 in Europe and $559 in the U.S. It goes on sale from OnePlus.net (opens in new tab) January 9 at 10 a.m. ET, and will be available "while supplies last" — though we have no indication of how many are being made available. But if this is the phone you want to be able to stand out a bit, you'll want to order early.
Andrew was an Executive Editor, U.S. at Android Central between 2012 and 2020.
Looks great like the panda Pixel 2 XL.

You guys were asking for a Sandstone color in an article a few days ago for this phone. Now that they gave it to you you complain about it getting dirty. What do you want in the end? Be careful what you ask for. They gave it to you so just take it.

"OnePlus obviously could avoid the discoloration concerns but still have the grip by doing a black Sandstone finish, and I sure wish it would, but for now these are the two options we have to go with."

Why bother getting it? The OnePlus 6 will be out in like a month anyways.

More like June or so, but not everyone needs the newest phone

A bit of an exaggeration there.

Sounds like this phone isn't for you then.

Didn't OnePlus pull the Oreo update?

That was the "stable" build for the 5, this is the beta build for the 5T. It's not like it's permanent anyway, they'll probably start rolling the newer build next week.

I'd be more concerned about the material yellowing over time.

Never heard of a white phone turning yellow.

That's Plastic. Stone and glass don't yellow over time as plastic does.

Not if you stick a case on it.

In which case (puns!) you may as well buy the standard version.

I love a white phone...! The 5T is one of my fave flagships at the moment.

Meh.. If it's gonna be white then it would have to be the Star Wars version (which we didn't get in the States for whatever godforsaken reason).

EZ, licencing. Blame the likes of Disney for it.

Branding is that important to ya, huh?

Don't worry about dust on the back... it'll never settle! Seriously though, definitely has a stormtrooper vibe to the back, and I like that. Slate gray would look nice too.

Ok, that one was pretty good. Consider my cap doffed.

Has the issue with not being able to play Netflix in fhd been fixed yet? Seems to me OnePlus just waited for the noise to die down around this problem

Still doesn't have a SD slot. Don't care.

Better be prepared to have no 2018 phone option lol.

I really want this as I love white phones; however, I do not want to pay a higher price for one, and since it would probably get dirty or wear moreso than the Midnight Black version over time, I'd rather get the Black version and just slap a white case on it.

this looks way better than any Samsung or IPhone

Wow, did you come up with that all by yourself??

Looks great but I think I'll wait for the 6. Have a 3 at the minute and it's still lightning fast
Android Central Newsletter
Get the best of Android Central in in your inbox, every day!
Thank you for signing up to Android Central. You will receive a verification email shortly.
There was a problem. Please refresh the page and try again.